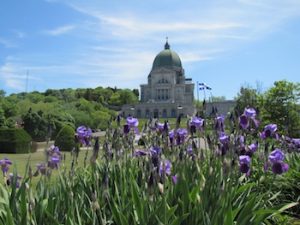 It's Saturday night in Montreal, and I'm determined not to slink back home until at least 10pm; I don't want my two young Airbnb hosts to think I'm such a social failure  I can't find anything to do in Canada's self-proclaimed party city.
Montreal prides itself on being the fun and festive heart of Canada, a country that's generally seen as rather dull. This city-on-an-island is having none of that, and celebrates about 110 festivals every year. So it's a mathematical mystery how I've managed to arrive when there isn't single a festival in sight. I'm too early for the world's largest jazz event or their famous Just For Laughs comedy bash, and too late for the more sedate tulip fair.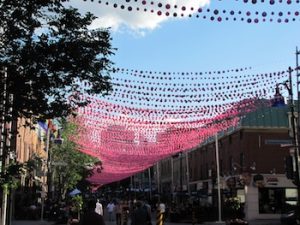 Still, there's plenty of street life to enjoy as I walk beneath thousands of gaudy pink balls strung between the rooftops of a pedestrianized zone. Those bobbing orbs perfectly capture the essence of Montreal's gay quarter called The Village. Everything and everyone is here including buskers with varying degrees of talent, tattoo parlors, massage bars, darkened doorways to live sex shows, pavement cafes, and street stalls. There's a lively anything-goes atmosphere, so I sit and order wine while watching three men flirt outrageously with a hunky waiter.
Later, as I cross the small Emilie-Gamelin Park, where a crowd is gathering around a stage that wasn't there this morning. I sit on a packing crate in sunshine that's still hot at 7 p.m. and wait for something to happen. A slip of a girl walks on stage as a drummer and another singer slides in behind her. She's excellent, and her soaring voice makes my skin bump as my inadequate French picks up lyrics involving love and never again. You sing it, girl.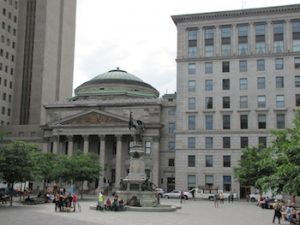 If my timing for festivals was useless, my choice of location was spot on: Le Plateau Montreal, a 30-minute stroll from the old town. Montreal is a mesh of intriguing pockets of spunky street life and I'm right in the middle, renting space in a terrace house from two software engineers called Guillaume.
As I meander up Rue Saint-Denis, the Hippi Poutine cafe lures me in with a balcony overlooking yet another pedestrian square with a park and fountain. The food in Canada seems uniformly good, whether you're picking up a ready-made meal in a supermarket or having a full-on supper in a fancy restaurant. Hippi Poutine's chicken burger was delicious, washed down with cider served in a porcelain bowl, because the owner comes from Brittany, where rough cider comes in equally rough bowls, not prissy glasses.
The only meal that isn't fabulous is poutine itself, a down-market specialty of the region. If you can use the word 'specialty' for a plate of fat chips (fries) doused in thick brown gravy and topped with lumps of bouncy cheese curds.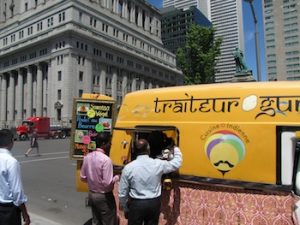 My host Guillaume One told me La Banquise serves the best poutine in Montreal, so I joined the queue one evening. A portion of chips with added bacon bits at Ca$8.45 (R88) must have weighed at least 1kg. It was interesting for the first five minutes, then I fished around for the bacon and let the chips, cheese and gravy slowly solidify, along with my arteries.
"It's supposed to taste as good as it looks awful," my walking tour guide, Marc-Andre Lapointe, joked later. His free walking tour is a great way of exploring old Montreal in detail. As soon as it began, I discovered I was pronouncing the whole place incorrectly, because it's Mon Royal with a French accent, named after Mount Royal, the hill to the north of the island.
"Don't tell any Montrealer it's a hill not a mountain, because they're very proud of it," Lapointe teased. Behind him was the historic Château Ramezay, which isn't a castle at all, just a large house built in 1705 for the governor and now a private museum. The Montrealers do like to exaggerate.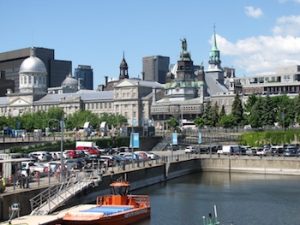 What they don't exaggerate about is the cold, and Lapointe led us down some escalators into the underground walkways that spare everyone from wading through snow and ice in the long, harsh winters. The wide tunnels span 32km and link to the underground trains and to hundreds of shops and restaurants above them.
In warm weather, the open-topped tour bus is a lovely way to get around, with Ca$43 buying a ticket for two days. The best views come from the top of Mount Royal where you can hop off to investigate Saint Joseph's imposing basilica.
The city center is ideal for exploring on foot, with gorgeously ornate buildings, large open squares, tons of museums, and a harbor where you can take a cruise.
As I wandered further north, I discovered the atmospheric House of Jazz, which had live music most evenings. It's handy for killing time until the nearby McCord Museum switches to free evening opening hours. The museum explains how Montreal developed through the decades, starting with a giant totem pole and other remnants of the First Nation people. The city was founded by French missionaries on May 17, 1642, and it's now the largest French-speaking city after Paris, although most people also speak English.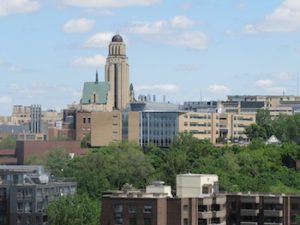 A rainy day is perfect weather for the Planetarium and Biodome. At the Planetarium, I laid on a beanbag on the floor and tried to follow an explanation of dark matter. The entertaining presenter makes it almost comprehensible, but when a few people claim they've grasped it all he very wisely calls them liars.
In the Biodome there's an excellent display of ecosystems including a rain forest, a maple forest with dam-building beavers, and a polar region with waddling penguins. Some school kids ahead of me thrilled: "Oh my God, it's so cuuuute" about everything except the anaconda, so I deliberately loitered by the shunned creature.
On my Saturday night I finally get home around 10pm, and find Guillaume One watching an African wildlife documentary on TV and eating pizza. He scoots up to make space and offers me a slice, while I excitedly tell him about everything I've discovered in his city.