Amsterdam, the Dutch capital, is known for its picturesque canals, world-famous museums, and vibrant nightlife. However, one of the most interesting and unique aspects of this city is its culture of biking. For locals and tourists alike, riding a bike is the best way to explore the city. With its expansive network of bike lanes and paths, Amsterdam offers an incredibly convenient and enjoyable way to get around. And it's no surprise that cyclists make up more than 30% of all traffic in the city! Whether you're planning to stay for a while or just passing through, cycling in Amsterdam is special.
The first thing to note about Amsterdam's cycling infrastructure is that it is incredibly comprehensive. Almost every street has dedicated bicycle lanes, and there are also plenty of pathways that are off-road and away from vehicle traffic. This makes cycling in the city an extremely safe experience, as cyclists are rarely ever placed in close proximity to car drivers. The city even has specially designed roundabouts where bicycles can pass through without any disruption from cars!

One of the biggest advantages of biking in Amsterdam is that it's a great way to see the city. The narrow streets and tight turns of Amsterdam's city center are best navigated on two wheels, and you'll be able to see much more of the city by bike than you would on foot or by car. You can easily explore the city's famous canals, quaint neighborhoods, and historic buildings, all while getting some exercise and fresh air. Additionally, Amsterdam's flat terrain and bike-friendly infrastructure make it easy for anyone to enjoy a bike ride, regardless of their fitness level.
Biking is the preferred mode of transportation for many Amsterdam residents, and the city has gone to great lengths to accommodate this. With over 400 km of bike lanes and an extensive network of bike parking facilities, it's no wonder that biking is the preferred method of transportation for so many Amsterdam residents. Additionally, locals often use their bikes for commuting, running errands, and even taking their children to school.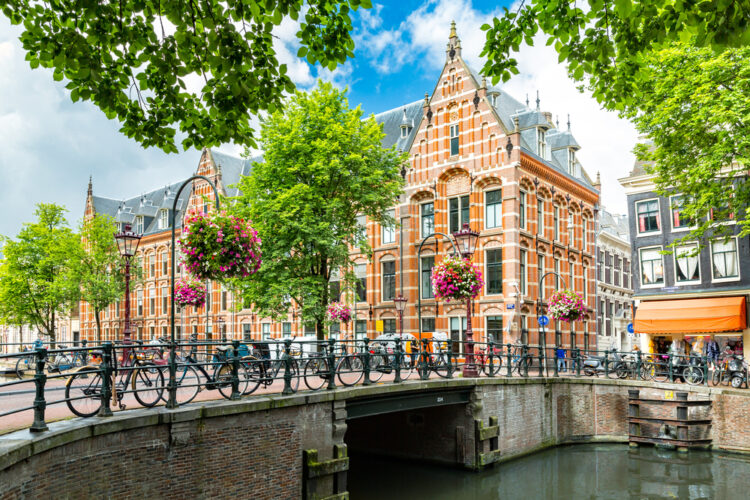 On top of this, Amsterdam has a wealth of other convenient features for cyclists. For instance, there are dozens of bike rental companies operating throughout the city so that visitors can experience all of the fantastic routes without having to bring their own bicycles with them. Additionally, many public parks have bicycle racks near their entrances where riders can easily lock up their bikes while they explore the park grounds.
But perhaps the most attractive feature of all is the incredible countryside located just outside the boundaries of the urban area. Just north of Amsterdam lies Waterland – an idyllic region filled with beautiful fishing villages and stunning landscapes that are perfect for an afternoon bike ride away from the hustle and bustle of downtown life. Here visitors can find some truly peaceful routes through rolling green hills surrounded by tranquil lakes – all while being able to stop by quaint little towns along their journey to sample some delicious local seafood dishes or craft beers from nearby breweries!  There are several parks, lakes, and forests that are easily accessible by bike, making it a great way to get out of the city and into nature. Additionally, many of the small towns and villages that surround Amsterdam have a lot to offer in terms of history, culture, and scenic beauty.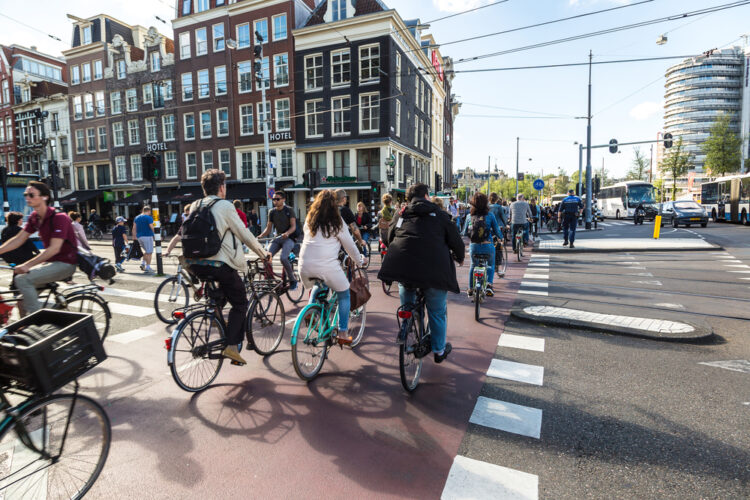 Amsterdam lives up to its reputation as one of Europe's premier cities for cyclists. Its combination of convenient infrastructure, thoughtful design features, and beautiful surrounding countryside provide bicyclists with everything they need for an enjoyable biking experience!