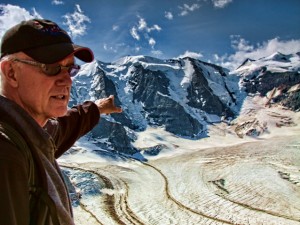 The dream of skiing in St. Moritz, Europe's winter glam capital, seems impossibly expensive to most of us. Yet this unbridled wealthy Swiss mountain village, where furs predominate, caviar is sold in supermarkets and snow-chained Bentley's jockey with Porsche's for parking, is affordable, very affordable – the trick is knowing where to look, and when to go.
From Zurich airport take the little red train, which gently threads through the Swiss Alps, gently clickedy-clacking higher at each track turn, until it reaches St. Moritz – possibly one of the prettiest chocolate-box settings in Europe. St. Moritz is buried in a lake-studded valley, half an hour from the Italian border, surrounded by wooded slopes, 3,500 metre peaks and 217 miles of ski slopes, which offers some of the best powder snow in the world.
The resort divides into St. Moritz-Dorf, where most of the luxury hotels and haute couture shops are concentrated, and St. Moritz-Bad, a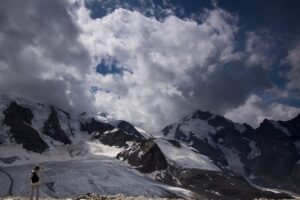 settlement of high-rise apartments on the valley floor – which is where you'll find the Hotel Sonne (St. Moritz-Bad, ph +41 81 8385959, www.sonne-stmoritz.ch), an 80-bed hotel with views of the Piz Nair, Suvretta and Corviglia. Here CHF163/€103 buys a basic B&B and ski pass (minimum stay three days). For a modern alternative, the most recent B&B addition to St. Moritz is The Piz (St. Moritz-Bad, ph +41 81 8321111, www.piz-stmoritz.ch) with rates from CHF 80/€51.
If you don't want to compromise on elegance but still want a deal, just a few minutes away, in idyllic neighbouring hamlets, is where you'll find picture postcard gems like Lej da Staz (St. Moritz-Celerina, +41 81 8336050, www.lejdastaz.ch); a secluded and romantic ten-room chalet with a superb restaurant and its own lake – great for nature lovers. B&B rate starts at CHF80/€51.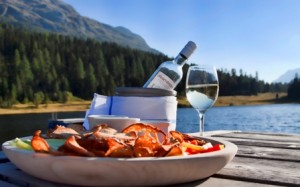 The trendy decor and unfussy design at the Inn Lodge (St. Mortiz-Celerina, +41 81 8344795, www.innlodge.ch) is a favourite with the young at heart. From multi-bed rooms to luxury suites, B&B rates start at CHF33/€22.
If it's chic you're looking for, you're guaranteed to find it in one of the 39 individually styled dream rooms at the Hotel Misani (St. Moritz-Celerina, ph +41 81 8398989, www.hotelmisani.ch), five-minutes from Corviglia. B&B rates start at CHF85/€57.
For an all inclusive ski pass, ski hire, and a funky accommodations deal, head to Julier Palace (www.julierpalace.com). Prices at this 40-room hotel start at CHF110/€70 (minimum stay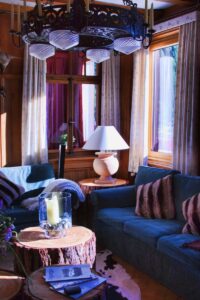 seven nights), and includes breakfast and dinner. Should you plan to spend the day skiing you may want to take a packed lunch along as it's pricey on the mountain – the Coop supermarket has good sandwiches.
Should you prefer the self-catering apartment option, contact retro-styled Chesa Muragl (St. Moritz-Celerina, ph +41 81 8362500, www.chesa-muragl.ch) where rates start at CHF112/€71 per person if the flat is shared by 6 (minimum stay required). Inexpensive eating out options can be found at Pizzeria Caruso (Hotel Laudinella) who have a great salad bar (CHF 9.50/€7) and Restaurant The Piz for the best pizza in the valley (around CHF16/€11). Treat yourself to a romantic dinner at Lej da Staz and book a lake view table (three-course dinner for two, plus a good Riesling, cost CHF166/€110).
If your accommodations exclude a ski pass, pick up a limited access two-day pass for CHF42/€32; or one that provides access to all the slopes and free public transport across the valley for CHF138/€105. Each piste has a different season, consult www.engadin.stmoritz.ch/mountains before setting off. For ski equipment hire contact Boom Sports (www.boom-sport.ch); their daily rates for hire of skis, boots and poles start at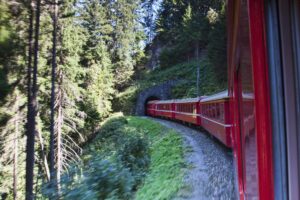 CHF62/€47.
The village of St. Moritz is is transformed into a ski slope for three days at the end of November enticing locals, guests and celebrities to compete in the St. Moritz City Race – a parallel slalom through the pedestrian zone of this world-famous winter-sports resort (www.stmoritz-cityrace.ch). Guests can participate in teams of three for CHF90/€57 per team. Around the same time inexpensive hotel, ski and snowboard packages are available and start from CHF270/€205 per person for two nights and CHF1208/€918 for a five-night family deal. See www.engadin.stmoritz.ch/winter/en/pauschalenliste/rm4.pauschalenliste for details.
Affordable dates to visit St Moritz are at the beginning and end of the ski season – verify with each hotel when exactly theirs is, as they may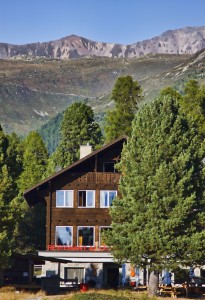 differ.
In late January there's the ice-cool appeal of the Cartier Polo World-Cup – a fiercely contested tournament played by the best polo players in the world. Another must-be-seen-at event is the White Turf horse race which attracts thoroughbreds from across Europe. The 2011 event is scheduled over three dates during February.
Before you leave it's imperative to partake in the Cresta Run – a wild corkscrew ice tobogganing experience which typically opens a couple of days before Christmas and remains open till the end of February. There are more than thirty highly spirited races and rides occurring every morning.
Should you have spare energy, do the five-mile slope on Corvatsch down to St.Moritz-Bad, and take in the jaw-dropping view over the frozen lakes of the valley. But, if nothing else, the moonlit downhill ski-run on Diavolezza is a must. Here, other than your own breath, all you'll hear is the occasional swish-suck sound of passing skis.
For up to the minute deals contact the Engadin St. Moritz Tourism office www.engadin.stmoritz.ch.