Dozens of dabbawallas congregate under a tall Banyan tree; more arrive every minute. I watched these tiffin carrying deliverymen sort out the lunch boxes at a frantic pace, then load the steel tiffins onto their bicycles and push carts. Soon groups of three or four dabbawalas push carts laden with hundreds of tiffins along the middle of the road. They're all clad in long cotton loincloths called dhoti's, loose cotton shirts and white wide-band Gandhi caps, pointed in the front and back – a symbol of India's non-violent pursuit of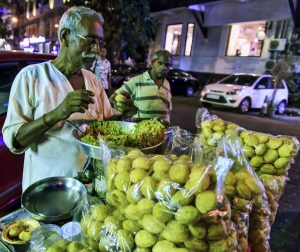 self-reliance and independence.
This is Mumbai's home-made lunch-box delivery system to the +200,000 growing middle-class office workers and school children – a system which has been in existence since the 19th century.
Mumbai's conservative middle-classes are distrustful of what they call "outside" food and choose instead to have their chapatis cooked at home, preferably by the lady of the house. Hence, on a typical weekday morning, a dabbawala will be seen collecting 'dabbas' (tiffin lunch boxes) from numerous households, or from the dabba makers, who have registered with Nutan Tiffin Box Supplier Association.
From collection point, to sorting the tiffins for transportation through Mumbai's chaotic traffic, dabbawalas transport loads of tiffin lunch boxes either on their bicycles, handcarts or on one shoulder. By 9am the dabbawalas head to the nearest train station where lunchbox crates are loaded into the train's luggage compartment. This is the start of the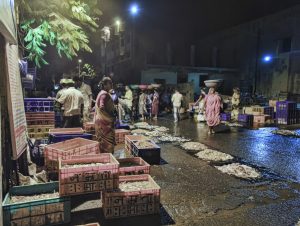 North to South journey of the colour-
coded tiffins lunch boxes. On an average, each tiffin box changes hands six times and travels around 65km in its journey to reach its final destination. Each box is differentiated and sorted by its individual colour-coding, which includes marks depicting the railway station where it needs to be unloaded, and the destination address.
Due to time constraints, the trains stop at each station for mere seconds. So it's with great haste that tiffins are handed to a local dabbawala waiting on the platform; he in turn delivers them to the rightful recipient. The entire process is frenetic with everyone moving fast to make sure the food is delivered without getting cold and in time for lunch.
The dabbawalas of Mumbai are a unique feature of the city as they go about their task of delivering lunch boxes.
The dabbawalas then take a lunch break themselves, following which the ritual is played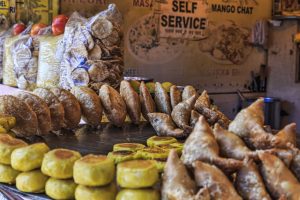 out in reverse: once the contents of the tiffins have been eaten, the same empty metal containers are escorted back to where they came from and delivered before 5pm.
Patrons who agree to share the leftovers from their tiffin with street children, mark their 'dabba' with a small sticker. So, before the tiffins begin their return journey, volunteers mete out the leftovers to the street children and other less fortunates of Mumbai.
In the event of a dabbawala meeting with an untoward mishap along the way, alternative procedures are put in place to deliver the tiffins. In each group of 30 or so dabbawallas who cater to a specific area, five of them act as redundant members who take on the task of delivering the stricken dabbas. These are usually the older walas – there is no retirement age; any person can work if he is fit enough to carry on the tasks required of him.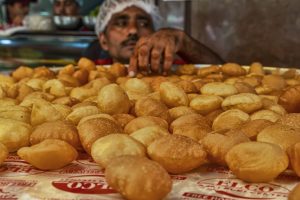 These near 5,000 dabbawalas are no mere deliverymen, they're a group of unsung local heroes whose work ethics and operational model have been adopted as a benchmark for the rest of the world to follow. The humble set-up of the Mumbai dabbawala network, which was established in the late 1800s, belies its mind-boggling achievements in providing reliable service to their customers and keeping a near-perfect delivery record (1 error in 16-million transactions) – without the aid of technology.
Through a translator I asked Kiran Garande, a Sorting Supervisor of the Mumbai's Dabbawala Association, to tell me how wala's get into the business:
"There is no specific selection criteria like age, sex or religion but candidates are thoroughly verified and a new employee is taken into the fold for a six-month probation. Each dabbawala is required to contribute a minimum capital – in the form of two bicycles, a wooden crate for the tiffins, a white cotton dhoti loincloth, and the obligatory white Gandhi cap. Each month there is a division of the earnings of each unit. Every dabbawala is an equal share holder in the organization and he knows that his poor individual performance will adversely influence their collective business profit, thus negatively affecting his personal income."
I ask about the regulations: "The Dabbawala Association has very stringent rules for its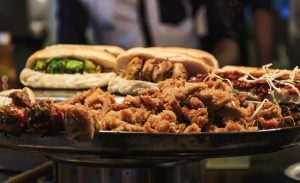 employees, like consuming alcohol whilst on duty – this would attract a Rs1,000 fine, as would unwarranted absenteeism. And a wala cannot be caught without wearing his Gandhi cap as it serves as a symbol of identification in the crowded railway stations. Not wearing the cap carries a fine of Rs25." He cut short for a moment, assisting a wala load his cart.
For a salary of between Rs7- and Rs8,000 a month (US$115), they're definitely not in it for the money, but at the end of the day, the job satisfaction they achieve is of infinite value to them. They may be less educated but they're certainly spiritually rewarded.
There has never been a dabbawala strike in its 126-year existence.
 The dabbawalas are also bound by unwritten rules of conduct, which they observe faithfully – strictly no smoking and alcohol consumption during work hours, their signature white dabbawala cap must be worn at all times during work hours, dabbawalas must carry proper identification on them at all times and they are forbidden to take any vacation time without prior notice. Such ethics and guidelines may seem radical or draconian by the standards of our employee-centric culture today, but dabbawalas reflect deeply on how they view and approach their work. There is no employer-employee relationship between dabbawalas. All dabbawalas must carry out delivery duties, including the Dabbawala Association president himself.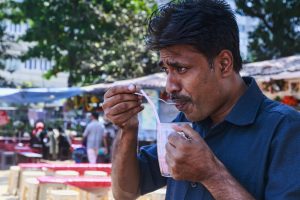 Dabbawalas are a perfect example of one important business principle –  the thirst to serve customers in a simple yet effective fashion, without falling into the technology trap. They go to work daily with only one goal in mind – the careful and trustworthy delivery of food-filled tiffin sets to the workplace or school, and then, at the end of the day, the return of the tiffin sets to their respective points of despatch.
The secret behind the success of Mumbai's humble dabbawalas, according to Dr. Pawan Girdharilal Agrawal, the CEO of Mumbai Dabbawalas Association, is "…a work philosophy encapsulated in the principles that work is an act of worship, the customer is God, there is no alternative to sheer hard work and work must be guided by human values. The best lesson to take from this gesture is that social responsibility has to be deeply rooted into one's character and cannot be learnt in any business school. It is not about how much you receive that makes you empowered, rather it depends on how much you give and empower others – this defines the quality and fulfillment of one's life."
To plan your trip to Mumbai visit www.incredibleindia.org
Checking in:
For the discerning traveller there is only one choice – the Hyatt Regency Mumbai. This dramatic glass and steel structure, just minutes from the airport, is a welcome escape from the chaos of the city. The cool and dramatic ambience is contemporary, open-plan and immense. With floating ebony-coffered ceilings, stainless steel and glass features, eye-catching art, granite under foot, floor-to-ceiling windows and discreet staff, eager to tell you about their city – it's everything and more you'd expect from a five-star hotel.
Its luxurious Wi-Fi enabled rooms and suites (401 in total) are generous and elegant, complete with oversized mirrors, walls of windows allowing natural light to flood in, Malaysian teak flooring, crisp white linens and luxurious Italian marble bathrooms (with a separate step-down bath and rain shower). You would struggle to do better.
Club Prana is the Hyatt's state-of-the-art fitness centre and spa, offering an exotic selection of treatments – which I can personally attest to after discovering new muscle groups I didn't know I had.
For a long cool drink take a look at the collection of premium wines and whiskeys on the drinks menu at The Bar. If you're in the mood for authentic Indian cuisine, book a table at The Glasshouse – at night there are terrific views across the lit swimming pool and the hotels four acres of landscaped garden. The Hyatt's uber-cool signature eatery is STAX, the elegant, open Italian kitchen, showcasing regional favourites from Italy's provinces. Sous Chef Rajiv Das personally prepared my ravioli served with almond shaving, butter and parmesan cheese – simply melt-in-the-mouth. For something sweet and sinful there's The Bakery which presents all sorts of scrumptious cakes, pastries, muffins, doughnuts and other artery tightening delicacies you know you shouldn't be having, so don't make eye contact with the Chocolate Brule Gateaux. Instead, take a look at the 'sugar free' options. Yeah, I know, who am I kidding… but Mumbai won't tell.
Prices start at Rs10,000 (around US$150) – ask after room number 645.