Northern Spain gets chilly from December to March. Sure, it's not Berlin, but there is snow on the Pyrenees and the good people of Barcelona are wearing their most stylish winter coats. In northeastern Spain, Catalonia is gushing with hot spots where water, wine and relaxation promise to cure whatever ails you and warm up frosty fingers. Soaking it up in hot springs is nothing new in the region, and many current balnearis and spas are located on what was once natural Roman baths. There are hot springs to fit every taste, from five-star spas with all the frills to outdoor thermal tubs which smell like sulphurous rotten eggs.
If you'd rather smell red wine than sulphur, then Can Bonastre Spa is the place for you. There is no part of this boutique resort that is not intricately and completely connected to the wine it produces. You see, Can Bonastre is first a vineyard and then a five-star spa and hotel. Just a thirty-five minute drive from Barcelona, Bonastre is located in Penedès and surrounded by 100 neat hectors of vines and olive trees from which it produces its own oil and bottles of reds, whites and rosés.
Can Bonastre's Acuba Spa is where those in the know go to be covered in Crianza. The spa's most popular treatment is its Vinoterapia, which translates to two hours of being dipped, rubbed, scrubbed, washed and lathered in wine, grape and seed. The main benefit of Vinoterapia is its anti-aging affect on tired skin, the wine acting as an antioxidant. Bonastre's spa also has a pool room with jets, whirlpools, waterfalls and all the bells and whistles. The spa is sided by a wall of windows which look out onto the vineyards and frame perfectly the entire Montserrat Mountainside, an almost too perfect backdrop for an amazing place.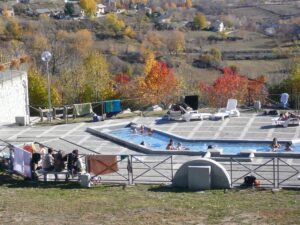 On the other side of the spectrum but with similarly stellar views, is Dorres Bains Romain. Located just a tad over the border from Cerdanya's Puigcerda, the thermal spring is rustic and au natruel, offering no wrap and no wine. Dorres is for those who like their hot water straight from the source and don't mind sharing a pool with a few other spring goers. Not a new discovery, Dorres' springs have been used since about 1500 BC, but became especially popular in the early 1900s because of its sulphurous properties. The coolest pool is fed by a 41 degree Celsius spring source. Side-by-side about fifteen people fit in the large pool, which looks out over a valley and Puigmal Mountain.
Dorres' Bains also has two sunken stone tubs and a smaller pool fed by a hot water cascade. All its pools are outdoors which makes for spectacular experience when it's snowing. Because of its central location between slopes, Dorres is popular with skiers and snowboarders looking to relax tired muscles and twisted ankles. For an adventurous and 'back to nature' holiday, try staying in Puigcerda for a ski weekend and day tripping over to Dorres in the late afternoon.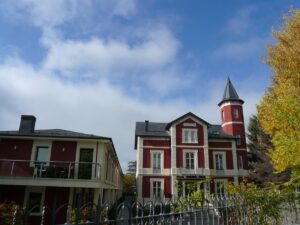 Also in Puigcerda is the super chic Villa Paulita Spa. Opened just a year and a half ago, this small spa and boutique hotel are part of the Hospes five-star hotel group and has an interesting story to tell. Built by Señor L'Estany for his wife Paula one hundred and ten years ago, the villa looks onto Puigcerda's swan-filled 'lake', some of the best property in town. Over the years the villa was passed down from children to grandchildren and fell into disrepair, becoming a Puigcerda eyesore. After the town's government asked that something be done with the villa, the L'Estany grandchildren decided to fix up the old place and turn it into the gorgeous property it is today.
What five-star spas are today, balnearis were yesterday. There are many of these old wellness centers still open and active across Catalunya. Popular in the late 1800's balneari spas focused only on thermal spring water treatments. Termes Orion is one such balneari, and sits on top of a mineral rich natural spring nestled in Catalonia's Guilleries Mountains. Constructed in 1860, Orion has been the 'go to place' for healing and relaxation for quite some time offering a wide variety of ways to enjoy its 42 degree spring water. There are steamy thermal showers, a large bubble-filled swimming pool, and private baths all with the same source and the same simple idea: spring water is good for you.
Perhaps the most famous spring water in Catalonia is sparkling Vichy. If you love this salty beverage as much as I do, then take a trip to Vichy Catalan's modernista hotel and balneari for some sparkling treatments. Founded by Dr. Modest Furest I Roca in 1898, the baths have a long history of curing the ill and sore. The interior of the building and hotel rooms are not as well kept up as the exterior  and it seems that much of the same furniture from 1898 is still being used, giving Vichy a creepy feel. Still, bathing in enormous Vichy swimming pool is refreshing and leaves skin soft as daisy petals.
This holiday season go on and treat yourself to a bit of steamy relaxation. And why not? The Turkish do it. So do the Icelandic, to say nothing of the wild Japanese 'Snow Monkeys' in Yudanaka Springs. They knew back in Roman times that a bit of hot water did wonders for the human body, mind and spirit. Now as we spin busily further into the 21st century, I say it's high time we re-adopt those old customs and embrace the spring, the massage, the vapourous sauna and maybe even a Crianza bath.
More:
Can Bonastre:    Acuba Spa  – 93 772 87 67        www.canbonastre.com
Dorres Details:    Dorres, France (Just across the border from Puigcerda)
Villa Paulita:     Bodyna Spa – 972 884 622       www.Hospes.com
Termas Orion Details:     Santa Coloma de Farners, Catalonia
Balneari Vichy Catalan     972 47 00 00      www.balneariovichycatalan.com