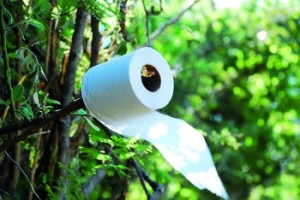 When you're bored of the beach and had all the sightseeing you can stomach, it's time to re-vamp your vacations.
If packing for your holiday feels like a duty rather than a delight, bid arrivederci to the mundane and plan a holiday with pizzazz.
If you crave something different in 2011, here are some weird, wacky or just plain daft ideas guaranteed to revive the most jaded traveller. You can even swap purely hedonistic holidays for the feel-good factor of voluntourism. How perfect is that – visiting somewhere wonderful and feeling great about yourself too!
Skiing in Dubai
Dubai is one of the craziest places on earth, with everything striving to be taller, flashier and more over-the-top than anywhere else. So it was perfectly sensible to create a ski slope in this stonkingly hot desert of bling. Ideal for keeping cool when the temperature outside cracks 45 degrees.
Dubai Emirates Mall boasts the world's third largest indoor ski slope, with five runs including a 400m slope with a fall of 60m, built from 6,000 tons of snow. There are professional instructors as well as snowboarding and tobogganing runs.
The après ski scene isn't fabulous since the United Arab Emirates is mostly alcohol-free territory, but you can adjourn to a nearby hotel for drinks after the adrenaline rush.
If you can wait until 2030 an entire Arctic experience will open, with a revolving ski slope cutting through an artificial mountain range, an ice bridge, cable lift, snow maze, ice slide, snowfall and – most bonkers of all – polar bears and penguins. If they ever have a power cut, the Sunny Mountain Ski Dome could very quickly emulate the lost city of Atlantis. www.skidubai.com
Save A Panda
Yes, you really can spend a holiday protecting gorgeous but nearly extinct giant pandas. Only about 1,000 remain, and a quarter of those are in Shaanxi reserve in China at the foot of the Qingling Mountains.
Cactus Volunteer Abroad can send you to a conservation centre to look after and monitor 10 giant pandas and do all those smelly, messy mopping up duties.  The centre also houses other highly endangered species including Golden Monkeys and the Takin, a large sheep-like creature.  You need to be mature, responsible and independent, Cactus says, as the centre is two hours from the nearest town of Xi'an, with precious little nightlife, restaurants or shops. There's barely any public transport either, although you might cadge a ride into Xi'an to see the famous Terracotta Warriors.
If you fancy doing something meaningful in Africa, Cactus also needs volunteers to work at a hospice for children with AIDS near Cape Town, or to work with wildlife at monkey and dolphin sanctuaries.
www.volunteers-abroad.com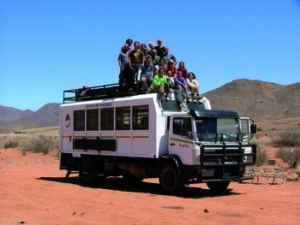 Keep on Trucking
Coach tours are for wimps! Try an off-road trail instead through Southern and East Africa, the Kruger, or a 20-day epic from Cape Town to Zimbabwe's Victoria Falls.
Nomad Africa runs a fleet of 40 no-nonsense trucks that aren't quite as basic as they sound, since the trucks have large slide-down windows for admiring the view and plenty of space to pack food and the two-man tents you sleep in. Its most popular adventures are gorilla tracking in Uganda and the 20-day Cape to Vic Falls expedition.
Age isn't an issue, since people of up to 65 are welcome – and even older if they have a medical certificate to show they can handle the optional extras like bungee jumping and quad biking. www.nomadtours.co.za
Visit A Place You Can't Pronounce
Most people struggle to find Kyrgyzstan on the map, let alone pronounce it easily.
Now you can explore it on a tour that also takes in equally ignored Uzbekistan.
These are remote, rugged and spectacular places inhabited by nomads who still ride around on donkeys and wear traditional tall furry hats.
A tour by Intrepid Travel starts in the capital, Bishkek, with wide streets and handsome houses. You'll visit a spectacular canyon, camp alongside local shepherds by Issyk-Kul Lake, one of the world's largest natural water reservoirs, and hike through the dramatic Djety Oguz Valley. And soon those names will be rolling off your tongue!
The tour ends in Tashkent, where you can snap up Soviet memorabilia including military uniforms at Chorsu Bazaar. After basic camping in the austere wilderness, it will be an incongruous finale to discover the city's old imperial restaurants provide decent meals and raunchy cabarets.
www.intrepidtravel.com
Irish Pub Tour
Forget those fake Irish pubs in brand new buildings desperately trying to look olde and quaint. If you honestly think Guinness comes in a can, head to Ireland for a taste of the real thing. Several companies offer escorted tours, which is almost essential since you'll be in no fit state to drive after the first 10 minutes.
Irish pubs aren't just places for copious quaffing. They're the centre of a community's social life with music, dancing, gossiping and the recounting of long, rambling jokes and ghost stories.
In Dublin the Brazen Head is one of the city's best live music venues where pints have been pulled since 1198.
A Dublin Literary Pub Crawl takes you on a drinking tour of the favourite haunts of well-lubricated writers including James Joyce and William Butler Yeats.
Ireland is also crammed with monuments like Blarney Castle, where you can kiss the famous Blarney Stone to gain the gift of eloquence. Although most people get the gift of the gab after a couple of pints anyway.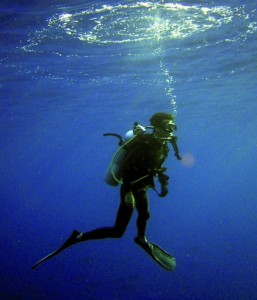 Learn to Scuba Dive
Rather than lazing on the beach wondering what's lurking out there in the ocean, get in and take a look.
Sign up for a diving course and you'll soon be ready to enjoy some thrills with your new-found skills on holiday. Many diving companies will let you take a sample lesson first, to make sure you're not about to sign up for something that's out of your depth.
Once you've qualified, plan a trip to the Red Sea, the Maldives or South Africa, where the weather is good and the seas around Durban are warm. Pick somewhere withing striking distance of other attractions too, because as a newcomer you may find a dive a day to be too much, too soon.
Some companies offer holidays where you learn to dive after you arrive, but if you suddenly discover you don't actually like being underwater with nothing but an air tube between you and oblivion, it's a big, scary waste of money.
Day Of The Dead
One of the weirdest ceremonies in the world must be Mexico's fascinatingly macabre Day Of The Dead.
Día de los Muertos has its roots in Aztec culture, with tribes having celebrated the deaths of their ancestors for 2,500 years.  The three-day event is held in beautiful colonial of Oaxaca, where the markets are heaving as families buy items to decorate their graveyards. Graves are cleaned and covered with toys for the children, food, bizarre sugared skulls, and bottles of tequila. Which probably explains some of the ghost spotting.  Then the families eat and dance in the cemeteries to honour dead friends and relatives in the belief that death is not the end, but the start of a new stage in life. Eating in Oaxaca is an adventure in itself, with specialities including chocolate-covered grasshoppers washed down with potent worm-enhanced Mescal.
Gap Adventures runs a tour every October that takes in the festival as well as Mexico City and surfer's paradise Puerto   Escondido.Even though Gap is tailored for adventurers, it still warns that Mexico City, the world's most populous centre, "is a crowded, smoggy, urban place where the altitude combined with atmospheric conditions may cause irritation of eyes, nose and throat."  So take care, or it may be your Day of the Dead that your travelling companions remember.
www.gapadventures.com
Photos: Nomad Tours