A plain old soak in the tub is now officially passé. Here are just five of the many weird and wonderful places around the world which put more zing in your bath time.
Hamam scrub-down: Istanbul, Turkey
You haven't been to Turkey until you've experienced the hamam (or Turkish bath) and where better to partake in a traditional scrub and soak than in the sultan's ex-playground of Istanbul. An experience not for the modest, a true hamam includes some seriously vigorous exfoliation of your body carried out by the bath's attendant plus a pummelling massage. For soaping-up in style amid vast interiors of marble columns and the domed ceilings of Ottoman architecture, try the truly sumptuous Cagaloglu Hamami which has been functioning since 1741. A cheaper, and highly recommended, historic alternative is the Cemberlitas Hamami, only a 10 minute walk away.
Cagaloglu Hamami: open daily 8am-10pm, the full-works (sauna, wash, scrub and massage) costs 80TRY (US$50). Near the Basilica Cistern on Yerabatan Cad, the closest tram-stop is Sultanahmet, PH: 212-522 2424, www.cagalogluhamami.com.tr.
Cemberlitas Hamami: open 6am-12am, the full-works costs 59TRY (US$37). Situated right on Cemberlitas Square along Divanyolu Cad, the closest tram-stop is Cemberlitas, PH: 212-522 7974, www.cemberlitashamami.com.
Salty floating: Dead Sea, Israel and Jordan
Lying at the lowest point on earth, the salty soup of the Dead Sea really is the sea where you can't sink. The mineral-laden waters here have been revered as a health and beauty tonic for generations. Whether the claims are true or not, bobbing about on the surface is truly one of the strangest bathing experiences in the world. On the Jordanian side, Amman Beach Resort is perfect for day-trippers with a restaurant, fresh-water showers and fresh-water swimming pools as well as its own private beach. If you really want to test out those beauty and health benefits though, you should head just up the coast to the Movenpick Hotel where you can be slathered in Dead Sea mud at the luxurious award-winning Zara Spa.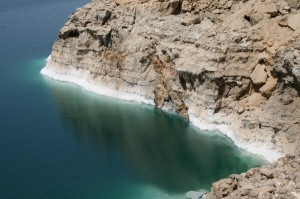 Amman Beach Resort: open daily 8am-9pm, entry 15JD (US$21) for the day. Ticket price includes use of all the resort facilities as well as entry to the beach. The resort is on the Dead Sea Highway, 1 hour drive from Amman, PH 05-356 0800.
Zara Spa: Treatments cost between 50-210JD (US$50-295) or you can purchase day access, with full-use of the spa and hotel's swimming pools, lounges and beach access, for 40JD (US$56). Day access is free if you buy a treatment worth over 100JD (US$140). The Zara Spa is inside the Movenpick Hotel complex on the Dead Sea Highway, 1 hour drive from Amman, PH 05-356 1303, www.moevenpick-deadsea.com.
Hot pool soaking: Hanmer Springs, New Zealand
Tucked away amid a landscape of thick native forest soared over by the craggy peaks of the Southern Alps is the thermal springs complex at Hanmer Springs, New Zealand's most famous resort town. With pool temperatures ranging from a balmy 82° Fahrenheit up to a staggering 107° Fahrenheit, the thermal waters here are guaranteed to soothe away any aches and pains gathered from sampling some of the nation's famous trekking trails. Those after a more inclusive package can also choose from a range of treatments at the spa while families are also well-catered for with the child-friendly attached water-park. Come in winter when the deep snow surrounding the steam-filled pool areas makes a hot soak all the more surreal.
Hanmer Springs: open daily 10am-9am, entry NZ$18 (US$14), 42 Amuri Avenue, Hanmer Springs, about a 1.5 hour drive from Christchurch, PH 3-315 0000, www.hanmersprings.co.nz.
Elephant bathing: Mae Taeng Valley, Thailand
Bath time has never been this much fun. Based in Thailand's north, The Elephant Nature Park encourages visitors to get involved with hands-on care of the sanctuary's resident elephants on a series of conservation-based trips. Bath time at the end of the day, when you learn how to scrub down your elephant in the river allows you the rare opportunity to get up-close and personal with these mighty creatures. These unique trips are focused on educating visitors on the many problems facing South East Asia's Elephant population and profits made from this unique ecotourism venture help the park continue its conservation efforts.
Elephant Nature Park: All daytrips and overnight stays must be booked beforehand through the park. Daytrips cost 2500 baht (US$82) and include return transport from Chiang Mai, lunch and the services of one of the park's expert elephant handlers. The park is a 1 hour drive from Chiang Mai, www.elephantnaturepark.org.
Bathing bliss: Budapest, Hungary
After a marathon of sight-seeing in Hungary's capital there's no better way to relax than heading, like the locals, to one of the city's spas. Budapest's plentiful thermal springs have been known about since the Roman's stomped through here and have been utilised in one form or another for centuries. If you feel like a wash which oozes glamour you can't go wrong with choosing the art-nouveau Gellert Spa, which has been in use for just over 90 years. The gloriously decadent interior, which harks back to the Spa hey-day before World War II, is worth the entry price alone.
Gellert Spa: open daily 6am-8pm, tickets for general entry (2 hours use of the thermal baths and swimming pool) cost €15 (US$21), massage and other services are extra. The Spa is on the Buda side of the city, close to the Liberty Bridge and can be reached by using trams 18, 19, 47 and 49, www.gellertbath.com.