Any summer vacation has got to include a visit a theme park or water park. With hundreds of park to choose from it can be a challenge finding one to suit your time and budget. So many rides, so little summer! Here are five top locations for kids of all ages to ride, slide, fly or float and have family fun in the sun.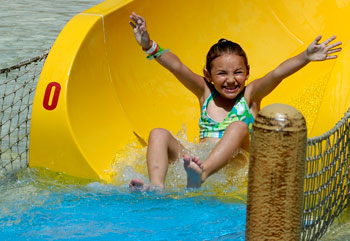 1. Schlitterbahn, New Braunfels near Austin, Texas has been voted the number one USA water park by both the Travel Channel and Amusement Today. And for good reason. Located on the banks of the Comal River, this is actually two parks spread out over 65 acres with a free shuttle service between both. Schlitterbahn West (also known as Schlitterbahn Original) has a German theme and is best known for its spring-fed tube chutes. Schlitterbahn East consists of Surfenburg and Blastenhoff with three uphill water coasters including Master Blaster, consistently voted the world's best water ride. Also included are three miles of inner tube rides, seven children's playgrounds, 17 water slides, nine tube chutes and Boogie Bahn, the world's first surfing machine. The brand also has three other locations. The Beach Waterpark South Padre Island offers 13 water slides to enjoy. Schlitterbahn Galveston Island Waterpark has additional indoor heated slides and wave pools. Vacation Village in Kansas City offers the Transportainment River System. There is no charge for parking or for renting inner tubes at any of the locations. Families are also encouraged to bring picnic lunches to save money.
2. Orlando, Florida has a well-deserved reputation as the theme park capital of America with several major theme parks to choose from. Nobody does magic like Disney World with its 107 acres that include two water parks and four theme parks. Visit with your favourite Disney character and ride the classics such as Adventureland's Pirates of the Caribbean, Frontierland's Splash Mountain and Tomorrowland's Space Mountain. Be sure to check out Blizard Beach for the 120-foot high Summit Plummet,—the world's tallest and fastest water slide with top speeds of 60 miles an hour!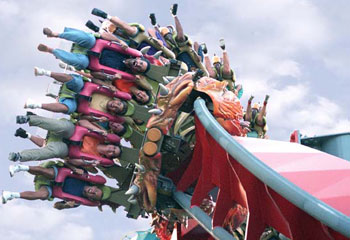 Universal Studios, Orlando offers two theme parks: the original Universal Studios and newer Islands of Adventures with its dining-shopping-nightclubcomplex and three luxury properties. This park is geared for fast thrills and will appeal to tweens and adult movie fans. You'll find plenty of thrills on rides like the Simpsons, Duelling Dragons, and the Rip Ride Rockit megacoaster.
At Wet'nWild you can slide and splash alongside the Sun 'n Sounds Performance Showcase featuring marching bands, choirs and other musical groups. Enjoy the traditional waterslides, tube rides and Lazy River floats as well as the Brain Wash, a six-story tube ride with lights, sounds and video while you swirl through 65-foot domed funnel with a 53-foot vertical drop. The Wet'n Wild in Greensboro, North Carolina with Dr. Von Dark's Tunnel of Terror with a 40-foot drop, hi-speed 360° spins all in total darkness.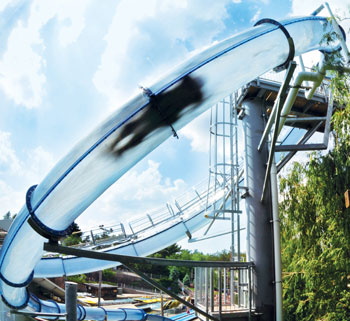 3. Noah's Ark, Wisconsin Dells, Wisconsin, is America's largest waterpark with 49 rides, two giant wave pools, two rivers, 3 arcades, shopping, a "dive-in" theatre, 18-hole mini-golf course. This is 70 acres of pure fun with spectacular rides. Take America's Longest Water Coaster, the Black Anaconda. Climb 10 stories to reach America's first nearly vertical waterslide, Scorpion's Tail with its 400-foot loop that you plummet down at more than 50-feet per second. For more warp speed fun, jump onto Time Warp, World's Largest Bowl Ride. Plan on at least a full day to take in everything this park has to offer.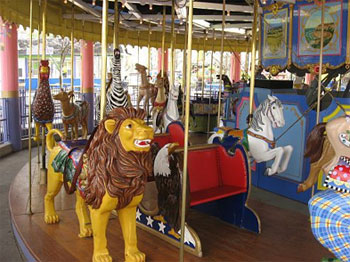 4. Lagoon Park, Farmington, Utah has been in operation since 1896 and has a charming blend of the old and the new. There is a 1921 wooden roller coaster still working as well as a 118-year old hand-carved carousel with 47 animals. Colossus the Fire Dragon is the only existing Scharzkopf Double Looping coaster left in the USA. Each year brings a new ride and this season its BomBora, a 1960s surfing theme offering frequent twists and turns at 45-feet in the air. Main areas to enjoy include the carnival-like Midway, Pioneer Village a reconstruction of a 1800s frontier community, the water park Lagoon-A-Beach, Kiddie Land and X-Venture Zone for the adventure seeker and entertainment at Carosel Theatre.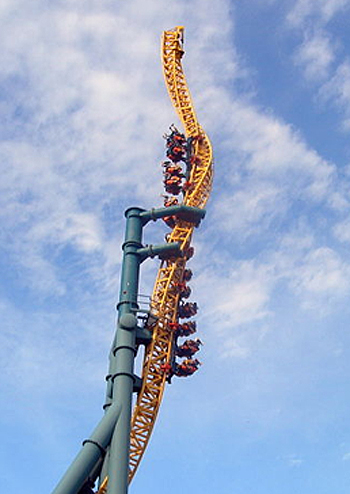 5. Six Flags, Gurnee, Illinois is one of the most popular of the 17 theme parks owned by the world's largest amusement park company. All the parks are famous for having the fastest, tallest and wildest rides and the Illinois location is no exception. With 64 rides, there are enough thrills here to satisfy every member of your group. Choose from mind-bending roller coasters, flat rides, water slides, kiddie rides plus numerous shows. Popular rides include Raging Bull, one of the new hyper-twister rides which twists and turns FAST. Younger kids will enjoy the indoor-coaster, Dark Knight, that takes you through Batman's hometown Gotham during its darkest hour.  Or, you can try to gentle, gravity-defying Whizzer, the world's only spiral lift coaster. Not in the area? Don't worry there are 16 other Six Flag Parks to choose from in California, Georgia, Massachusetts, Maryland, Missouri, New Jersey and New York.