The latest Las Vegas indulgence is the ultra pool.   Today, Sin City swimming options are as much a fixture in resorts as poker tables and slot machines.   Sunbathers can find everything from massive sandy beaches to partying dayclubs to relaxing poolside massages.   Here is a round up of the latest cool pools: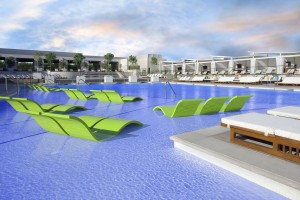 MGM Wet Republic
3799 South Las Vegas Boulevard
This adults only 53,000 square foot venue combines an exclusive nightlife vibe with poolside pampering, gourmet food and relaxation.
The splashy ultra pool and day club envelopes guests in a contemporary white linen palette adorned with vibrant hues of emerald green, turquoise and yellow evoking a South Beach ambiance.  Eight separate pools and spas lie within the wide-open facility with two four-foot deep saltwater pools taking center stage.  Six cascading waterfalls accent the poolscape.
Adjacent to the main pool area is the 2,500 square-foot open-air ultra lounge delivering non-stop party music.  Guests can mix, mingle and dance or take a seat at the marble topped bar to enjoy Veuve Clicquot Snow Cones with blood orange juice, Red Bull Drunken Popsicles and other signature cocktails.  Unique menu items include Kobe sliders, steak and lobster grilled sandwiches, tropical fruit salad and frozen strawberries with Grand Marnier fudge.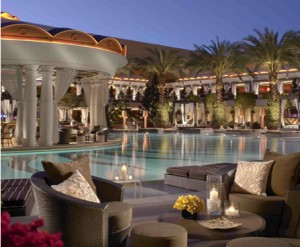 Encore Beach Club
3131 Las Vegas Boulevard South
Encore's 60,000 square feet Beach Club houses the latest state of the art sound and light system within three tiered pools, daybeds and 26 cabanas outfitted with flat screens and refrigerators.  As day turns into night, the Encore Beach Club transforms into Surrender nightclub. Eight cabanas are also on the upper area with private bathrooms and showers, as well as numerous daybeds throughout the outside area. In the center of the outdoor pool is a dance station that has three silver poles and a circular red covering that streams down water in a rain-like flow and tops it off with misters on the outer ring.
In 2010, Caesars spent $100 million remodeling their Garden of the Gods swimming area to include eight pools, decadent cabanas and palatial sunbathing spots.   The Apollo Pool is the best spot to catch
some rays with maximum sun exposure, seven canopied day beds and chaise lounges.   The Fortuna Pool has a swim-up blackjack and Sun Lounge with a wide selection of martinis and poolside massages.   The Neptune Pool is the social center where beautiful guests meet and mingle.    The round Temple Pool is the classic image of Caesar's design surrounded by columns and statues.   The Venus Pool is a European style retreat with a  guest DJ's spinning the latest sounds.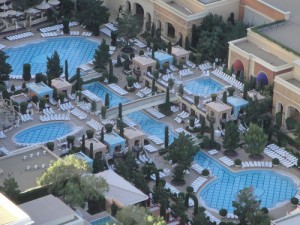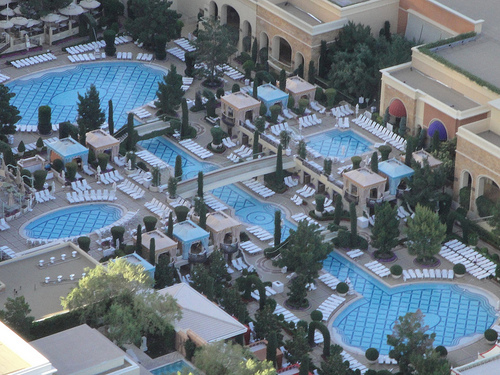 Palazzo Pool Deck
3325 Las Vegas Boulevard South
Lush landscaping, fountains and luxurious cabanas provide a variety of relaxation and lounging areas steps away from the suites of Palazzo.  The four-acre pool area includes seven pools, four
Jacuzzis, 41 cabanas, and has two bars and poolside cocktail service.  Guests can chose one of 380 chairs and lounges.  Located on the third level of the resort, the pool area is shared by Palazzo and Venetian resorts.
Swimmers can enjoy Italian pastas and pizza at Wolfgang Puck's Solaro or sandwiches or salads al fresco at Azure.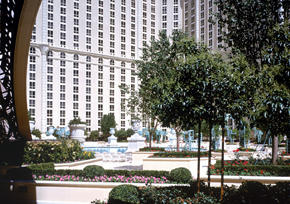 Paris Pool
3655 Las Vegas Boulevard South
The three-acre pool at Paris sits on top of the resort and offers views of the Eiffel Tower, the Arc de Triomphe and the Bellagio fountains.  The large octagon pool and two Jacuzzis are housed around manicured French gardens.  The Paris Spa offers poolside massages during the day, while weekends turn up the volume with live DJ's.  Cabanas include air conditioning a large fridge, couch, television, CD player, and padded lounge chairs.