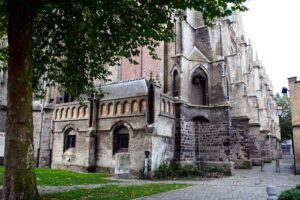 Poperinge, a quiet little town a short drive from the Channel Ports, 175km from Brussels, is Belgium's hops capital, and famously linked to WW1's British war effort – it was well known to Allied soldiers who fought in the Ypres Salient. Other than its war memorials, the town also draws tourists for it's Hops Festival each September.
The historical town square, surrounded by neo-Gothic mansions, has an assortment of taverns serving local brews and creative confectioners offering distinctly unique pastries such as butter caramels, cake with apple slices soaked in beer, thin waffles with a vanilla filling and hop cones in chocolate.
A bizarre statue stands beside the 13th century gothic church which dominates the square. The statue is of Squire Ghybe, a peculiar Don Quichotte-like figure sitting back-to-front on a baying donkey stumbling over boulders. This figure denotes the three main cities of the cloth industry (Gent-Ieper-Brugge) which governed the county of Flanders (the donkey) in the wrong way, and tried to suppress the stubborn town of Poperinge (the boulder) in vain.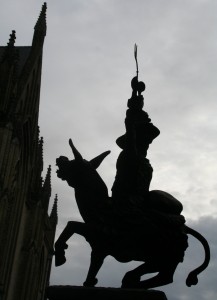 Down a side street leading off the square is an 18th century mansion house, historically owned by a tobacconist, but now the Romantik Recour Hotel. The austere exterior of the Recour veils a sumptuous interior which has been sympathetically restored, incorporating many of the original relics into the design. The light classical music which meets you at the front door underlines the hotel's stylish atmosphere, promising luxury and indulgence.
Nostalgia seeps from the eight spacious rooms which have all been individually decorated in muted shades of Tuscan honey, vanilla, buttercup, and soft moss against rough brick walls in hues of cocoa and bark. Dark wooden beams support high ceilings whilst four poster beds, the colour of bitter chocolate, are adorned with ice-white linens. An internal umber tinted glass wall provides visual access to each room's peace de resistance: a palatial bathroom in shades of Moroccan suede and clotted cream, the centrepiece being a brilliant white cast iron roll-top bath tub, resting on golden clasped eagles claws.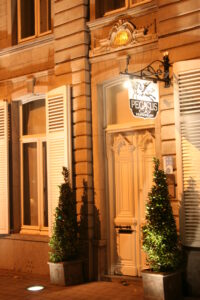 The hotel, although brimming with priceless antiques, marble fireplaces and crystal chandeliers, harbours no excesses. Functional charm and modern-day creature comforts are all superbly offset against clouded-pearl and cameo coloured walls. Accents are in subtle relaxing tones of Havana and Russian lavender.
Explore West Flanders' colourful past which is teaming with legends, such as the submerged castle in the surrounding woods, and a knight from Napoleon's army who rides the skies. Visit local WW1 historical sites, the hops museum or the nearby Abbery of St Sixtus at Westvleteren. Later, return to the Romantik Recour and immerse yourself in a bubble bath, soaking up the surrounding perfection and complimentary sherry before entering the elegant and stylish Pegasus restaurant – noted in the Michelin hotel and restaurant guide. Here head Chef Bert Recour's artistic skills will tease your palette with in exotic cuisines such as ointment of Jerusalem artichokes and pine-nuts with beetroot vinaigrette, and filet of pheasant with green cabbage and black truffle, perfectly offset by a superb international wine arrangement.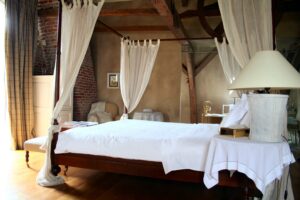 If it's an inexpressibly gorgeous oasis of rest and romance you're looking you could not better than the Recour.
Romantik Hotel Recour
Guido Gezellestraat 7
B – 8970 Poperinge
Tel. +32 (0)57/33 57 25
Fax +32 (0)57/33 54 25
Email: recour@romantikhotels.com
Web: www.romantikhotels.com/poperinge
Room rates range between €150 and €340. However, fifty percent reductions are offered for booking during the week. The room to book is the Junior Suite which has an outside deck area.