Basel, Brussels, Bologna: these three European cities may appear near the top of the list alphabetically. Yet they seldom top travel itineraries. That's good news for vacationers who prefer lower-profile, less crowded — but no less charming — destinations. So go ahead. Dare to "B" different.
Although it's impossible not to fall in love with Switzerland's Heidi-esque vistas, the country's urban attractions deserve equal billing. Under-appreciated
Basel
is a case in point… and here's why. Bisected by the Rhine River, it has a superb setting plus all the historical touchstones you would expect in a place that dates back to Roman times. Bordering both France and Germany, Basel also combines the architectural best of both (for proof, just check out its monumental cathedral or half-timbered houses). The twist is that its classic continental trappings are offset by an über cool art-and-design scene. Cosmopolitan Basel, after all, not only hosts the world's primo contemporary art show (Art Basel, held annually in June). It is also the site of the Beyeler Foundation which displays a superlative collection of 20
th-
century paintings inside a building designed by Renzo Piano. Mario Botta, meanwhile, designed the Tinguely Museum to showcase the work of avant-garde artist Jean Tinguely. More impressive still is the Vitra Design Museum: a stunning venue dedicated to iconic mid-century furniture. Its sprawling campus, just 10 miles from the heart of town, features contributions from starchitects like Frank Gehry and Zaha Hadid.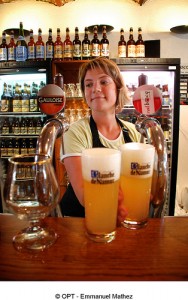 In tourism terms, twee little Bruges usually hogs the national limelight. That's a shame because
Brussels
has a lot going for it. For starters, this city is both the capital of Belgium and, as the base of key EU operations, the de facto capital of Europe. Brussels is a front runner for the "Culinary Capital" title too, which may come as a shock for anyone traumatized by a childhood encounter with Brussels sprouts. It boasts a dozen Michelin-starred eateries (a huge number for a city with only about a million residents) and almost two dozen more designated
Bib Gourmand
restaurants that serve three-course meals for €36 max. Not surprisingly, Brussels is also a fine spot to try the "Holy Trinity" of Belgian indulgences:  beer, chocolate, and the mayo-dipped potato
frites
we indelicately call French fries.  The last of these can be found at street stalls citywide. As for the other two, well, Belgium produces over 450 varieties of beer and is home to legendary chocolate purveyors such as Neuhaus and Leonidas. You can learn more about the former at the heady Cantillon Brewery Museum (which offers self-guided tours and samples) or the latter at
Maison des Maitres Chocolatiers
(a Grand Place forum for 10 master makers with demos and taste tests).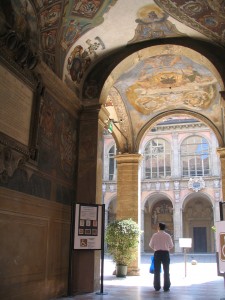 BOLOGNA, Italy:
Bologna
is another foodie destination — and not because of that namesake luncheon meat. You see, the surrounding Emilia-Romagna region is heralded as the "birthplace" of Parma ham, Parmigiano Reggiano cheese and balsamic vinegar, while the city itself gave us tortellini, tagliatelle and Bolognese sauce to top them off with. However, if you intend on enjoying this northern Italian city's edible delights without earning its nickname (it has been dubbed
Bologna la grassa
or "Bologna the Fat") it would be prudent to burn off some of those excess calories. That's easily accomplished as you take in the sites. Start by walking around Bologna's historic centre: a glorious mass of only-in-Italy architecture complete with palaces and divine churches, all of which is punctuated by piazzas and connected by a 25-mile covered arcade. When a real workout is required, climb to the top of Torre degli Asinelli. Built in the 12
th
century, it's almost 320
feet tall and is one of this city's
two
leaning towers (Pisa, you've got nothing on this!). Diehard hedonists, on the other hand, can work off their dinner by dancing until dawn. Europe's oldest university (founded in 1088) is located here and a large student population translates into exuberant nightlife.