The Great British sporting event – Wimbledon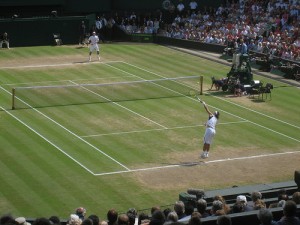 Game…set…match. There is no sporting event quite as quintessentially British as Wimbledon. Where the players have to wear whites and despite the rain (which dependably showers down to stop play) crowds swan around in summer dresses drinking Pimms and lemonade and tucking into strawberries and cream. This is sport with a stiff upper-lip at its best.
Wimbledon runs for two weeks during June-July every year. Most court tickets are sold through the public ballot which closes applications in December of the year before but it's even more British to join the famed ticket queue outside the grounds. You'll have to camp overnight to get a show court ticket but for grounds tickets (£20) you just need to turn up an hour or so before play begins.
Other Great British sporting events:
For pomp, splendour and the chance to frock-it-up with royalty at the races Royal Ascot can't be beaten. One of horse racings' oldest events running annually across five days in June, this is your chance to place a bet in truly regal style.
The Great British oddity – Cheese rolling
The Brits are known for being a little off-beat and nothing sums up that eccentricity better than the oodles of slightly wacky festivals that are held across the British Isles every year. Head to Gloucester in May to witness one of the best. The annual Cheese Rolling Race is a hilarious event said to have its roots steeped in ancient pagan rituals to welcome in the spring.
Cheese rolling is exactly what it sounds like. Every year locals – and any up-for-it tourists and out of towners – race down the steep incline of Cooper's Hill, near the town of Brockworth, chasing after a round of Double Gloucester cheese. The winner gets the glory and the cheese.
Other Great British wacky festivals:
November 5 is Guy Fawkes Night throughout the UK but the usually placid town of Ottery St Mary in Devon celebrates the foiling of the Gunpowder Plot in a rather more dangerous way than the usual bonfires and fireworks. Townspeople form a fiery procession as they carry burning barrels through the streets of town in the Flaming Tar Barrel festival.
The Great British meal – Fish and chips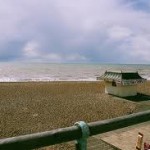 Nothing sums up British food more than fish and chips and where better to partake in Great Britain's favourite takeaway than on the famous pebbly stretch of Brighton beach where whenever the sun is shining it seems half of southern England will also flock for some seaside snacking.
There are loads of fish and chip shops to choose from near the beach but one of the oldest chippies in town is a short walk away. Bardsley's of Baker Street has been frying up fish with big fat chips since 1926 and is the perfect introduction to this foodie institution. If you don't fancy your chips being nicked by the grouchy beach seagulls you can eat in at their restaurant as well.
Other Great British meals:
This is the country of hearty cooking that sticks to your ribs. Sunday roasts, Yorkshire pudding and weirdly named dishes such as toad-in-the-hole all hail from here. If you're up north in Yorkshire stop by beautiful thatched restaurant/pub The Star Inn which has a menu marrying modern flair with traditional British favourites.
The Great British summer Sunday institution
Despite the obvious jokes about the weather, once the sun is out in Britain everyone is smiling and a beloved ritual on a summer weekend afternoon is to head to a public park for a picnic. If you're in London Hyde Park is an obvious choice with over 350 acres of glorious greenery to lounge around on.
To truly act like a local on your afternoon park outing don't forget to purchase all the Sunday newspapers so you have something to read while you're sprawling on the grass. Most visitors will be surprised by the amount of locals stripping down to their bathers once set up in their picnicking spot. With a lack of seaside in the city the parks have become the perfect sunbathing spot so do as the locals do and don your bikini too.
Other Great British parks to picnic in:
Richmond Park, Kensington Gardens and Regent's Park are all lovely swaths of green in which to enjoy a truly Great British picnic. For a full list of London's royal parks see www.royalparks.org.uk