Aruba is best known for its spectacular beaches and surf side sun and fun, but there are many cool and offbeat activities well worth seeking out that you'll rarely find anywhere. Here are a few of them…
Adopt a Donkey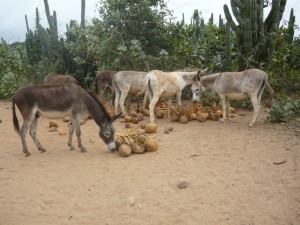 Donkey Sanctuary Aruba (www.arubandonkey.org ), on the skirts of Arikok National Park, is a non-profit, fully volunteer foundation dedicated to providing a safe haven for wild, injured, and unwanted donkeys on the island. You can purchase treats to feed them on-site or bring some apples and carrots to further entice their affections. You can also officially adopt a donkey; the money covers the cost of feeding and shelter for one year. You can see the back stories of the donkeys up for adoption at their website. There's also a new eco-lodge cresting the sanctuary called Cunucu Arubiano (www.cunucuarubiano.com ) where the friendly donkeys frequently nose right up to your deck during your stay.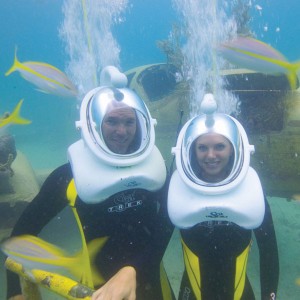 Moonwalk Underwater
You need not even know how to swim to walk among the scads of tropical fish and colourful coral and marine life living underwater at De Palm's private island via their surreal Sea Trek (www.depalmtours.com/sea-trek) adventure. A helmet that looks like the top of a space suit is attached to an oxygen hose that leads back to the dock. You simply walk and breathe as normally as you would if you were on the surface, and even at 20 ft. below, you don't even get your hair wet!! Video memories documented by professional photographers are available for purchase afterward.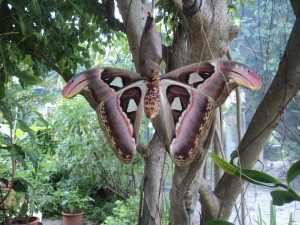 Witness Metamorphosis
Aruba's Butterfly Farm (www.thebutterflyfarm.com ), right across the street from the Divi Phoenix Resort, is full of winged wonders in many stages of metamorphosis. Visit in the morning when they are most actively feeding, and if you wear something flowery they'll likely land right on you. Explore on your own, or follow one of their guided tours, the one time admission cost is good for as many repeat visits as you like.
Take an Ostrich to Lunch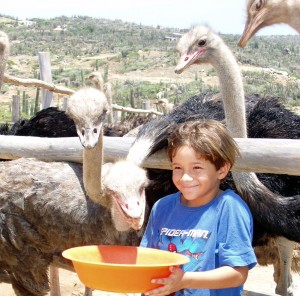 Take a guided tour that enlightens you all about the ungainly creatures at Aruba Ostrich Farm (www.arubaostrichfarm.com ). Hold a mammoth ostrich egg in your hands or feed the flightless birds some lunch. (Watch your hair, they can have bad aim!) But be forewarned, if you're a vegetarian or have sensitive children, you best avoid their restaurant for lunch afterward as this is a working farm and ostrich meat is the main focus of the menu.
Sail on the Sand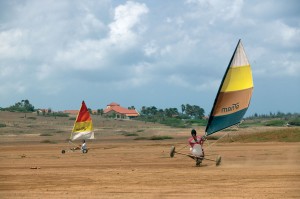 The Dutch love this offbeat land sport they call blokarting that takes advantages of Aruba's constant trade winds. You move via a contraption akin to sailboat on wheels. Once outfitted with safety gear and given operating instructions, you're off like the wind and land-sailing at top speed across the dry, dirt plains. Aruba Active Vacations (www.aruba-active-vacations.com ) is the only tour operator that offers this adventure.
Hand-feed Flamingos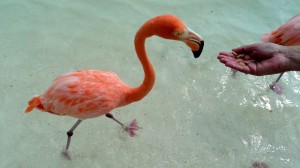 Even in you're not a Renaissance Resort guest, you can still purchase a day pass to their secluded private island (www.marriott.com/hotels/photo-tours/auabr) that includes water taxi from their downtown lobby, lunch at their tropical cafe, and access to two glorious beaches of calm, crystal waters surrounded by manmade breakwaters. (One side is for families and the other one is adult-exclusive.) Scheduled iguana feeding shows, an air-conditioned fitness centre, lounges, towels and hammocks are all included. Snorkeling and kayaking equipment rentals and seaside spa treatments are also available at additional cost. Hand-feed their resident flamingos with treats from the on-site vending machines, watch countless hermit crab colonies in action, or lounge among the many lounging lizards and iguanas that abound. There's also an eco-hiking trail forest, but pay attention to the signs about mosquito presence that day, if a warning is up at the entrance, DO NOT go in there. (I learned that the hard way!)
Climb "Alien" Rocks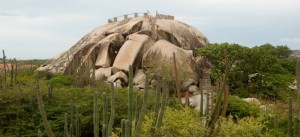 The tongue-in-cheek legend has it these rock formations seemingly appearing out of nowhere were dropped in the middle of the island by aliens since they have a geological makeup found nowhere else on Aruba. You'll find some at Ayo, but the Casibari rocks are easier to really explore due to stairs and foot paths throughout. No admission. For directions, click here: (www.welcomearuba.com/casibari-rock-formations.html)
Watch Baby Sea Turtles Hatch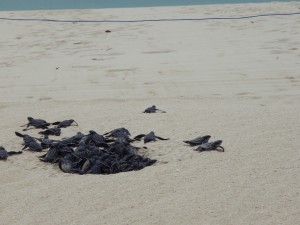 From May until August, many of Aruba's beaches are prime real estate for nesting sea turtles. The local sea turtle preservation organization called Turtugaruba (http://turtugaruba.org/) barricades the nests away from the public for safety. If you join their turtle alert call list, they'll phone you day or night when a hatching begins so that you can witness the amazing natural spectacle. If you spot a nest, call their 24-hour turtle hotline at: 297-592-9393.