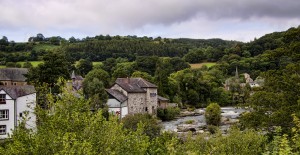 Home to Tom Jones, Anthony Hopkins, Catherine Zeta Jones, the world's oldest language and more castles per square mile than any other place else on Earth, Wales is an old and fastidious land of charmed, dreamy landscapes – farmhouses and snug villages tucked away amongst deep woodlands in the most inaccessible lush places. Heading due west out of England, towards Wales' Snowdonia National Park and its mystical mountains, the roads unfurled before me, winding through a succession of villages and hamlets. After crossing the geographical Welsh border I began chasing lengthening shadows through ancient parishes into the Llangollen valley, set in a green bowl of lustrous mountains.
It takes some finding but the character of the West Arms Hotel, a centuries old Inn in Llanarmon Dyffryn Ceiriog (translates to: the church of St Garmon in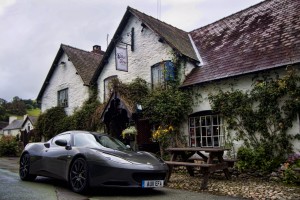 the valley of the river Ceiriog), is worth the effort.  It opened in 1670 as an Inn and served beer to shepherd's who used to drive sheep through the area to market – sometimes they'd be fortunate to find a room available. Adding to the log fire warmed reception, I was welcomed to my overnight stay in a way that only the Welsh can do. There is something to be said about a family run hotel – with just fifteen spotlessly clean chintzy en-suites, the owners have created a destination. Apart from a carpeted bathroom floor and a lumpy mattress, my stay was relaxing – and the award winning chef lived up to his television cooking show promise as his locally sourced food is out of this world: wild mushroom risotto with Parmesan Tuille; honey roasted breast of Gressingham duck on a bed of creamed spinach with blackcurrant sauce; and warm apricot and almond tart with blackcurrant ice cream and a peach compote = £32; this was accompanied by a South African Chenin Blanc not unrealistically priced at £15. B&B rates start at £67 per room. www.thewestarms.co.uk
Early the following morning, trailing through narrow country lanes, ground misted valleys and up through the Cadair Idris mountains, I pressed on to the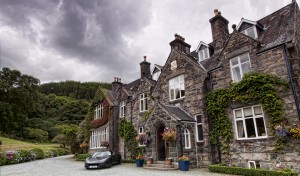 market town of Dolgellau. Immense landscaped gardens and a riot of roses greeted me at the award-winning Penmaenuchaf Hall Hotel, a 14-bedroom privately owned luxury mansion house, once the summer home to a wealthy industrialist. It stands in glorious seclusion on the brow of a steep hill, overlooking the Mawddach Estuary and the mountains of Snowdonia National Park. The hotel gives the impression of being a family home as attention to detail is reflected throughout; from sumptuous bedrooms to the formal terrace, it's self indulgence all the way. It is individual and just slightly quirky, but a stay here is a complete contrast to the impersonal and bland offerings of major hotel chains; and the food, served in a glass encased dining room, is simply exquisite. Fig and roasted pepper salad with crisp fennel; baked cod with puy lentils, chorizo sausage and vermouth sauce; and Poached pear William with a pistachio tuille and mascarpone sorbet = £38.00; and a bottle of Laroche Viognier to wash it down with £20 B&B rates start at £80 per person. www.penhall.co.uk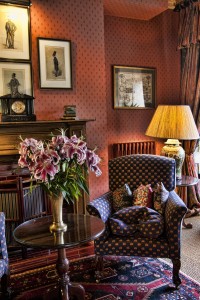 On my return leg to London I set off to Cheshire, an area of quiet prosperity folded against the Welsh border and just below Liverpool. It's a small county best known for the fabled grinning cat, noblemen's mistresses, excessive wealth, famous authors, rock stars and cheese. I spent the night at the medieval eckforton Castle in Tarporley – its views alone brought to mind a child's picture book.  Formerly home to Lord Tollemache (and film location for Robin Hood), Peckforton is a beautifully restored 48-room 19th century working castle that promised a truly exhilarating hour-long falconry experience with Jakk Tenant, one of the estate's falconers, who flew handsome birds of prey off my arm. Peckforton's award-winning silver service restaurant, '1851', is a little temple of great food. Poached hand-dived scallops; Cheshire outdoor reared pork cutlet, marinated with Cheshire apples, olive oil, garlic and thyme, served with mash, black pudding and orange puree; and for desert, 'cheesecake' – whipped Nantwich goat cheese, candied onion, vintage port sherbet = £32.00. A bottle Chenin Blanc 'Parrotfish' from Olifantsriver in South Africa came in at £18. I slept in the Beeston, a luxury four-poster canopied suite draped in rich shades of cocoa, chestnut, ginger and cream – the soft candle light emphasising the indulgence of it all. B&B rates start at £65.00 per room. www.peckfortoncastle.co.uk
Luminous, compelling and absolutely gorgeous are just some of the superlatives I could heap on this little corner of the United Kingdom. But don't take my word for it, visit the region yourself. Wake up in a bewitching landscape of cascading streams, craggy mountains, wild moorlands and forested hills to the sounds of a deafening dawn chorus of birdsong. Like me, you won't want to leave.