I arrived in Brussels with a half empty suitcase, a few dozen Euros and a mission: to scour the Belgian capital for the best chocolate money could buy and to fill my suitcase with the rich, creamy fruits of my labor.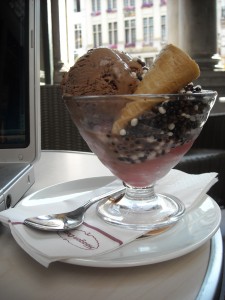 With dozens of shops, workshops, tastings and an even an entire museum devoted to chocolate, however, Brussels can be a bit overwhelming— even for serious chocoholics. As it does with most things, the city takes its culinary delights seriously. Beers are served in proper glasses, ice cream parlors come with multi-paged menus and chocolates (at least the good ones) are made with 100% cocoa butter; this is what makes the Belgian truffle or "praline" so special.
Not to be confused with the American praline, which consists of pecans coated in a fudgy, caramelized sugar, the Belgian praline was originally made with almonds. Now, the term "praline" refers to what we'd call a chocolate bon bon or truffle, and fillings can range from creams and ganache to avocado.
Although the cocoa bean was revered in Mayan and Aztec societies long before its "discovery" by Europeans, it wasn't until the arrival of Christopher Columbus and the Spanish conquistadors that Europe got its first taste of chocolate. Hernado Cortez introduced the cocoa bean to his native Spain, and there the traditional practice of "flavoring" the chocolate with chili and other spices was rejected in favor of sugar. Over the centuries, various innovations were made on both sides of the Atlantic with Belgium and Switzerland taking the lead. In 1815, Dutch chemist Johannes Van Houten experimented with a powdered form of chocolate (resulting in what we would call "cocoa" today), and in 1879 the Swiss became the first to add powdered milk to the production process. The introduction of the "conching" machine gave chocolate the smooth, creamy taste that we have come to know and love and by 1895, Milton S. Hershey was producing chocolate for the masses.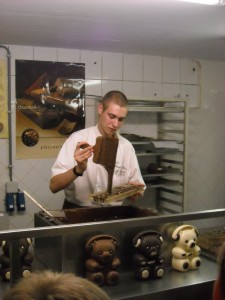 I began my journey at the The Musee du Cacau et du Chocolat (Museum of Cocoa and Chocolate).  More wunderkabinett than anything else, the museum opened in 2005 and occupies a multi-story seventeenth-century home just minutes from the Grand Place. It's hardly world class—indeed, many of the exhibits look like they belong in a high school science fair—but it's an excellent point of departure for the chocolate connoisseur – plus, they give free samples.
The price of admission (€5.50) includes a demonstration by one of the city's "master chocolatiers." Although ours' looked barely old enough to shave and spoke only a smattering of English, he managed to cover quite a bit of ground in the brief how-to, including historic methods of praline production and the metal molds and scrapers used to create them.
Having attempted to produce various praline-inspired goodies over the years, I was shocked to learn just how much melted chocolate is dumped out during the process. In order to create a proper praline, a "master chocolatier" will fill then entire mold with chocolate then tip it over and drain the excess, leaving a thin coating which will eventually harden to form the "shell." This same technique is employed for the majority of the chocolate figures found in the souvenir shops; molds are filled and then emptied, leaving only a thin coating of chocolate to form a hollow figure.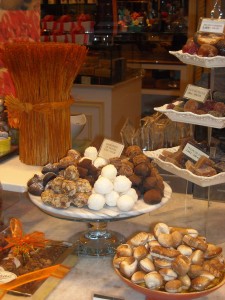 Equipped with my newfound knowledge of all things chocolate, I made my way to the Galeries Royales Saint-Hubert, the elegant arcade of shops and restaurants that extends two blocks west of the Grand Place. Nearly all of the major chocolate companies maintain boutiques within the Galeries, ranging from Neahaus (where the modern praline was invented in 1912) to Godiva (which was designated the official purveyor of chocolate to the Belgian Royal Court in 1968). With its glass roof, marble facades and picture perfect storefronts, the Galeries provides the perfect backdrop for all sorts of confections, ranging from truffles to macaroons.  In fact, it's easy to get distracted; for serious chocolate shopping, it's best to head to the Sablon.
Located just a few stops from the Galeries, the Sablon is best known for its antique shops, galleries and the open air antiques market that takes up residence in the square on weekends.  Given my mission, however, I came to consider Sablon the chocolate lover's paradise.  The posh neighborhood boasts both Neahaus and Godiva boutiques in addition to Pierre Marcolini, the avant-garde chocolatier who had just released a line of cocktail-inspired macaroons during my visit, and Wittamer Café, one of the city's most exquisite pastry shops where the hot chocolate is practically a religious experience.
For those seeking a more hands on experience, La Maison de Maitres Chocolatiers Belges at Grand Place offers 45-minute workshops and weekend demonstrations in English but if you'd like to get most bang for your buck, your best option is to simply head to the local grocery store.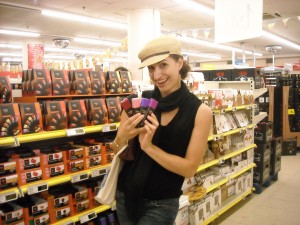 That's right: in a city where chocolate comprises an entire industry (and claims a rather hefty percentage of tourist dollars), I decided to forego Marcolini and the traditional "artisan" chocolates for the Belgian equivalent of Shop Rite. This is because the Europeans do it right: grocery stores generally have an entire aisle devoted to chocolate and the inexpensive Belgian chain I stumbled into just a few blocks from Grand Place was no exception. I found white chocolate, milk chocolate, dark chocolate and everything in between combined with lavender, ginger, chili, flax seed, orange peel, pistachio and, to my great surprise, even avocado.
The packaging may not be fancy and the presentation may leave a bit to be desired but the consumer grade chocolates (especially Côte d'Or and Galler) were, in my opinion, just as good as the pastel seashell-shaped pralines I picked up at the Galleries. So once you've had your fill of the artisan pralines, do yourself a favor and head to the nearest grocery store to purchase one (or several) of Côte d'Or's new lemon ginger chocolate bars; try the avocado while you're at it, you won't regret it.