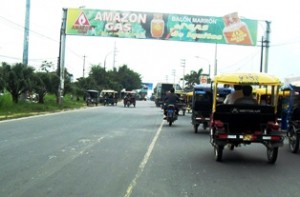 Tourists tend to choose Colombia or Brazil over Peru as their preferred jungle getaway, but Iquitos is definitely worth a visit. And since the Amazon has recently made the provincial list of the New Seven Natural Wonders of the World, now is the perfect time to plan a trip.
Top Iquitos Attractions
Most Amazon tourists are primarily interested in seeing exotic wildlife, as the Amazon is home to one in every five living animal species. A visit to Monkey Island, located in the Tambopata jungle region, will give you some up-close and personal encounters with man's primal cousins. Be prepared for these active creatures to climb onto your back and shoulders, and don't forget to watch your valuables! The island also houses one resident anaconda, which brave tourists can hold and take pictures with for a small fee.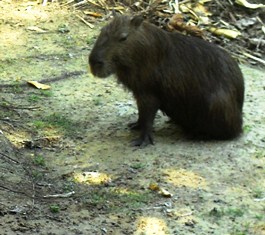 Those who prefer to keep the wildlife at bay will prefer Pilpintuwasi Animal Orphanage and Butterfly Farm. The Amazon is home to some of the rarest butterfly species in the world, many of which are bred at Pilpintuwasi. Over the years, the site's Austrian owner has also taken orphaned jungle animals under her wing: jaguars, monkeys, sloths and the world's largest rat species (which looks, in fact, like a small horse): the capybara. Sadly, she's accumulated these orphaned animals because street vendors in Iquitos often sell baby jungle animals as pets to tourists.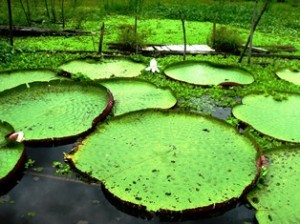 Once you're through meeting the fauna, get acquainted with the flora. You can try some succulent camu camu fruit or make a visit to see the giant Victoria Regia lily. A day trip to Llanchama, a quiet little village a few hours from Iquitos, can be arranged. There, you'll get an up-close look at the region's diverse offering of fruits and medicinal plants. Private jungle hikes can also be arranged with the help of an experienced guide, who in addition to knowing his way around the jungle, will lead the way with a machete in hand—just in case.
Those who have a little more patience—and a good pair of binoculars—can go pink dolphin spotting on the Amazon.  And those looking for a true adrenaline rush can go piranha fishing; just be careful where you put your fingers!
Best Places to Stay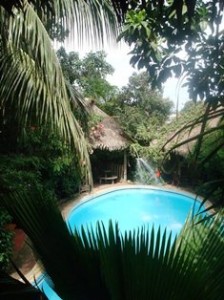 If you want to make the most of your jungle experience, consider staying out of the city in a lodge for at least part of the trip. Many lodges will arrange your tours and provide all of your transportation, meals, and accommodation. I recommend San Pedro Lodge, which is about a half-hour-long boat ride outside of Iquitos during rainy season. Gart, the lodge's manager, is a Dutchman who's fluent in Spanish and English (and a good cook, to boot). He runs a small lodge, which makes it easier for him to create customized travel itineraries.
In the city, La Casa Fitzcarraldo doubles as a hotel and cultural attraction, as it was the filming location for two Werner Herzog films, Fitzcarraldo and Aguirre. It's more on the luxury end of Iquitos travel, offering a pool, a tree house and the best American-style breakfasts in town.  For budget travelers, Flying Dog is a friendly hostel located right on the Malecón, which has a view of the rivers and is home to Iquitos' best restaurants and nightlife.
When To Go
The weather in Iquitos is consistently hot year-round, with average highs hovering around 88 degrees Fahrenheit. Peruvian jungle and mountain regions receive considerable rainfall from December through April. For this reason, tourists looking to combine a trip to the jungle with a visit to Cusco or Puno often schedule their vacations from May through November. No matter when you go, make sure you pack these jungle essentials: sneakers, sunscreen, mosquito spray, lightweight cotton clothes and a sun hat!
Important Consideration for Travelers
The yellow fever vaccination is recommended for all jungle-bound travelers. The immunization must be administered at least 10 days before arrival to take effect. Travelers may additionally choose to get the typhoid vaccination and/or take malaria pills before travel.
For More Information on Iquitos: