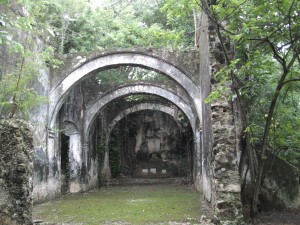 The Maya Trail cuts through Mexico, Guatemala, Belize, Honduras and even a bit of El Salvador. This is not a hiking trail, but a 1,500-mile imaginary loop with no beginning or end. Really, the Maya Trail is about hopping from one Maya site to the next depending on what you're into. From Maya caves, to culture, to ruins, here are a few excellent hotels nearby worthwhile Maya sites.
1. Hacienda Uayamon – Yucatan, Mexico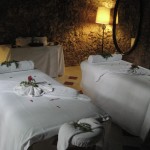 The Maya ruin Edzna sits just down the road from Uayamon, an easy day-trip option. Other than ruin exploration, spa treatments, and relaxation, there isn't much going on at Uayamon which is precisely why it's so fabulous. Located well off the beaten Cancun track, visiting Uayamon is like stepping into a time machine and zipping off to a forgotten era. The hotel has been renovated and decorated in a traditional style similar to what the hacienda would have looked like originally, with some modern perks such as Internet and air conditioning. A small hotel, there are just two suites and ten villa rooms, ensuring a peaceful stay.
Web Address: www.grupoplan.com/uayamon/historia.html
Rates: $330 and up
2. Blancaneaux Lodge – San Ignacio, Belize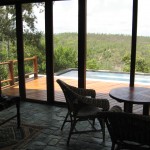 From this unique resort the Caracol (The Snail) ruins are not far away. Visits to Caracol are highly controlled and travelers must arrive by military escort, but it's all part of the adventure and well worth the effort. Unlike the steamy jungles around Altun Ha and Lamanai in eastern Belize, the area around Blancaneaux Lodge is arid, enveloped in pine forest. Guests at Blancaneaux Lodge can explore the Maya Mountains and the Chiquibul Forest Reserve on their own or with guided tours arranged by the hotel.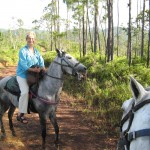 Set along the swimming hole-laden Privaisson River, Blancaneaux is a singular luxury lodge designed by Francis Ford Copola. Visitors will have a blast jumping off river docks into perfect water (no crocs here)and hiking the lodge's private trails. There are stables on site at Blancaneaux offering sunrise horseback tours as well as rides to Big Rock Waterfall. Blancaneaux is made up of a series of large bungalows with huge decks and mesh windows allowing the night air to circulate. There are Italian and Guatemalan restaurants on-site serving veggies from the lodge's organic garden and offering a very international wine list. Blancaneaux's only issue is that it's quite remote, but this is part of its appeal also.
Web Address: www.coppolaresorts.com/blancaneaux
Rates: $255 and up
3. Chaa Creek – San Ignacio, Belize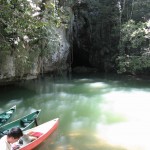 Much easier to get to than Blancaneaux, Chaa Creek is a well-established lodge with tons of activities and tours offered to the surrounding Maya sites. Caves were an important aspect of Maya civilization and Barton Creek ($30.00) is one of the best to visit when staying at Chaa Creek. The Maya believed that their rain god, Chac, lived in caves. When drought hit the Maya made offerings and sacrifices in Barton Creek and signs of these rituals are still visible inside the cave. For whatever reason, Chac preferred young scarifies and twenty-eight skeletons were found in the cave, many of them from child victims. Barton Creek Cave is large, darker than night, and a bit creepy. There are numerous bats which zoom around and drops of water slip from the stalactites. Barton Creek is worth the trip, but keep in mind that the cave cannot be accessed when it's raining and that, if you go by rental car, you'll have to make two river crossings.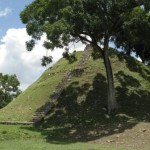 After a day of caving, guests will be relieved to return to stand-alone bungalows with thatched bay leaf roofs at the lodge. The restaurant and bar on site serve different local specials nightly and bountiful fruit and pancake-filled breakfasts in an open air dinging room await guests each morning. Go on their guided Night Hike for a really special forest experience.
Website: www.chaacreek.com
Rates: From $125 p/p
4. Casa Concepción – Antigua, Guatemala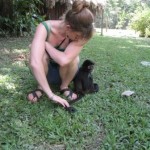 It can be easy to forget while touring ruins and caves that the Maya have not disappeared! Maya language and tradition is still very strong, especially in Guatemala. Of course Guatemala is also where Tikal, one of the most impressive Maya ruins, is found. Aside from Tikal a jaunt to Lake Atitlán and Chichicastenango (or "Chichi") are both super spots to see the Maya as they are in 2012, while basking in some fabulous scenery (Atitlán) and picking up a few artisan souvenirs ("Chichi").
Use Antigua as your base in Guatemala and plan all your tours and trips from here. Antigua is a better option than Guatemala City because: it's safer, it's prettier, it's a Spanish colonial town, it's more manageable, it's a UNESCO World Heritage site, it's a whole lot of fun! Stay at Casa Concepción, which is more like a B&B than a hotel with just five rooms. The hotel looks out onto La Concepción Church and is in the center of the cobblestoned quarter of the city, nearby bars and restaurants.
Website: www.hotelcasaconcepcion.com/home.php
Rates: $99 and up
6. Villas B'alam Ya  –  Lake Atilan, Guatemala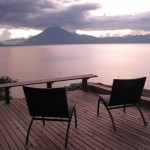 Set in one of Guatemala's most stunning landscapes on Lake Atitlan, a stay at Villas B'alam Ya puts you between the Mayan towns of Panajachel and Santa Catarina Palopo. Explore the many lakeside villages by water taxi or venture out on your own in Villas B'alam Ya canoes. The lake is easily reached from Antigua, and is worth at least a three or four days visit.
Website: www.panzaverde.com/balamya/en/index.html
Rates:$130-$300 a night
*Photo Credit Panza Verde