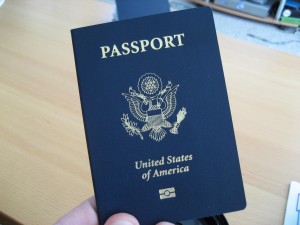 There is nothing like traveling internationally. For me, I love the thrill of seeing new people, learning new cultures, butchering a new language and living the history of the world!  Of course the best part of an international trip for me is coming back home—for me returning home always puts things in perspective. However, traveling abroad is not without some perils.  A good travel agent can guide you through them, but there are some passport tips that you need to heed when traveling to a foreign land.
Carry a "clean" passport. Just like children in the sandbox, there are some countries that do not play well together. If you plan to visit one of these countries or have previously visited one of their antagonistic neighbors, get a new passport without the immigration stamps to avoid any border hassles.
Lock it up. Except when passing between borders, when you will need the real thing, keep your passport locked up in a secure place like a hotel safe. Make a photocopy (or store a PDF of it on your smart phone) of the information page including your photo. This will suffice for identification practically all the time.
Carry a back-up ID. And for the times when the copies passport does not do the trick, have another form of photo identification on you with a recent photo.
Cover it up. There is no reason to broadcast your nationality to anyone. Especially in today's world, keeping your citizenship on a "need to know" basis is prudent advice. Invest in a $6 passport cover and go incognito. Or if you are concerned about the new RFID chips in the passports, pick up an RFID blocking one for $20.
Make it real. The United States has made many changes to the passport program since 9-11 including the Western Hemisphere Travel Initiative (WHTI) that will exempt travelers from needing a passport for certain itineraries (closed loop cruises originating in the US), or requiring a less expensive passport card for certain destinations. For the cost difference, go for the real McCoy and you can go anywhere in the world. If cost is an object, remember, it is the most accepted form of identification and it is valid for 10 years (adults). Bite the bullet and get a passport. You can also ask your travel agent if your destination or resort might help offset the cost—it's been known to happen.
When you travel abroad, the secret is to attract as little attention as possible to yourself. Don't sport bling. Don't advertise that you are from America–many in the world have a distaste for Americans. Remember your passport is your "ticket" to the world. Protect it.