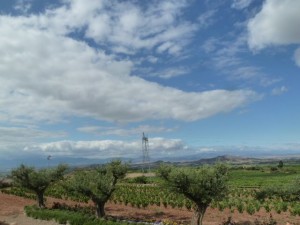 Where's all the hype? Where are all the people? Where's the best-selling expat memoir called 'My Rioja Year' or 'A Casa in Rioja'? While La Rioja's wines are acclaimed around the Iberian Peninsula and internationally, there isn't much shaking in La Rioja, the region. This was brought to my attention by two sun-kissed Swedes who I was tasting with at the extravagant bodega Eguren Ugarte in Páganos, just a couple miles from Laguardia. Páganos is the heart of La Rioja Álavesa, where the top wines of La Rioja region come from, and yet, no tourists. "Our friends go to Tuscany, they love the landscape and the wines. But they should come here. This is nice, too," said the Swedes, and of course they were right.
It is nice, La Rioja. In fact it's more than nice. It's a flat out gorgeous chunk of Spain about four hours from Madrid and around five from Barcelona by car. That's where I live: Barcelona. I did the five-hour drive across Catalonia and Aragón into Navarra (think Pamplona and Hemingway) and finally parked my Renault Clio just outside the farm town Entrena to begin a week in La Rioja. This long-haul from major Spanish cities is my nudge as to why La Rioja is not crawling with tourists. That, and perhaps some lack of infrastructure for visitors, an issue in many parts of Spain.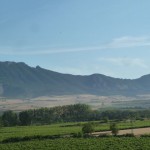 So why go? Because the wine is really good. Because everyone should do a Spanish road-trip once in their life. Because one day, the whole La Rioja area is going to be more expensive and much more touristy, and you should see it now, before that happens. Trust me. Trust the Swedes. Just go.
A place for la siesta:
This is very important. Sipping wine, indulging in rich Spanish lunches and feeling the heat of the Spanish sun will take its toll. Plan a nap at hotel Finca de los Arandinos, which also happens to be a vineyard, spa and restaurant, newly opened in 2011. Architect Javier Arizcuren Casado and fashion designer David Delfin were asked to join forces to create Finca Arandinos, a modern design hotel with traditional Spanish touches, such as a mortero del cal facade typical in whitewashed villages.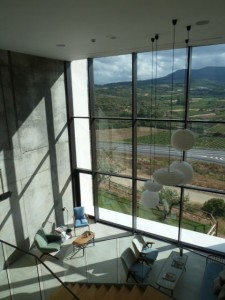 The hotel's fourteen rooms are stuffed with vintage design furnishings by the likes of Ray & Charles Eames and Jean Prouvé, as is the vast lobby and restaurant. At Tierra Restaurant sample Arandinos' four wines before touring their cellar. The French oak-aged 2009 Viero is Arandinos' white, while the 2009 Malacapar is a young red and the 2009 Finca de los Arandinos is their Crianza. The 2009 El Conjuro is their latest release, a blend of Tempranillo (85%) and Garnacha (15%).
Doubles start at $140 – http://www.fincadelosarandinos.com/
Bring on the Vino:
If you are in La Rioja you are either there for the wine or somehow got lost on your way to the Basque Country. There are countless cellars to try and where you go to do tastings depends on what you're into. Two vineyards which offer contrasting experiences are Agrícola Labastida in the hill village Labastida, and Bodega Eguren Ugarte in Páganos, where I met the afore mentioned Swedes.
While family-run Agrícola Labastida is small, specialized and set in the multi-generational family home (complete with spooky underground tunnels), Eguren Ugarte is one of the largest vineyards in La Rioja. Overall, my experience at Agrícola Labastida was more fulfilling than my tour at Eguren Ugarte, and frankly I preferred the wines I imbibed at Agrícola Labastida, especially their 2009 Primavera which was created with an American audience in mind. I also appreciated that Agrícola Labastida develops organic and biodynamic wines. "I don't create organic wines to put a sticker on the bottle and charge more," said Carlos Fernández Gómez, the youngest of the three-brother team. Carlos and his siblings took the vineyard organic in 2000, and despite initial change-over hiccups, are convinced that organic is better for land and vine.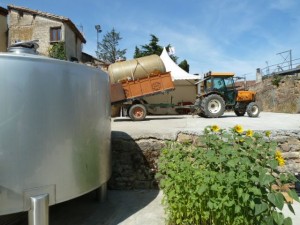 Bodegas Eguren Ugarte is less concerned by pesticides but offers bilingual tours through their state-of-the-art facilities and tastings with tapas. Their private wine caves are particularly intriguing, offering customers the chance to store their personal collections in the Eguren Ugarte caves under lock and key and at an ideal temperature. The caves are made to resemble the tunnels in Laguardia, but are in fact new.
While I'd prefer to drink my Martin Cendoya Reserva in the sunshine, many clients choose to sip and celebrate in the caves deep underground. "We can make meals for guests if they call ahead, but usually they just bring their own Spanish omelets and whatnot," explained Mikel, our blue-eyed guide at Eguren Ugarte. Mikel also told us that a mini tourist train through the grapevines and a rotating, panoramic restaurant were being planned for Bodegas Eguren Ugarte, which caused images of a vineyard-meets-Disneyland ambiance to pop into my mind.
Vineyards & Visits:
Agrícola Labastida : http://tierrayvino.com/
Eguren Ugarte: http://egurenugarte.com/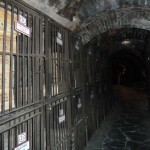 La Rioja and its many bodegas are most easily visited by car (to reach rural villages) and fall is said to be one of the most spectacular seasons in the area, when the many miles of grape leaves turn golden. Expect snow in the winter, hot summers, and wine harvest around October. Go with time on your hands, GPS and thirst. Who knows? You could be the next expat author of "My Wine Time", "Reckless in Rioja" or some other best-seller that puts this region on the map. On second thought, maybe it's best you stay home.