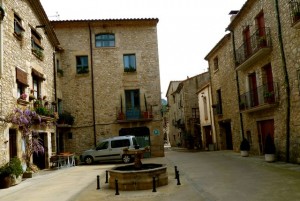 When I think romance, I think boutique hotel. Give me something intimate and unique any day over some sprawling resort! Here are a few top seductive stays for honeymooners looking for R&R in Spain.
****Wine Country Escapes – Can Bonastre Resort:
Newlyweds will adore this exceptional boutique hotel, just an hour away from Barcelona, Spain, by car. Can Bonastre Wine Resort's twelve rooms are set within an ancient Catalan masia, or farmhouse, in the middle of a working vineyard. Wine is made on site at Can Bonastre, and tours of the cellar can be arranged for guests. Try their award-winning reds at on-site Tribia Restaurant, which specializes in regional Catalan dishes with a twist.
Can Bonastre scores big time in the indulgence department because of their top-notch spa. You and your main-squeeze can arrange double massages or a Wine Therapy treatment for two at Acuba Spa. Along with treatments, Acuba has a deluxe water works and pool area with spectacular views of the otherworldly mountain range, Montserrat.
More:
Book a all-inclusive weekend at Can Bonastre Resort and Spa for about $400.00 per person.
****Basque Hideaway – Hotel Churrut: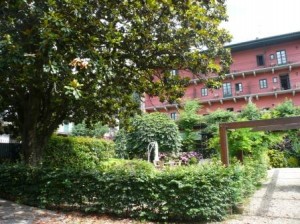 Seville, Madrid, Barcelona….these are the main destinations visitors head to when in Spain. If you and your honey want to get off the beaten track, or have more time on your hands to explore the Iberian Peninsula, travel north! Navarra is a diverse kingdom in north-central Spain made famous by Hemingway's Fiesta: The Sun Also Rises, the Running of the Bulls in Pamplona, and the delectable tapas served up in the Basque Country's San Sebastian.
Journey deep into the the leafy Baztan Forest, which is said to be enchanted, and stay in the tiny Basque village of Bera in Hotel Churrut. Dating back to the 15th century, this stately home was a family's summer residence for many years until being converted into a charming boutique hotel. A three-star, this cozy B&B has a simple restaurant, lush gardens, and spacious rooms with views of the village and the flower-clad yard. The hotel is family-run and serves up an ample Spanish breakfast in a sunny nook in the mornings. For couples looking a private retreat, Hotel Churrut will not disappoint.
More:
This Spring the hotel has a special for two nights with breakfast and dinner for two people for $270.00!
Plaza de los Fueros, 2 – 31780, Bera (Navarra) – www.hotelchurrut.com
****Sexy City Stays – Hotel Casa Fuster:
If only sophisticated luxury will do for you and your beloved, then don't hesitate to book at the outstanding Barcelona hotel, Casa Fuster. With five shining stars and 105 rooms, Casa Fuster has the feel of a small boutique hotel with all the perks of a larger resort. Listen to live jazz in their Café Vienés Bar on Thursdays and dine in their Galaxó Restaurant any night of the week, which specializes in traditional Spanish and Catalan dishes. After dinner sip a glass of cava, Catalan champagne, on the Terraza Blue, the hotel's rooftop terrace overlooking twinkling Barcelona.
Casa Fuster is much more than a hotel, it is also an art nouveau monument. Constructed in 1908 by the famous Catalan architect Lluís Domenech i Montaner, a stay at this palace is a once-in-a-lifetime experience. Casa Fuster is located at the top of Pssg. de Gracia, Barcelona's poshest shopping street, near many important Gaudí sites.
More:
For $500.00 book a 1 night in a standard double room with a buffet breakfast (served in-room), a candlelight dinner in the "Galaxó" Restaurant, a welcome drink in the hotel's famous café Vienés and late check-out until 2:00pm.
Passeig De Gràcia 132, 08008 Barcelona –  http://www.hotelescenter.es
****Countryside Retreats – Torre Laurentii:
Hotel Torre Laurentii
This seven-room boutique hotel would provide the perfect setting for an intimate destination wedding, with its cascades of yellow climbing roses, hand-crafted stone walls, and verdant lawns. Honeymooners too, will appreciate the elegant sanctuary that is Torre Laurentii, and the stone village of Sant Llorenç de la Muga.
In this B&B, you really are removed from the outside world. Located in Catalonia in the region of Girona, Torre Laurentii is a good two hour drive from Barcelona to the north. You have to really want to get away from it all to book at Torre Laurentii, which is the second to last village on a road that dead-ends into the Pyrenees Mountains. Once you pull into Sant Llorenç de la Muga (population 80), you will thank your lucky stars that you made the effort to get to this magical place! Reserve the 'private terrace' suite for three days and explore the region around Torre Laurentii, known for its wine, beaches, and medieval villages.
More:
Three nights for two people: $580.00