Northern France is a bit of a secret place for foodies. Its gourmet reputation is well known, but only amongst those who live there. Saint Omer for instance, just 30 minutes inland from the French port of Calais, has a great little bistro in the old town – Chez Tante Fauvette, just a few steps from the Notre Dame.
I heard about it through a local friend who slipped me the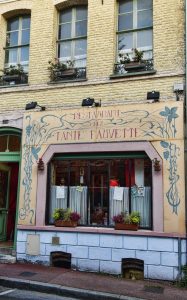 name and address on a piece of paper, telling me it would possibly be best if he called ahead and made the reservation – implying that my only chance of getting a table is by way of introduction.
It's one of those centre terraced homes down a long street that you'd quite easily walk past without giving it a second glance – a single window, framed in sorbet-pink stone overlooking rue Sainte Croix, sitting on the window sill are two window boxes filled with a profusion of plants. Two cafe curtains fringe a large wooden chicken peering back at you, behind which is a narrow view into the eating salon – today's menu is pegged to the curtain for the information of passers-by. Above the window in plum coloured Art Nouveau font, entwined in decorative sea blue vines, is a painted sign announcing this to be Restaurant Chez Tante Fauvette. To the left of the window is a turquoise coloured door, with ornate black wrought-iron twirls, providing access.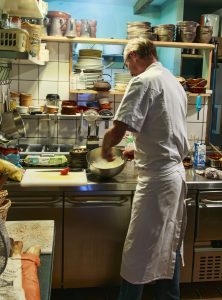 Inside it's a splendid little restaurant, in a murky sort of way but it's as authentic as grandma's house, with books strewn around, stripped oak floor boards, a profusion of paintings – some framed, a few gilded, interspersed with old photos of stiffly posing people. A large Georgian dresser stacked with a jumble of books, ornaments, art, even a small piggy bank lead to the tiny kitchen which is in equal disarray but wafting with aromas of apples and cinnamon. It oozes good vibes and all six tables, dressed in white and red checked tablecloths are filled with colourful local characters, making it nothing less than an institution.
Chef Olivier, a tall gangly man, greets me in perfect English and a big smile and then directs me to my window table. There's a choice of three starters, three mains, three desserts and three wines. Soon I was rewarded with unpretentious local dishes – one's delivered without showmanship and dry ice. Instead they're full of honesty and ingredients fresh from the market that morning; components of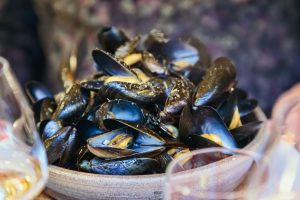 which come from places that haven't been messed about with – real food, big on flavour. Chef Olivier combines traditionalist principles, passion for good wholesome food with careful cooking, which all go to creating arguably the best Brasucade de Moules you'll have tasted in a long while. Indulge in a la crème de chocolat noir maison – a classic black chocolate cream pudding – pure perfection.
Booking is essential – tell Chef I sent you.
www.ruedesrestos.com/restaurateurs/tantefauvette
(Open only on Wednesday, Thursday and Friday evenings and for both lunch and dinner on Saturday's)