Virginia has long been a reliable source of natural beauty. Preservationists have taken on the painstaking responsibility of conserving their national forest and parks, while making them available to campers and other nature lovers.  So far their success has been phenomenal.
Virginia Beach Campgrounds
There are many campgrounds available on Virginia's pristine beaches.
First Landing State Park
Located by the Chesapeake Bay, First Landing State Park also hosts a camp store, bath houses, and a lovely boardwalk area for visitors. Campers can stay up to fourteen days for the very affordable fee of $24 without electric and water or $30 if you prefer those amenities for your visit.
Campers at First Landing State Park can expect to be offered nature, boating, swimming, and history programs. Cabins are available as well as campsites with restrooms and showers nearby. With over twenty miles of trails on 2,888 acres of virtually untouched earth, this campground may be the perfect place for your Virginia Beach camping vacation.
Holiday Trav-L-Park
Some say that Holiday Trav-L-Park is Virginia Beach camping at its best. This campground is the closest to the Virginia Beach resort area and has its own beach parking. There are four swimming pools on site and plenty of entertainment during peak seasons.
Holiday Trav-L-Park offers a few activities that may be perfect for a family of campers.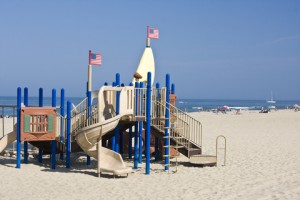 Basketball and Volleyball Courts
18 Hole Mini-Golf Course
4 Playgrounds
Horseshoe Pitches
Children's Pool
Game Room with Pool Tables, Arcade Games, and Equipment Rentals
With plenty of entertainment for people of all ages, this park is one of the most famous and most favored near the boardwalk. Peak season campground rates at Holiday Trav-L-Park begin at $41.
North Bay Shore Campground
Nestled in the Tidewater area is this favored campground for those who truly want to enjoy the peace of nature's natural bounty. Campsite cost begins at $35 and cabins are also available. Lauded as the most private and tranquil Virginia Beach campground, this doesn't mean that it is bereft of amenities and activities.
Free Swimming Pool
Fresh Water Fishing
Leashed Pets Allowed on Campgrounds (excluding Cabins)
Free Boat Ramp for Guest
Recreation Hall
Visitors to North Bay Shore Campgrounds share that this is the perfect setting to forget your city worries and become one with nature, even if just for a little while.
Low and No-Cost Activities Near Virginia Beach's Campgrounds
Virginia Beach is the home of many places of sheer beauty, as well as places of great historical, patriotic, and festive activities that can be visited and enjoyed for little or no cost.
The Virginia Aquarium and Marine Science Center
This delightful combination of nature and science is open to visitors from 9:00am to 6:00pm daily. Admission is $21 for adults and $15 for children. Seniors also receive a one dollar discount off of the adult price.

Many visitors find a lovely vacation experience at the Virginia Aquarium and Marine Science Center, by beginning at the Marsh Pavilion and setting out for a brisk walk on the Nature Trail. With more activities available such as dolphin watching or premium children's programming, there is certain to be a little something for everyone.
The center hosts animal programs, boat excursions, and even food and shopping areas.  If you want to visit when the crowds are reduced try visiting just after opening or after 2:00pm.
The Virginia Beach Resort Strip
Also known as the Boardwalk, the strip on Virginia Beach provides beach visitors with a large variety of beach shops, restaurants, large discount shopping venues, and all of the oceanfront dining and seafood options you could ask for. Even if staying at nearby campgrounds, visitors can often take advantage of the many amenities offered at local resorts for prices less than the cost to overnight there.
Chesapeake Bay Bridge-Tunnel and Fishing Pier
You may find no greater delight in a fishing trip with your family and friends. Year-round fishing is available from the Sea Gulf Pier. The Sea Gulf Pier stretches into the Chesapeake Bay and gives fishermen the chance to experience deep-sea fishing from the safety of a steady surface. Fish cleaning and certified weigh stations are also available.
Virginia Beach campgrounds have a lot to offer travelers who choose to enjoy the more natural elements during vacations. Provide your family with an outdoor, educational experience of a lifetime in Virginia State Campgrounds and nearby public venues.