In northwest Italy, Piedmont (Piemonte in Italian) is home to some of the country's best wines. And truffles. And food. Some might say this area bordered on three sides by the Alps is a little slice of heaven. It's hard to disagree.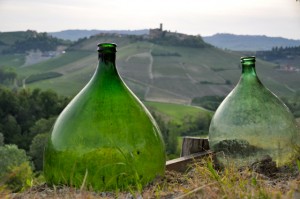 Encompassing more than 25,000 square kilometers and featuring fantastic foodie towns like Alba (home of the Slow Food Movement) and Turin, Piemonte is everything people come to Italy for. Lush, rolling hillsides are covered from top to bottom with vines producing hearty Barbera and Nebbiolo grapes. Countless charming communities fill the landscape, almost forming a "connect the dots" type experience as you travel on winding country roads from town to town.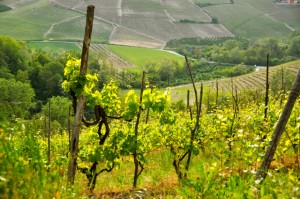 One of the most authentic ways to experience this part of Italy is to stay on an "agritourismo." These bed and breakfasts are situated on working wineries where guests are treated to a first-hand look at the operational effort required to produce a great bottle of wine. Depending on the facility, guests can participate in harvest activities, talk with support staff and of course partake in any number of tastings!
One of the most lovely in the region is located in Serralunga d'Alba – Cascina Meriame, home to the Paolo Manzone winery (http://www.barolomeriame.com). This five-room house offers cheery, bright and spacious rooms, each decorated with a different theme and color palette, all with views over the central courtyard. Out the window are miles of all shades of green and a castle on the hill across the way (it seems as if each small town in this region comes with either a castle or some sort of large tower). Look to one side and you can see workers heading out on tractors for the day; you might even catch the winemaker himself heading out to battle recently sprouted weeds.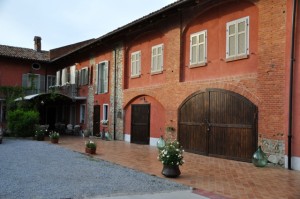 Days on an agritourismo are not action-packed; you spend your days either biking (if you are strong of lung and bold of muscle) or driving between the neighboring towns, perhaps sampling a glass of wine or two along the way and trying a different trattoria each day for lunch. Afternoons can be quite warm, so returning for a siesta is not a bad idea – in fact, many of the shops in these towns close between 3 and 6 p.m. Evenings are filled with more wine (have you tried a Barolo yet?) and some of the most hearty and authentic Italian food anywhere. Popular Osterias serve meals family-style and you are more likely to be surrounded by tables of locals celebrating a birthday than tourists.
My travel partner and I ventured to neighboring Roddino to try one of the Osterias recommended by our hosts: Osteria Gemma (). This unassuming stone building sits tucked back in a maze of the cobblestone streets, not on the main square.We were told to park by the main square, then seek out a small walkway to the right and find the entrance marked by a wooden sign. Well, we walked right around it and ended up finding it by following two other diners who appeared to know where they were going.
We both love food, especially authentic regional dishes and Gemma didn't disappoint. The décor is simple with exposed wooden beams, bright windows looking out to the rolling hills beyond and walls painted a faint mustard color. Crisp white linens are the perfect blank canvas for the feast about to unfold.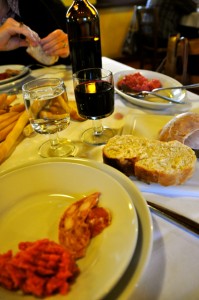 In an Osteria, one of the most casual types of eating establishments in Italy, the meals are served in waves with enough of each item to feed everyone at the table. The menu varies from day to day but there are some staples. First off is an antipasti course with a selection of meats, cheeses and breads, including a regional specialty, Vitello Tonnato, or sliced cold veal covered in a creamy, tuna-flavored sauce similar to mayonnaise.
A flight of pastas (usually at least one ravioli, varied daily) follows next and then a series of meat dishes, which usually includes a rabbit dish and may also include duck, beef or pork. The entire experience is topped of with an assortment of desserts which cover the flavor spectrum from strudel to pineapple torte.
Throughout the meal, you are encouraged to refill your wine glass as much as you'd like from the table bottle. That's one of the best parts of this entire experience: The all-you-can-eat mania is paired with an all-you-can-drink local wine for 26 Euro, or around $33.
The wines in this area are nothing short of fantastic. The climate and soil here facilitates varieties not found anywhere else in Italy such as the Nebbiolo and Barolo, yielding bold, juicy reds that linger long after the conclusion of the meal. At our agritourismo, they maximized the region's bounty even further: All of the vineyards at Paolo Manzone are south-facing for the best light and are located on a hillside, at an average height between 200 and 400 meters above sea level. The typical clay limestone composition provides a distinct advantage for the growth of the Dolcetto d'Alba, Barbera d'Alba, Nebbiolo d'Alba and Barolo grapes.
This unique clay-limestone soil, which is actually poor for growing other things, is a perfect fit for these vines and vineyards are often planted in an amphitheater shape, which attracts, concentrates and maintains heat. This perfect combination allows a total exploitation of the area's sunlight, but also protects the vines from wind and prevents any sudden temperature drops.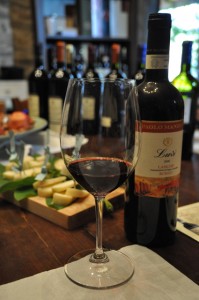 The result is a region rich in flavor and wines, many hard to find in the United States, or, if available, usually priced far above what you would pay while passing through these charming hill towns. If visiting anywhere in Italy, a detour to this little slice of heaven will yield rich rewards for your palate and leave you with delicious dreams for years to come!