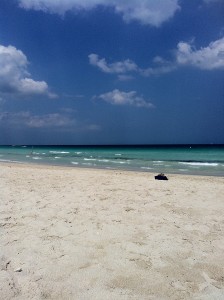 One of the most important things I learned when I was in South Beach, Miami for a day recently is that if you are "in the know" you call it SoBe. If you find yourself in SoBe for a day and you like to shop, eat and lounge on the beach, here's what I did to give you some ideas.
You have some choices when heading to SoBe from another part of Miami, but one of the cheapest and best ways to get there is on a city bus. We were leery when the hotel concierge suggested this, but I found the Miami buses to be clean, air-conditioned and comfortable. They also run on time, operate all over the city and are very reasonably priced. We walked to the airport near our hotel, then hopped on a bus to SoBe for only $2 each way.
If you are up for shopping, one of the first places you should go is Lincoln Road. Located between 16th and 17th street (the bus will stop right in the shopping area – you can't miss it), this is SoBe's premiere shopping area. It's an open-air shopping mall with tons of shops, restaurants, sidewalk cafes and bars. The area is closed to traffic and you can find everything from kitschy tourist junk to the latest designer fashions. You can buy a book, get a massage, sample a delicious ice cream cone, or take in a flick – Lincoln Road has you covered.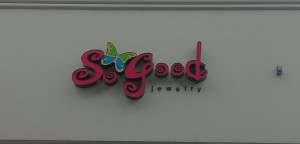 There are a lot of great shops with fabulous clothes, shoes and jewelry. If you are a lover of jewelry (as I am), pop in a little store called "So Good Jewelry" – there are actually two locations in Lincoln Road. It is a small shop absolutely packed with every kind and color of jewelry you can possibly dream of. I thought some of the prices were a trifle high for costume jewelry, but they did have a lot of things that were very reasonably priced, including a lovely little starfish necklace that made it home with me.
You can spend hours in all the shops at Lincoln Road but, at some point, you have to head to one of the beautiful beaches which are just a couple of blocks away. You have a variety of beaches to consider, all where you can rent chairs or cabanas and just relax in the gorgeous Miami sun. We just pulled our (borrowed) hotel towels out of our tote bags and plunked ourselves right down on the sand to admire the gorgeous shades of the water, as well as some bikinis so tiny they could easily be categorized as dental floss. Not on us, of course.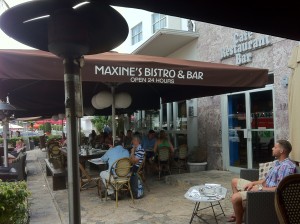 At some point during all the beach gazing and trying to imagine how exactly they manage to find bathing suits that tiny, you are going to get a mite peckish and, believe me, this is not a problem in South Beach. Restaurants line the streets and you can choose culinary delights from just about every country in the world. We wanted a sidewalk cafe where we could have a leisurely meal and do some serious people watching, so we found Maxine's Bistro at the Catalina Hotel, which apparently was voted South Beach Group's favorite restaurant. Who knew? However, we should have suspected when I ordered some cheese and fruit and received a fresh and fabulous plate of food.
The cheese was fresh, creamy and delicious, and the apples and blackberries made for the perfect compliment. Speaking of perfect, Maxine's was revealed to be an amazing lunch choice. Cool, breezy, comfortable and a great place to just sit, drink as much iced tea as our parched bodies could hold (and this was quite a bit of tea), and watch the never-ending parade of fascinating people stroll by.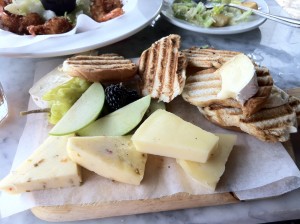 Unfortunately, by this time we were sunburned, exhausted and the day was winding down, so we didn't get to see the rest of South Beach. I would have liked to see the Art Deco hotels for which the area is justly famous, but when it comes to planning for one day in South Beach, shopping, the beach and lunch at a sidewalk cafe met all our expectations.
There's a lot of South Beach to see – the nightlife is justifiably famous and you could spend days just trying all the different restaurants. Not to mention staying in one of those fabulous hotels would also be a wonderful experience.
I'll put all those things on my list for the next time I'm in South Beach – and I won't forget to call it SoBe as well!