Who says you have to travel to the moon to see a lunar-like surface? Or to hear lunar-like silence? Or to feel as if you're a million miles (or, in the moon's case, 250,000 miles) from anywhere else?
There's actually a place in Africa that looks, sounds (silence!), and feels like you've landed on the moon. It's a lot easier to get there, however. It's called the Makgadikgadi Salt Pans, and it's found in the country of Botswana. 
Here, you're in a place so remote and so flat that you can actually see the curvature of the Earth. So quiet that you can actually hear the blood circulating in your ears. So still that you'll never experience anything like it again. The silence and the stillness may take a bit of getting used to for harried city-dwellers. Yet, improbably, as you adjust to the silence and the stillness, you'll begin to see and hear and feel the rhythms of life, animal and natural, of this unique place.
This place may look like the moon now. But it looked and sounded far different a few millennia ago. The Salt Pans are all that remains of a vast prehistoric lake that was actually larger than Switzerland. As time and nature converged to change the landscape here, the lake retreated, leaving behind an arid land filled with salt deposits. So arid, in fact, that it's now a desert.
The lake disappeared geologic-ages ago, but there's still an "island" of sorts here. It's called Kubu Island. But don't let the name fool you. It's not an island at all, but, rather, a 2.5-billion-year-old granite outcrop filled with as many fossils and man-made artifacts as any place on Earth.  
In the Makgadikgadi Salt Pans, "you can see forever" is not just an expression – it's true. One thing you won't see very often, however, is human beings. But when you do come across one or two – often nomadic tribesmen who move from one place to another – there's an opportunity for an incredible cultural interaction.
You'll see plenty of four-legged creatures, however, among them meerkats, zebra, wildebeest, aardvark, brown hyena, and springbuck, all of whom have somehow adapted to life in this harsh place.   
How can you get to this "moonscape?" No spaceship necessary. A Botswana company called Uncharted Africa Safari Co. can take you here in style…in several styles, in fact. The company operates plush camps, motorized bike safaris, and horseback safaris in this hidden corner of the world.
During the "green" season in the Makgadikgadi – from November through March – the landscape changes dramatically. When the rains come, the pans fill up with water; so much water, in fact, that it often remains until April or May.
During this time, when the sky isn't blotted out by rain-clouds, it's often blotted out by clouds of flamingo and other migratory birds. For a few months, at least, this land blooms with vegetation, as well as both game and predators. During these months you can witness the last surviving migration of zebra and wildebeest in Southern Africa. And when you do, clouds of dust will rise up toward the skies, a thunderous sound will fill the air, and the Earth will shake under their feet.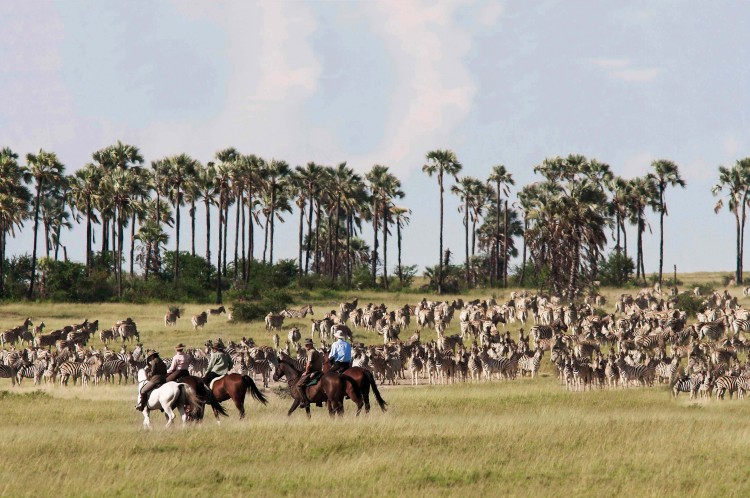 During the dry season, Uncharted Africa Safari Co. offers Kubu Island "Quad Bike" Expeditions. Quad bikes are motorized, four-wheeled bikes which can access areas that larger vehicles can't…and they actually resemble some of the photos of moon-exploration vehicles we've seen. The five-night itinerary is based out of one of the company's properties, Jack's Camp.
The highlight, though, is spending two nights sleeping not in a bed, but under the stars, on Kubu Island. Not to worry, though…you won't exactly be "roughing it." You'll dine on gourmet fare, and eat it on white linens. There'll be a roaring camp fire, a warm bed, and the brilliant swirls of the constellations set against a vast blanket of darkness. 
Highlight #2 on a quad bike expedition? The chance to race your bike on a flat desert of ancient salt deposits, watched only by wildlife. You'll fly past baobab trees, and through flamingo breeding grounds, in an adrenaline-pumping adventure that can be found nowhere else. 
If you prefer spiritual bliss to pumping adrenaline, however, you might choose San Camp. Nestled amidst tall palms on the edge of the Makgadikgadi Salt Pans, San Camp features a tented yoga pavilion where you can get in touch with the nature all around you…and the spirit inside you.
At San Camp, you'll be awash in style that the 19th-Century African explorers could only dream about. Each of the six guest tents has four-poster beds, and private verandas from which this other-worldly landscape unfolds. And, after lunch or dinner, you can take your tea in a special tent with cushions and plush Persian rugs.
If you're the type who enjoys exploring new places on the back of a horse, you can do it in the Salt Pans. Camp Kalahari, a simple but comfortable oasis nestled amongst acacias and palms, offers horseback safaris. In addition to ten guest tents, there's a library, dining area, and a pool. Seeing the Salt Pans from the top of a horse gives one yet another perspective on this enormous land…and on a horizon that stretches out into infinity.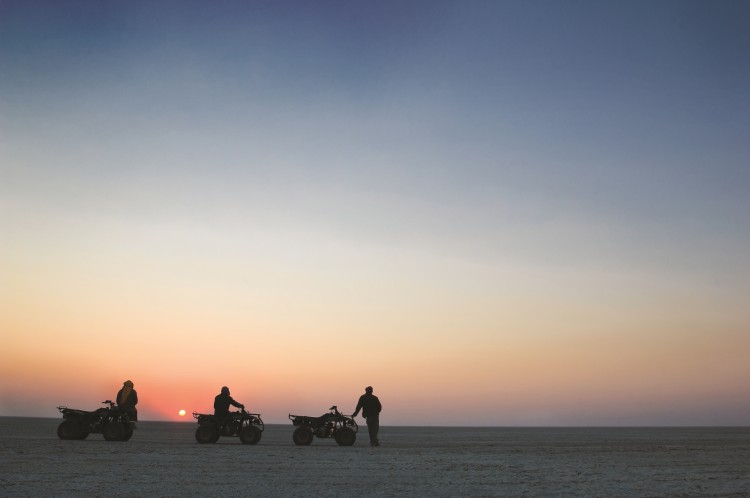 For most travelers, one of the most important things is to meet the locals. And it's no different here. Whichever camp you choose, the company can often arrange a meeting with the local Ju'hoasi Bushmen. For them, Kubu Island is a place of great spiritual significance, central to their heritage. You'll admire their strength of character, and their resourcefulness; these people have somehow eked out an existence here for thousands of years. And since they have little contact with the outside world, they'll be delighted to meet you. 
The Makgadikgadi Salt Pans are, truly, out of this world. You'll hear things, in the silence, you've never heard before. You'll see things, in the empty vastness, you've never seen before.
And you'll feel things you've never felt before.
And, by the time you leave, you'll see that this isolated, arid spot is filled with a life and a rhythm all its own.  
Resources: Uncharted Africa Safari Co.; www.unchartedafrica.com