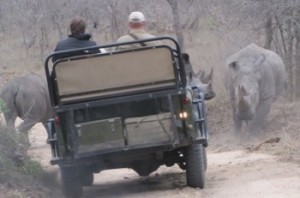 There's an exciting moment whenever you set off on a game drive and the ranger asks what you'd like to see.
It always makes me laugh, as if this khaki-clad Dr Doolittle can conjure up spectacular animal sightings on command.
But if you do yearn for a specific view of wildlife – a leopard in a tree or a wild dog hunt, perhaps – you can increase your chances enormously by picking a destination slap bang in the middle of your favourite animal kingdom.
South Africa is famous for safaris and Kruger National Park is the big daddy of them all. But it's so enormous that it's perfectly possible for all its animals to be frolicking in a different part of the park from you. That makes smaller game reserves potentially far more rewarding, and two of the most awesome are Lion Sands and Madikwe. Both have private airstrips served by charter flights from Johannesburg. Or hire a car and enjoy a four or five hour drive that soon leaves the city behind and delves deep into rolling African countryside.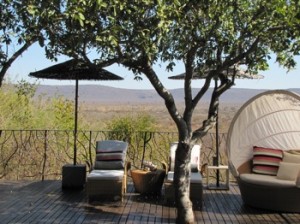 The stunning Molori Lodge in Madikwe is owned by an American, Kirk Lazarus, a designer who has made each of its five suites exquisite. He originally built the lavish lodge as a family holiday home and opened it to the well-heeled public in 2007.  The décor throughout is sumptuous yet bush, which is a quite some achievement. Everything is rustic, wooden and rounded, including wrap-around wooden decks built around live trees.
Lazarus himself arrives by helicopter and stays in the presidential suite, which has the space to entertain a dozen people and a pool with views of vast plains and big skies beyond. There's even a canoe hanging on a wall as a decoration – if Molori ever floods, guests in the Presidential Suite will be the first to safety.
One of the dining decks overlooks a water hole, where a succession of animals obligingly arrived at meal times. First three elegant giraffe, then a large herd of elephant and a snuffling family of warthog. Wynard the chef doesn't present a menu, he presents himself instead, with suggestions of what he's planning to cook that day. I nodded in happy acquiescence as he promised a dinner of Gorgonzola tart, seared salmon and decadent chocolate mousse.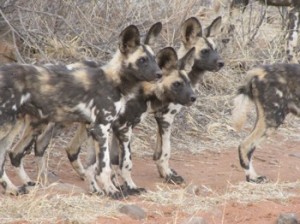 Malaria-free Madikwe is best known for its wild dogs, an animal teetering on the brink of extinction with fewer than 3,500 survivors. The dogs – also known as painted wolves – hunt in packs and have learned how to use the reserve's high perimeter fence as death trap. They spread out, chasing their prey towards the fence until it has no escape.
Head ranger Rudi Venter took us out on an afternoon drive when the dogs were on the prowl. First they staged a mock attack on a handful of zebra. The zebra squealed and skittered a little, but they were irritated, not afraid. One good kick would take a dog down, said Rudi. This was just a warm up before the main event.
As the dogs picked up speed Rudi shouted "hang on" and our vehicle hurtled into scrubland. We ducked to avoid spiky branches of thorn trees whizzing past and shielded our eyes against the sun and the dust. We stopped abruptly as Rudi scoured the land. We'd lost them, but they hadn't lost the wildebeest. A pack of dogs was clustered around a carcass and we watched in fascination as they writhed their snouts in deep. Other dogs kept guard against thieving hyena, and the air was full of high-pitched tweets that could be laughing or crying, if we were to humanize it.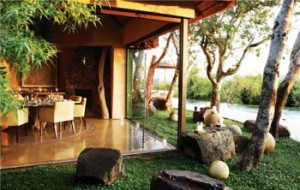 Later when we stopped for sun downers Rudi's ears pricked up and he analyzed the descending darkness. A rhino was shuffling slowly but resolutely in our direction. As it came closer Rudi gestured us to hide behind the vehicle. But the curious beast turned towards us. Suddenly Rudi let out the weirdest sound I've ever heard a human make. A snorting, chirping noise that defies description. The rhino recognized it instantly and literally turned his massive bulk on the spot and galloped off, raising a dust cloud in his haste.
"What the heck….?" I asked. "It's the alarm cry of an oxpecker," Rudi explained. Rhinos are notoriously short sighted and trust the little birds that travel on their backs to keep them safe. One chirp from a panicking oxpecker and a rhino does an instant disappearing act. I giggled all the way back to Molori.
If leopards are more your style, there's a better chance of spotting them at Lion Sands. It's a private reserve bordering the Kruger, yet the land seems a little richer and animals, like humans, naturally gravitate to where the living is easy.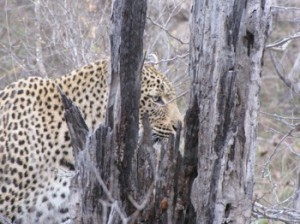 On every game drive I'm itching for that National Geographic moment. And call me a voyeur, but watching lions bonk is definitely a National Geographic moment when your binoculars catch the shaggy mane of a mighty male and the bored lioness beneath him.
Our ranger Jack topped even that with a stealthy maneuver through the bushes to follow a female leopard. We tracked her until she reached a rocky outcrop where she threw us a final glance and slunk off, like a haughty model leaving the catwalk once she's dazzled you with her beautiful outfit.
Lion Sands boasts a trio of lodges, of which Ivory Lodge is the most upmarket. There's plenty to do too, with a 6am game drive, 9am breakfast, leisurely lunch, high tea, a guilty trip to the gym, an afternoon game drive and a three-course dinner. Our private butler Solly pampered us endlessly, carrying lunch down to our lodge and serving dinner out on the Mahogany Deck, with perfectly grilled yellowtail or kudu and unusual dishes like spinach and feta soup.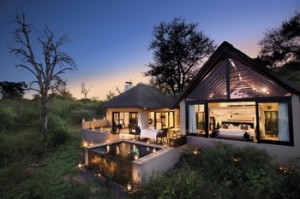 Amid the dozens of luxury lodges in South Africa, Molori and Ivory Lodge are certainly something special. Both are superbly luxurious, serve top quality food, and are in right in the heart of big five territory for lion, buffalo, elephant, leopard and rhino. And both have excellent rangers who sometimes really can conjure up whatever it is you want to see.
Molori Safari Lodge (www.molori.co.za/safari) is in Madikwe game reserve near South Africa's border with Botswana. It accommodates a maximum of 14 guests.
Ivory Lodge is in Lion Sands private game reserve near the Kruger. Details from www.lionsands.com.