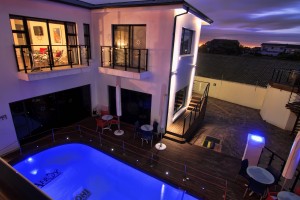 If you're looking for cosmopolitan urban culture or beautiful buildings, Port Elizabeth won't be your first choice for a South African holiday destination. It's a busy yet relatively crime-free industrial city (important to the South African motor industry) that marks the eastern end of the Garden Route. Although the city has been ravaged by industrialization and thoughtless modernization, one or two buildings do stand out in an otherwise featureless city centre. Thankfully, a couple of classically pretty rows of Victorian terraces still remain in the suburb of Central.
That said though, this major sea port, set along the beautiful shores of Algoa Bay, has two major tourism treasures: its beachfront suburbs of Humewood and Summerstrand that stretch for several kilometers and offer some of the whitest, safest and cleanest city beaches in the country (thoroughly geared up with waterslides and performing dolphins to keep kids occupied); and no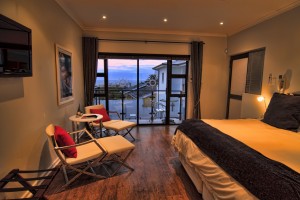 less than 28 affordable game reserves, including Shamwari and Addo Elephant Park – dedicated to the preservation of the Eastern Cape Elephant and Cape Buffalo, within easy reach.
Should you require further enticement to linger for a couple more days there's a 5km Donkin Heritage trail which traces the footsteps of the 1820 Settlers; St Georges Park – the world famous cricket club; and of course, endless golfing and water sport attractions.
Finding suitable accommodations in PE can be tricky as there are only a few truly exceptional hotels. Opened in March 2010, the exclusive A-Hoy, literally 500m from King's beach, is the shiny new kid on the block. Pulling up outside the electric gates of a super modern villa, complete with chrome table and chairs standing in the water feature, definitely delivered the wow-factor. With nine spaciously elegant suites – all with private balconies and ocean views, as well as a sparkling plunge pool in the enclosed courtyard, in itself this hotel is a destination.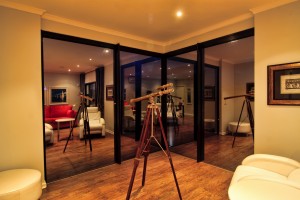 Our airy first floor room, the 'Rhapsody Suite', is super stylish in crisp white with accents in red and blue. It's also practical with loads of mod-cons plus a well stocked kitchenette and ample storage space for luggage. From its balcony there are long views across the swimming pool, the courtyard and the Indian Ocean beyond.
We took our drinks for the hip mauve-blue backlit bar to dine al fresco beside the similarly lit swimming pool. Hearing us speak of our love of beer the super efficient staff informed the chef who presented us with an impressive menu consisting of a variety of sushi served with champagne and pear liqueur; apple and gorgonzola soup with Millers Genuine Draft; salmon rose with strawberry and a rocket side salad with Dreyer Premium larger; lamb backstraps with vegetable crisps and beurre blanc and peroni, which was topped off with a triple chocolate silk with Castle milk stout.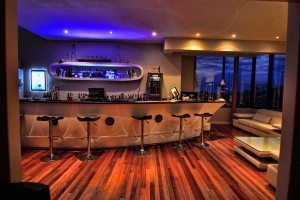 A-Hoy is an understated nautically themed boutique hotel which, in my opinion have mistakenly been given a four-star rating instead of five. Perhaps they've upgraded some of their services since their rating but based on our experience they far exceed the services we've enjoyed in some of the world's top hotels.
Their rates range between R500 and R1,500 per room per night and includes an awesome English breakfast. Our five-course dinner cost an additional R120 each and was worth every cent.
Getting there:
Port Elizabeth airport offers onward flights to other parts of South Africa, including major airports like Cape Town and Johannesburg. In comparison to other regional airlines, the cheapest and best is 1time (www.1time.co.za). Roomy leather seats, in-flight drinks/snacks offered by polite staff and prompt departures – unimaginable in the low-cost airline world.
A-Hoy Boutique Hotel
19 La Roche Drive, Humewood
Port Elizabeth, 6001
Ph +27 41 5822888