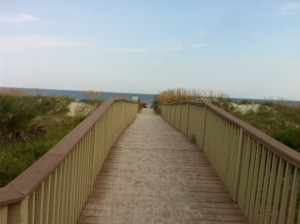 The official first day of fall has come and gone, the weather is slowly getting cooler and the days shorter so beach vacations may seem like a thing of the past at this point but, in reality, this is absolutely the best time of the year to visit many beaches. After Labor Day, the crowds diminish as children head back to school, and the prices are lowered, but the weather in many of these areas is still warm enough to enjoy the beach, have a swim, have some great seafood, shop and visit the local spa.
Here are five suggestions for locations we have visited in the fall that make perfect beach destinations for this time of year.
1. Tybee Island, Georgia. Located right off the coast of Savannah and frequently referred to as "Savannah's Beach", small and quaint Tybee is a beautiful place with lovely, tan sand beaches and some great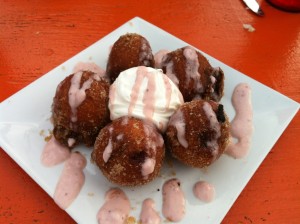 seafood restaurants. We have stayed in a darling, hot pink cottage steps from the beach we rented from Mermaid Cottages and a sprawling, luxurious, huge beach house just a few blocks away from the beach that we rented from Tybee Joy Vacations. Both rental agencies have a wide variety of cottages and houses available. Be sure to have dinner one night at Coco's Sunset Grille and order the fried strawberries for dessert – they are unique and incomparable! Savannah is only a 15-20 minute drive away so spend a day taking a Segway tour, shopping on River Street, walking through the gorgeous neighborhoods of mansions and parks then have dinner at The Pirates House where sailors were shanghaied years ago to serve on sailing ships.
2. Amelia Island, Florida. Located in Northeast Florida, this hidden treasure of an island is charming and beautiful with 13 miles of pristine beaches. The Hampton Inn & Suites in the town of Fernandina Beach has lovely one bedroom suites with full kitchens and breakfast every morning. Stroll from the hotel into the shopping area where you will find dozens of great little shops, including Twisted Sister where you can find some wonderful jewelry at great prices, along with a variety of other items. Schedule a cruise with Amelia River Cruises and Charters where you will see dolphins and wild ponies which roam the nearby islands. Plan lunch or dinner at Café Karibo on the patio, enjoy people watching, and order the Pig and Apple sandwich, a delicious combination of ham and sliced apples.
3. Isle of Palms, South Carolina. Technically considered part of Charleston, Isle of Palms is actually just a short drive from the city and the perfect location to enjoy a beautiful beach but also have access to the city. Plan to stay a few days at the Wild Dunes Resort because you will not want to leave! The resort offers hotel rooms, condos and beach houses of all sizes for your stay. With several pools, a golf course, tennis courts, biking, and just relaxing on the beautiful beaches, there is plenty for everyone to do here. Pay a visit to the Sand and Sea Salon for relaxing massage and stop in the gift shop in their lobby for some cute jewelry and clothes purchases. There are several restaurants on the property as well as a poolside grill and a market where you can buy fresh sandwiches and other items for a beach picnic. Stop by the Sand Bar located in the Links Clubhouse for a great breakfast or a lunch filled with Southern specialties like shrimp and grits.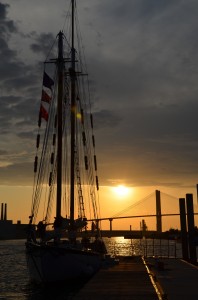 4. Destin, Florida. You don't need to head to the Caribbean for sugar white sand and water the colors of emerald and azure; you can find them right in Destin, Florida. Located on the beautiful Emerald Coast, Destin has great shopping at the Silver Sands Outlet Mall and some wonderful local restaurants. Stay at the Sandestin Resort where they have hotel rooms, condos, and houses located at the beach, by the golf course, or overlooking the scenic bay. Spend the morning at the Sandestin Day Spa and partake of a relaxing massage and facial, then stroll over to Another Broken Egg for a late brunch of quiche and blackberry grits. Sandestin is beautifully landscaped with plenty of huge shade trees and winding paths so it's the perfect place for bike riding. Have dinner at the Marlin Grill in the Village of Baytown Wharf, a charming area of shops and restaurants right by the bay. Be sure to order the pan friend grouper – it's the best fish you will ever eat!
5. Hilton Head Island, South Carolina. Hilton Head Island was very lucky to have planners who were environmentally conscious because they island is literally covered with trees in a park-like atmosphere and all the stores and restaurants must blend in with their surroundings so it's truly a beautiful place. Spend a day checking out the many vintage and consignment shops on the island – you might find some great treasures as we did! Stay at the Sonesta Resort which has been recently renovated and is just lovely with beautiful landscaping and touches of orange everywhere. They have 340 rooms and suites, all with Wi-Fi, a balcony or patio, and a small fridge for snacks and drinks. Visit the Arum Spa for a great massage, lounge by one of the pools or take a short walk out to the beautiful beach. Be sure to stop in Pearls Market in the lobby as it's one of the best hotel gift shops I have ever visited. Heywards offers a great breakfast every day – be sure to try the Strawberry Napoleon Waffle – and also have wonderful dinners. We had the best dinner here the entire time we were in Hilton Head.
So, even though it's officially fall, you can still enjoy summer a little longer. Just head to one of these fabulous destinations!