When it comes to bucket lists, travel writers are luckier than most; we get the opportunity to cross out a lot of items.
Machu Picchu has been on my bucket list since before the term "bucket list" even came into common usage. In fact, it's been on my list since I was a young boy, and thrilled to the adventures of explorers such as archaeologist Hiram Bingham, who discovered the Lost City of the Incas on July 24, 1911.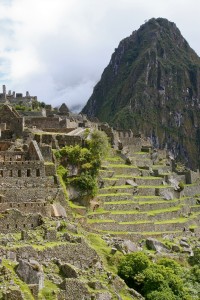 Ever since boyhood, I've wondered about this mystical, almost-impossible-to-reach city of a now-dead civilization. Who were they? Where did they come from? Why did they pick this spot? And where did they go? How did they live? And how did they die?
All the questions aside, however, one thing is certain – Machu Picchu will take your breath away. These ancient ruins are situated in one of the most magnificent spots in the world, tucked away in the deep forests and spiky mountains of the Peru's Andes.
These days, you don't have to be Hiram Bingham to see it. A company called Llama Expeditions (www.llamaexpeditions.com) will take you to Machu Picchu. And your travel companion will be a llama. No, you won't be sitting on the llama's back. These sturdy animals are native to the Andes…but not that sturdy. Instead, you'll be leading the animals (at times, they may be leading you!) along the rocky trail to the Inca city. And they'll be carrying the lion's share of your supplies, so you can make the trek without getting super-exhausted.
Our jumping-off point is in the ancient colonial city of Cuzco, with brown-tiled roofs and magnificent churches and streetcars and fountains and housing developments creeping up the sides of the surrounding mountains. Cuzco was actually built by the Spanish Conquistadores on top of ancient Inca ruins and palaces. It's a great walking city. And as I walk it, I'm distinctly aware that I'm walking on cobblestones once trod by both conquered and conqueror.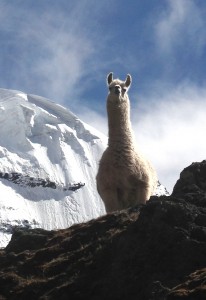 When it's time to go on our journey, Llama Expeditions picks us up and drives us through the Sacred Valley – generally considered the heartland of the Inca – and over spectacular mountain passes. Then we descend into the Lares Valley, where we pass natives adorned in brilliantly-colored tunics, shawls, and hats, herding cows or sheep or llamas. In a delightful twist for those of us who are community-minded, Llama Expeditions stops at a local market to pick up school supplies, bread, and coca leaves for the people whose paths we cross.
We stop for lunch at a hot springs where the Incas used to bathe. Here, we meet Jose, our "arriero," who loads the packs onto the llamas, and also a few horses. Then I meet Romero, the white llama who'll become my best friend in the coming days. As we get acquainted (and I think about possible avoidance maneuvers if Romeo decides to spit!), I look up toward the Lares Trail, our route up. It's less sexy than the Inca Trail, but also less crowded. And not as physically demanding. (Nonetheless, you've got to be in good shape to make this trip.)
And then we're off. As I start leading Romeo by his rope, I take an occasional look down at the path, searching for hidden rocks or holes, any of which could send me home prematurely if I land on them the wrong way. Romeo, though, doesn't seem a bit concerned; he takes every crack and hole and rock like the born-to-climb creature he is. And, eventually, his confidence gives me more confidence. I even find myself talking to him (although I'm not sure how good his English is!).
We hike up a valley, past the Rio Trapiche river. As night begins to fall, we descend tow
ard the village of Huacahuasi, where we make camp. By this time, we'll have hiked 7.5 miles, and gained 2,297 feet in altitude. By this time, Romeo and I are becoming pretty good friends, trusting each other's instincts and actions. And I'm amazed at how sure-footed and strong he is even while carrying my pack. Other than an occasional grunt, he's stoic and silent, going about his task. After awhile, he even seems to recognize a couple of my commands (given in Spanish).
After supper, sleep beckons like a beautiful siren. And we'll be doing it an altitude of 12,467 feet.
Daybreak dawns with the smiling face of our cook, offering a steaming cup of tea to cut through the early-morning fog and chill. After a hearty breakfast, we climb through pastures of roaming herds of alpacas and llamas, who ignore us as they munch on their own grassy breakfast. Later, when we stop for lunch in a beautiful meadow, we relieve the llamas of their packs for a while, so they can enjoy lunch, too.The smiles we get as we tramp through these villages are warm and heartfelt.
Our "stats" for Day 2 of the adventure? We've hiked 5.6 miles, and we're stopped at an altitude of 12,139 feet.
I wake before the sun, filled with anticipation. After breakfast, we hop into a bus, which takes us on a ride up a series of steep switchbacks. Machu Picchu slowly grows larger as we get closer, an Oz-like mirage looming in the foggy distance.  Suddenly, all the photos in all the geography books I read in school, and all the travel magazines I've read since then, start to take on a life of their own, as this magical place seems to bloom right in front of me.
After a guided tour of the site; we're free to roam about on our own. To commune with the ancient spirits and deities who still inhabit this place. To ask ourselves…Who? What? When? Why? And to look out in awe at a panorama so spectacular that it defies description.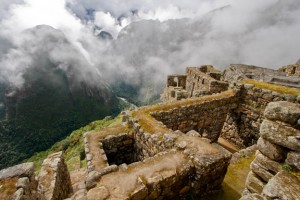 No one knows for sure why or by whom Machu Picchu was built, or even when. But most archaeologists believe it was built in the mid-15th Century, as an estate for the Inca emperor called Pachacuti. Why was it built in this isolated location? Some experts believe it had to do with religious reasons, or the positions of the sun.
When you stand in "The Lost City of the Incas," and see for yourself how far away from the rest of civilization it is – and was – it's not hard to understand how it got that name…or how it lay undiscovered for so many centuries. Somehow, though, the Spanish apparently managed to find this hidden city. Archaeologists believe it was abandoned around 1572, probably as a result of the Spanish Conquest.
Machu Picchu was built in the classical Inca style, with dry-stone walls that were highly-polished. Its three most prominent structures – situated in what's called "The Sacred District" – are the Hitching Post of the Sun, the Temple of the Sun, and the Room of the Three Windows. And when you stand in them, you can almost feel the presence of those who stood here 600 years ago.
Although always known to the local mountain people, the city was unknown to the outside world until Hiram Bingham chanced upon it in 1911. Many of the buildings have since been reconstructed in their original style.
Standing here, you become acutely aware of why this place was named one of the New Seven Wonders of the World in a worldwide poll a few years ago.
In this place of spiritual silence (at least until more tourists arrive in the late-morning), deep-green peaks piercing the sky, air so fresh it seems to stream right through you as you breathe it, the ruins of a once-great civilization, and the splendid isolation of a place the rest of the world didn't even know about until a hundred years ago, you realize that there is no other place on Earth quite like this one.
Resources: www.llamaexpeditions.com