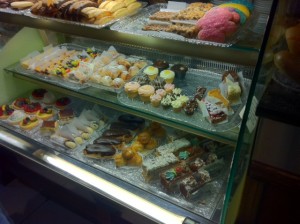 My husband and I are fans of food. Lots and lots of different kinds of food. We have enjoyed a fabulous gourmet restaurant in Las Vegas and a beachside hamlet in Mexico where he had his very first Corona. We love it all. But it's difficult, time-consuming and expensive to attempt to sample a variety of restaurants in the many places we visit, so we have figured out the perfect solution – local foodie tours. For roughly the price of one nice restaurant meal, you can enjoy samples (some quite substantial) at a variety of restaurants, bakeries and other, more unique venues like vinegar and oil shops and chocolatiers. It's also a great introduction to a location as the tour guides are invariably knowledgeable about the area. Foodie tours are a great way to find the best local specialties – and determine which you location you want to return to and sample even more goodies!
We first discovered foodie tours in Amsterdam where we sampled some of the best cheese in the world at the Reypenaer Cheese Tasting Rooms. Located right near Dam Square and easily accessible via one of the many canal boats, this location has a schoolroom like basement complete with tables and chairs. There, they introduce you to a wide variety of their cheeses, accompanied by lovely glasses of wine and expert commentary on what you are tasting.
When we headed to San Francisco for two days on a cruise of the Pacific Northwest, I was checking out various tours and noticed a foodie tour of Little Italy with Local Tastes of the City. They also offer foodie tours in different areas of the city – the one in Chinatown in on my list for our next visit! Walking from location to location in the North Beach neighborhood, we would get to taste everything from pizza to éclairs – how wonderful! After our cheese tasting excursion in Amsterdam, I knew this was something we would enjoy. We met our San Francisco tour guide in front of a cigar store right by Washington Square Park and made our way to our different locations, including Liguria Bakery where we were handed big hunks of freshly baked focaccia bread, some with mushrooms, some with a pasta sauce, and all equally delicious. This particular tour actually ruined us for others because they were so incredibly generous with their samples – we didn't eat again until dinnertime! The most interesting thing about the entire tour was that the neighborhood residents were just living their lives all around us – lining up for fresh bread or a cup of coffee, walking the dog through the neighborhood or playing in the park. We were surrounded by the beautiful San Francisco architecture and our tour guide told us all about the neighborhood and each of the places we visited. We stopped for candy samples at Z. Cioccolato where they had the biggest selection of taffy I have ever seen, chocolate éclairs at Victoria Pastry, and the most delicious homemade pizza I have ever tasted at Cincetta. What a great introduction to San Francisco!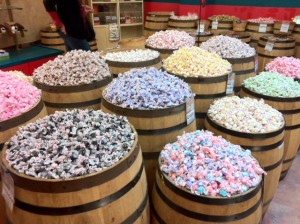 We realized we were onto a good thing with foodie tours, so when we were in Portland, Maine last year, we signed up for the Maine Foodie Tours. They also offer a variety of tours and the chocolate tour was one that seriously tempted us! We met on a cold, rainy morning at the Old Port Wine Shop but we were not about to let a little rain defeat us! We headed next door to Vervacious, where we sampled a variety of spices and drizzles on fresh fruit. At Stonewall Kitchen, we had freshly baked scones and blueberry preserves, then at K. Horton Specialty Foods we tried a variety of artisanal cheeses that were delicious. Deans Sweets offered us some wonderfully unique truffles filled with such exotic concoctions as cayenne and ginger and we watched Dean
painstakingly make truffles by hand, then we pigged out on the local specialty of whoopie pies at Two Fat Cats Bakery and drooled over the fresh baked goods in their display cases. Smoked trout at the Harbor Fish Market and a variety of local microbrews at the Shipyard Brewing Company – including ginger beer which was wonderful – and we were finished eating for the day. Or at least until dinner!
By the time we headed to Arizona last winter, we knew this was a great way to explore a new city and even investigate places we might like to return to later for a more substantial repast! It is also a wonderful way to buy things to take home for gifts as many of the shops will ship things for you. We bought several presents this way for our daughter, who is quite a gourmet cook. When we began planning a visit to Scottsdale, Arizona, one of the first things I checked out was whether they had any foodie tours. Luckily, we found A Taste of Old Town Scottsdale presented by Arizona Food tours. Up to this point, our foodie tours had been quite fabulous but we were actually just visiting bakeries, etc. and only a few restaurants. That changed with Arizona Food Tours and made us realize how nice it is to visit a restaurant to check it out and see if it is a place we want to revisit. We drove to the Little Red Schoolhouse Museum in Old Town Scottsdale where we met the rest of the group to begin the tour
and strolled up the street to The Mission, a beautiful restaurant next door to an old Spanish mission. The specialty is modern Latin cuisine and they are also famous for their margaritas. They use freshly pressed juice and organic ingredients to create drinks with agave nectar, pineapple,
mint and ginger. We had some delicious food samples, then they offered us teeny tiny margarita samples and we all tried one. From the Mission, we walked to a tiny little shop hidden away in an alcove with other interesting shops. Outrageous Olive Oils and Vinegars is a cute little shop with literally hundreds of kinds of olive oil and vinegar from all over the world. Next, we strolled a few streets over to one of our favorite stops of the day – Grimaldi's Pizza where we sampled not only great pizza but some wonderful cannoli. We sampled some wonderful Tom Ka Gai soup at Malee's Thai Bistro, wine at Fifth and Wine and our last stop was at Lee's Cream Liqueur where they offer freshly made ice cream that is infused with a variety of liqueur flavors. Now when we are planning our travels, one of the very first things on my list to check is whether they offer a foodie tour. If they do, that's the very first thing on our list!