The death of Nelson Mandela is focusing world attention on South Africa as never before. His departure at the age of 95 is uniting the country again, just as he pulled the fragmented society together in 1995, when he wore a Springbok's jersey to the Rugby World Cup, the country's first major sporting event since the end of Apartheid.
I have always felt privileged to be part of Mandela's land, a country where one astonishing man changed the entire course of our history. He went from village boy to lawyer, to activist to political prisoner, and from president of the country to an international icon for reconciliation.
Here are some of the best places to follow in his footsteps and gain a sense of this extraordinary man who became a hero to the world: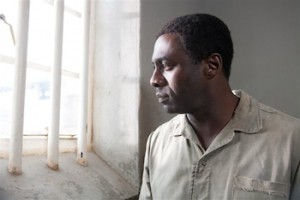 Robben Island
Mandela spent 18 of his 27 years in prison on Robben Island. The whole island off the coast near Cape Town has been turned into a museum with the power to shock, stir and inspire.
The high security prison for political prisoners during apartheid practiced segregation itself, with black prisoners like Mandela fed a poorer diet and made to wear shorts instead of long trousers even in the winter. The tour guides are former prisoners themselves, who share their memories as they show you the lime quarries where they worked and the impossibly small cell where Mandela spent so many years. Linger at the back of the group and close the cell door behind you to feel a sense of his isolation. It's a profoundly moving experience.
The island offers a fantastic view of Cape Town, highlighting the torment for the men who could see freedom but not achieve it.
The tour is 3.5 hours long, including return ferry rides. Ferries depart at 09.00, 11.00, 13.00 and 15.00 from Nelson Mandela Gateway at the V&A Waterfront in Cape Town. Adults: R250, children R120. Pre-booking online (www.robben-island.org.za) is wise as the tours fill up quickly.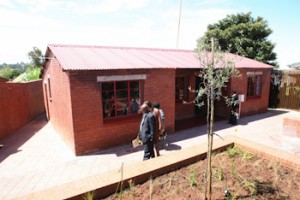 Soweto
Mandela spent many years in Soweto, and his former home, 8115 Vilakazi Street, is now a museum. Vilakazi is the only street in the world to have been home to Nobel Peace prize winners – Mandela and his friend, Archbishop Desmond Tutu. Mandela's house has been preserved the same state it was when Nelson and Winnie lived there in the 1960s.
Since his death was announced, South Africans of every age and colour have gathered outside his home laying flowers, singing struggle songs and dancing to celebrate his amazing life.
Soweto is a sprawling township created as a dumping ground for blacks when the government forcibly removed them from areas the whites wanted for themselves. It's now a vibrant mixture of prosperity, entrepreneurship and obviously, some lasting squalor.
A guided tour usually includes a traditional meal and drinks in a 'shebeen', or local bar. A tour with Soweto Tour (www.sowetotour.co.za) costs R495 and other options add on lunch or a visit to the Apartheid Museum.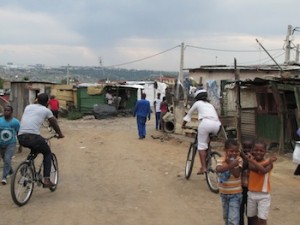 Cycle through Alexandra
Alexandra is the township where Mandela stayed when he first moved to Johannesburg in 1940. The yard where he rented a room is a scruffy place, as it always was, but it's now been declared a Heritage Precinct.
His room had no running water or electricity, yet in his autobiography, The Long Walk to Freedom, Mandela wrote: "Life in Alexandra was exhilarating and precarious. Its atmosphere was alive, its spirit adventurous, its people resourceful. In spite of the hellish aspects of life in Alexandra, the township was also a kind of heaven."
A new Mandela Museum is being built behind the yard, an imposing affair that literally overshadows the ramshackle room where the icon began his struggle years.
Young entrepreneur Jeffrey Mulaudzi operates bike tours of Alexandra, which are the best way to experience the vibe of the place. You'll cycle past heaps of rubbish, foraging dogs, kids kicking a ball who stop to jog alongside for a moment, asking how you are and saying welcome. You'll visit Mandela's Yard, a shebeen, a school and hear about the hospital and hostels set up to house the migrant workers. Details: http://alexandratours.co.za/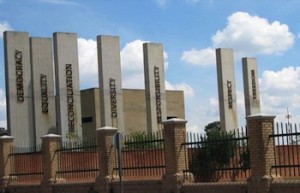 Apartheid Museum
Johannesburg's excellent and moving Apartheid Museum tells the story of racially segregated South Africa. Your entrance ticket comes in "white" and "non-white" versions, determining which entrance you're allowed to use. Its audio-visual material, photographs and displays recreate this harrowing period of history. Daily life for the black population was conducted under the watchful eye of security police in armoured vehicles, punctuated by forced removals from their homes and brutal detention in the prisons.
In other rooms, the sounds of struggle songs reverberate, and visuals document the almost daily protests and marches that were brutally suppressed.
The museum also screens Mandela's 1961 interview with the BBC while he was in hiding from the authorities, and footage of apartheid architect Hendrik Verwoerd attempting to justify racial segregation.
Allow at least two or three hours to tour the museum, which will help you understand how far South Africa had to go to build a society based on dignity and equality after such brutal and long-lasting oppression. Details: www.apartheidmuseum.org.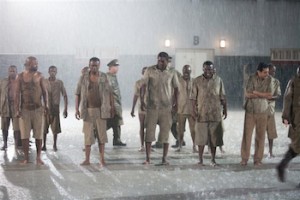 See the movie
If you can't follow Mandela's footsteps in person, watch the movie Mandela: Long Walk to Freedom. South African producer Anant Singh began writing to Mandela when he was on Robben Island, and met him after his triumphant release. Mandela granted Singh the movie rights for his whopping 751- page autobiography, which took 16 years and more than 50 drafts of the script to reach fruition.
It's a long, chronological and deeply respectful tale that strings together key moments from his life. English actor Idris Elba is hugely impressive in his ability to capture the necessary stature of the icon, giving us Mandela the human in a movie giving us Mandela the saint.
Singh had the dreadful job of breaking the news of Mandela's death to the audience at the film's British Royal premier, receiving the news of his death 15 minutes before the screening ended.