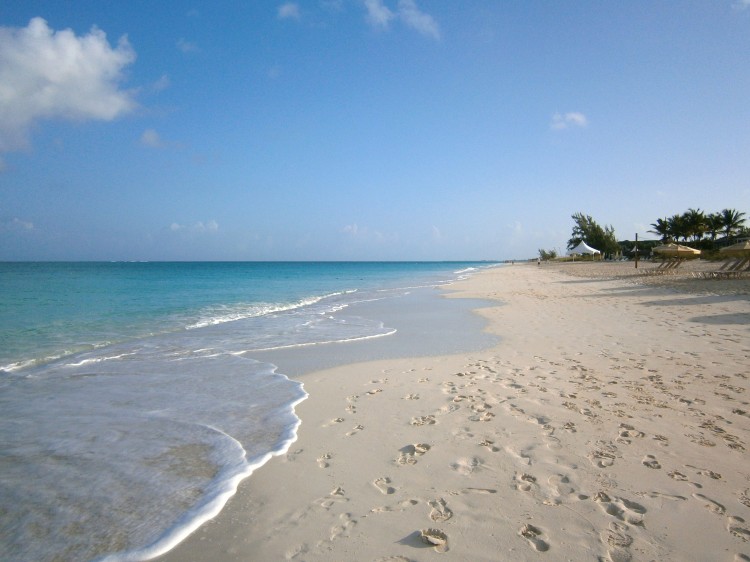 This has been the coldest, longest, snowiest and most depressing winter I can recall. And as a sixth-generation Canadian living in one of the coldest places in the country, I've seen more than my share. So when the opportunity came up to come out of hibernation for a few days by hopping a plane to glorious Grace Bay Beach on the Turks and Caicos island of Providenciales (locally known as "Provo" ) I couldn't  pack fast enough!
Grace Bay Beach
When I first looked at photos online I thought they  must be retouched as the beach looks just too perfect. But I'd also heard from some of my travel writing colleagues that Grace Bay ranked among their top five on the planet. So it was with an open mind I anticipated pure paradise. I wasn't disappointed. It truly is postcard perfect.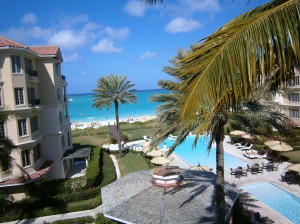 The Somerset at Grace Bay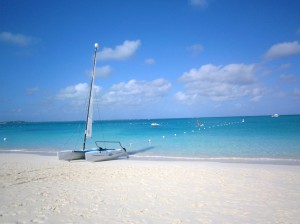 This was to be a short trip, not one bent on exploring every inch of a new destination, but more of a rest, recharge and thaw-out sojourn. So The Somerset at Grace Bay was just what the doctor ordered. It's a small  five-star luxury boutique  hotel with  all-suite condo style accommodations ranging from one-bedroom garden view to split level three bedroom and penthouse affairs. All rooms are all fully equipped with everything one would  need to live in them: washers dryers,well-stocked kitchen appliances and dishes, whirlpool baths, multiple bathrooms, and beautifully appointed living areas sprawling onto ultra large balconies.  My one bedroom suite was  humongous, yet it never felt empty due to  the smart and homey design. But though the accommodations are first-rate, the real star at this resort  is the beachfront infinity and endless pool area. It's stunning.  And of course, then there's the beach!
During my stay, dining was confined to the pool terrace  restaurant LunaSea and a special Beach BBQ as they were mid-construction of a brand spanking new uber classy dining spot.  The new multi-level  restaurant  is now open;  it's called  Pavilion at the Somerset run by Executive Chef Eric Vernice, and offers a broad range of fusion and Caribbean cuisines. And it' s also complemented by a  new classy cocktail bar on-site called The Pearl.
Surf-side Pleasures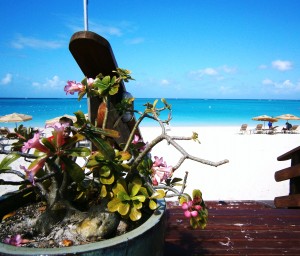 Grace Bay beach offers 12 magnificent miles of stellar soft sand and gentle surf, and the activities right in front of the resort include hobie cat sailing, paddle board lessons, sea kayaking and sunset yoga.  And I enjoyed them all. But I also really enjoy snorkeling, so I had to make side trip for that. The resort will lend you the equipment, then you take an about a 25-minute walk down the beach to find a perfect public snorkel spot called Bight Reef. It's a protected coral garden right off shore beginning in very shallow water where you can easily spot scads of huge parrot fish and all kinds of colorful sea creatures. It's ideal for little ones and novice snorkelers, and the water is crystal clear and the coral vibrant and healthy.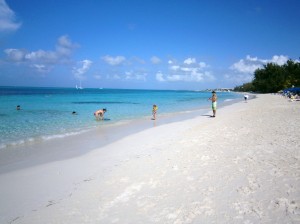 Other Pleasurable Pastimes…
Though I found it really tough to tear myself away from that prime beachfront playground, I did manage to take a complimentary coaster bike into the modern little touristy town five minutes away for a little off-resort exploration. There are cute little shops and  bars, ( do try Lemon Cafe for exquisite coffees ) and it's worth a look to buy some nifty souvenirs like Bambarra Rums– excellent local spirits that come in different blends and flavors.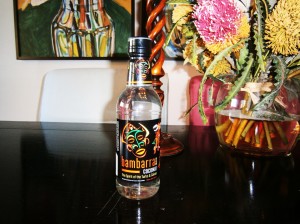 If you have more time, then a day trip out to the famous Conch Farm or an island tour  by land or sea are also great options. But if not, just enjoy. Beaches this alluring  are difficult to come by. And the polar vortex will fast become just a distant memory.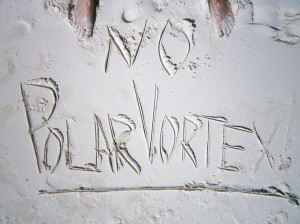 Visit: www.turksandcaicostourism.com