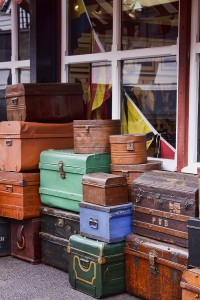 When John Cabot set sail to discover Canada back in 1497, Bristol was already a wealthy trading port – and has been for more than a thousand years. Post WW2 Bristol became and industrial centre: home of the Concorde, Rolls Royce and where the wings of the A380 Airbus are manufactured. More recently the buzzing multicultural university city of 500,000 has morphed into a large commercial centre, one of the most popular cities for business relocation. Bristol is a major focus for media industries, silicon design, aerospace engineering and environmental technology.
With only 48-hours in which to take in the city's top attractions, I needed to streamline my wish list which resulted in the following:
The historic docks are an energetic colourful parade of inspirational art galleries, eclectic cafes and character restaurants, many housed in converted warehouses – a reminder of the city's rich maritime heritage.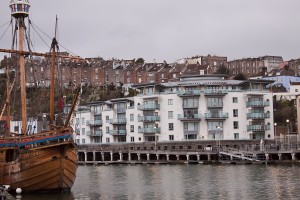 Brunel's great iron steamship, the ss Great Britain – the world's first ocean going liner – is a permanent exhibition at the floating harbour across from the Oporto Quay (www.ssgreatbritain.org). The hop-on-hop-off harbour ferry is a fabulous way of taking in the sights and sounds of Harbourside.
Cross over to the Old City from Harbourside via the pedestrian Pero Bridge, so named after Pero Jones, the African servant of a plantation owner (between the 1600s and 1800s Bristol was involved in the slave shipping industry – a discrediting fact evidenced in the city's architecture), then head to the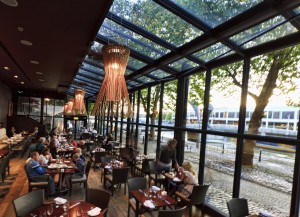 Ferry Station, a unique floating cafe bar. It's a great place to take in the unorthodox vibe of the city and watch the ferry boats glide by. Sit out on the sun deck or in the comfortable interiors and enjoy a great organic lunch (Narrow Quay, Bristol, BS1 4QA, Ph +44-117-3763942 www.ferrystation.co.uk). Alternatively, every Wednesday the popular weekly farmers market offers fantastic lunch-on-the-go options with cheese from Portugal, Pieminister pies, Italian sausages, Moroccan juice bars, soups from Turkey and Caribbean salads – on Sunday's the market is held at the Tobacco Factory.
A five-minute cab ride to the city fringe will take you to the Bristol Blue Glass Factory (no entry fee) where you can watch Bristol's famed glassblowers. (66A Anthea Road, Fishponds Trading Estate, Bristol, BS5 7EX, Ph +44-117-9651989 www.bristolblueglass.com)
Some of the UK's best shopping is to be had in Bristol. From the glamorous and exciting Cabot Circus, to Broadmead and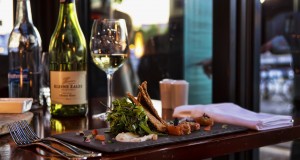 The Mall at Cribbs Causeway offer all the high street labels. Park Street and the Clifton Arcade – a Victorian shopping mall on Boyces Avenue showcase more local, independent names. St Nicholas Market is an architectural gem with an intriguing choice of stalls and small shops selling vinyl records, second-hand books, previously loved clothes and exotic deli food.
I spent the night at the modern Bristol Hotel, which sits prettily on the quayside of the Floating Harbour. The Bristol Hotel is a 1960s building, recognised as a fine example of the Modern Architectural Movement, and offers 187 fresh, bold and luxurious rooms. The Bristol Hotel's River Grille must be one of the finest dining spots in the city – its romantic quayside ambience, cavernous interiors, sleek furnishings and contemporary British cuisine offers some of the most flavoursome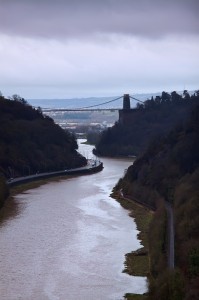 dishes I've yet had. From a regularly changing menu, creative and indulgent dishes are created – like duck liver pâté with marmite jelly and herb mustard pesto; 10-hour braised lamb biryani with jasmine peas and spinach pakoia, chilli mango jam and roast onion puree; and the superb selection of decadent desserts demand a return visit. My food was expertly prepared, professionally delivered and coming in at under £30, was excellent value (currently twenty per cent discount when reserving online, plus a free parking voucher). On Friday and Saturday nights, there's live jazz. The Bristol Hotel, double room B&B rates start at £89 www.doylecollection.com/bristol.
Away from the water's edge winding streets lead to elegant parks, squares and historic buildings like the Bristol Cathedral; the Old Vic Theatre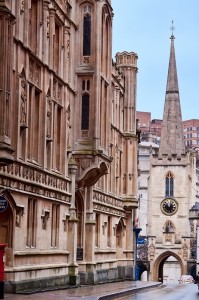 – the oldest working theatre in the country who's stage graduates include Jeremy Irons, Miranda Richardson and Patrick Stewart; as well as the baroque St Mary Redclilffe church, under which the infamous pirate 'Blackbeard' had a hideaway cave. Futuristic architecture rubs shoulders with the old city's grand, dignified buildings found on the medieval quarter's cobbled streets and if you look carefully you'll spot the work of local, world renowned graffiti artist, Banksy.
The steep Christmas Steps – once the muddy passageway down to the Frome Bridge – serves as an architectural reminder of the past four centuries: lampposts recall Victorian gaslights; tiny shops with askew bow-fronted windows reminiscent of Georgian times; at the top, piously looking down the steps and across the city, is the 15th-century chapel of Foster's Almshouse.
At the bottom of Christmas Steps, a couple of hundred metres along Colston Avenue, is Flavourz – a buffet restaurant, offering superb food at rock bottom prices. I took in a three-course lunched for £6.95 (1-3 Colston Centre, Colston Avenue, Bristol, BS1 4UB, Ph +44-117-3763176, www.flavourz.co.uk).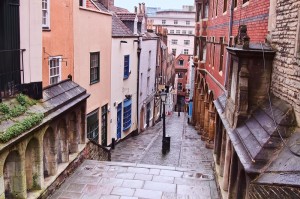 A stone's throw from the city centre is the elegant, leafy village of Clifton, with its beautifully preserved Georgian architecture. Here Whiteladies Road is filled with unusual antique shops, quirky cafes, modern art galleries and chic boutiques. From the terrace of the Avon Gorge Hotel, where I stopped for high tea, I took in the dramatic view of the Clifton Suspension Bridge and the gorge that it spans – Bristol's iconic landmark designed by the celebrated Victorian engineer, Isambard Kingdom Brunel.
Leaving the city the following evening I took pleasure in an illuminated night time view of Bristol's bridge and could see from where JK Rowling drew her Harry Potter inspiration.
Additional Hotels:
The Hotel du Vin is truly upmarket with all the whistles and bells that go to making an exceptional boutique hotel. Created from six Grade II listed warehouses dating back to the 1800s, the hotel is accessed through a secluded cobbled courtyard accessorised with a Koi pond and fountain. There's a loft-living concept going on which oozes style and sophistication. My room was minimalist yet chic; the bathroom, hidden behind frosted double doors, had a roll top bath as the centre piece and quite possibly the best shower system of any hotel ever. But as with most professionally designed interiors the stylist got carried away with concepts and tends, forgetting practicalities such as the need for sufficient lighting; somewhere to put essential bathroom accessories (like soap and shampoo) near the roll top bath; the need of a bathroom bin; and the essential ingredient of any hotel, a comfortable bed – none of this low profile designer stuff surrounded by broad wooden ledges leaving you with a bad back and blue shins. It's all fur coat and no knickers in the bistro and bar too. On my first visit to the bar service was slow, on my second visit it was not forthcoming; and despite being a hotel resident I was told the restaurant was full that evening – when showed no inclination to leave till a slot was found was told rather grudgingly that the earliest would be 9.30pm. Hotel Du Vin, Narrow Lewins Mead, Bristol, BS1 2NU, Ph +44-117-9255577, www.hotelduvin.com £159 per night for two.
The imposing Avon Gorge Hotel, built at the turn of the 20th century, is a somewhat tired old Grande Dame in need of a face lift but offers some of the best vistas in the West Country with a large outside terrace and unrivalled views across the Bristol Suspension Bridge and the River Avon below. The rooms, although spacious, comfortable and spotlessly clean, were more shabby than chic. Be sure to ask for a top floor room as floorboards creak, making it difficult to sleep. Parking can be an issue, so be sure to arrive either by cab or early enough to stake your claim. On the up side: The Avon Gorge Hotel maintains a majestic presence in Clifton – and there's no beating the location of the hotel right on the edge of the gorge. The Avon Gorge Hotel, Sion Hill, Clifton, Bristol, BS8 4LD, www.theavongorge.com Ph +44-117-9738955 £79 per night for two.
Getting to Bristol
Continental Airlines fly daily from NY (Newark) and Florida (Fort Myers) directly to Bristol International. Should you prefer to fly direct to London Heathrow bear in mind that Bristol is 120 miles southwest of London. As such you would need to make a 20-minute train journey into London Paddington via the Heathrow Express (£18), then a 2-hour train trip to Bristol (£22), so flying direct makes fiscal and timeous sense.