Santorini, Mykonos, Ios…The top spots in Greece's Cyclades are definitely must-stop destinations on any itinerary through the islands. However, after a period of time you may find yourself burned out on cruise ship crowds or incessant partying groups from Italy, Australia etc.
So how do you get a taste of a real Greek Isles getaway without the crowds? Head for the southern shores of Paros to the little fishing village of Aliki for an idyllic getaway. Connected to all the major islands on a number of ferry routes, getting to Paros is easy from multiple destinations.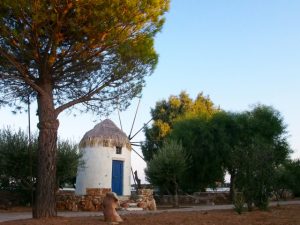 Just 13 kilometers away from the bustling main port at Parikia, Aliki is known for its fresh seafood and fishing-based economy. Countless seafood restaurants ring the main harbor and connecting beaches and bays. Strolling around the circumference of the bay, you'll find yourself greeted with calamari (squid) and various fish curing and drying in the sun, just as has been done for generations here.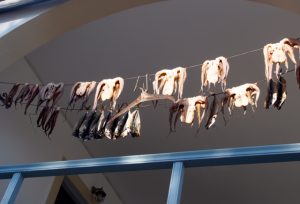 The village is not a beaches/water sports kind of place, although there is a nice small strip of beach with gentle waves and sunbeds from attached restaurants along the main thoroughfare. Further around the bend of the bay, a larger beach draws locals and even snorkelers, divers and lobster seekers. This isn't a big sandy beach — typical to much of the Aegean, it is a rocky beach with very coarse sand and pebbles, so water shoes are a good idea.
Aliki's main attraction is the fact that it has no attractions. There are no booming clubs and discos like Mykonos; no caldera cruises like Santorini. As a result, the region brings in mostly locals looking to escape the heat of Athens or families who return to holiday houses year after year.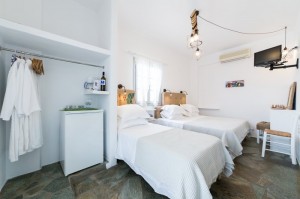 Apartments/rooms to let are a popular lodging choice here; one of the nicest is the Evi Rooms (www.evirooms.com) affiliated with the upscale ParosLand Hotel. This free-standing building has 8 rooms, each with a private covered balcony. Ask for an upper floor unit for better sea views and breezes. The rooms are bright, clean and stylish, with excellent air conditioning (essential if coming in the summer) and a mini-fridge and coffee making facilities. A nearby bakery makes morning meals a breeze although you may find yourself having a tough time choosing among all the scrumptious baked goods.
One of the best features of the Evi Rooms is their affiliation with the ParosLand Hotel. Just 100 meters down the road, guests at Evi have full access to the hotel's pool and lounge facilities, along with a gym and full-service restaurant. At less than half the price of a room directly in the hotel, this option is a great bet for the budget conscious and the Evi Rooms have something the ones in the hotel don't: Sea views.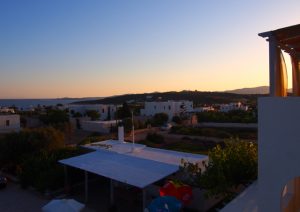 Searching online reveals numerous other apartment-style options such as Villa Lefkes (www.parosvillalefkes.com) and Villa Anna Maria (www.villa-annamaria.gr), along with larger, resort-style hotels such as Hotel Afrodite (www.afroditehotel.com) joining ParosLand Hotel for those wanting a more all-inclusive property.
Paros is the second-largest of the Cyclades islands and has numerous other activities if you fear the quiet day to day might become a little too relaxing for you. A public bus system connects the village to many other popular spots, including the main port and Naoussa on the north. Want to spend the day shopping and dining at trendy cafes? You can do that and still spend a quiet evening watching the sun set off to the side of the harbor at Aliki.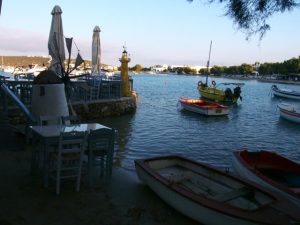 Renting a car or ATV/scooter is another good option for getting around the island, especially if you want to venture out to lesser-known spots or regions off the bus trail. Several rental offices are easily available in the main section of the harbor, along the waterfront promenade; here you can also find a pharmacy and travel services if you need to arrange other transport.
No matter what your goal is in the Greek Isles, it's well worth the effort to take a detour down to the southern shore of Paros for a restful break in Aliki – your stomach and heart will thank you!