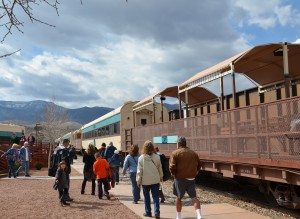 Lounging back on the comfortable love seat of the First Class railroad car on the train, I popped a chocolate brownie in my mouth. There was a sumptuous spread of food on the table before me and someone was strolling around taking drink orders.
I could not be more comfortable. This was the way to travel.
On a train.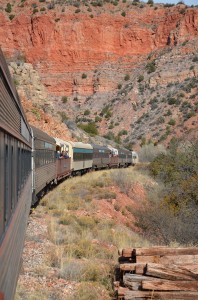 No tiny airline seats, no elbows banged into your head as people pass, no seats reclined into your lap, no dry peanuts.
Not only was this First Class railroad car itself completely comfortable and relaxing during our scenic journey on the Verde Canyon Railroad in Clarkdale, Arizona, the view out the window for the entire trip was absolutely spectacular.
The Verde Canyon Railroad is a very popular outing in the Clarkdale area. The parking lot was full when we arrived and people were streaming into the quaint depot to buy tickets. Luckily, we had tickets waiting for us because they had been arranged prior to our trip but I had no idea if they were Coach or First Class. When I picked them up, I realized they were First Class, which turned out to pretty great.
The only category better might be the Caboose, which you can rent and have all to yourself for groups. We stepped into our railroad car and were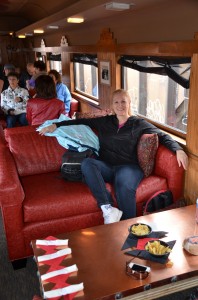 instantly amazed at how luxurious it was. Soft and comfortable loveseats with a low coffee table in front of them or cushioned seats with a higher table were the two seating choices. We made an immediate beeline for the loveseats and settled in. Bowls of potato chips and bottled water was already set neatly on our table along with napkins and silverware.
One of the first announcements was that there would be a food spread once we got going. We had eaten lunch but somehow still managed to pack away samples of the fresh veggies and dip, cheese and crackers, chicken drumsticks and brownies. Drinks were available to purchase – there was actually a full bar on the car – and they had bottles of local wine available, which some people purchased and drank as we tooled along, then took home the remainder of their bottle.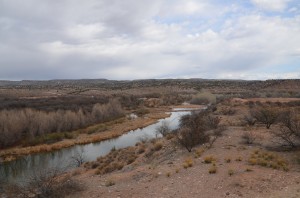 There is a private, open-air viewing car for First Class which turned out to be a great place to get photos. We could relax in the comfort of the closed car, then just stroll out into the open to enjoy the weather and take photos. The area we traveled through was virtually devoid of human occupants. We saw a couple of dwellings, but the ruins of the tiny settlement of Perkinsville are a sad reminder of how difficult life can be in this area with not easily transported fresh water and little transportation.
This means that the windswept desert and towering mountains are clean, unspoiled and quite lovely. We saw beautiful mountain streams and rivers, meandering through deserted landscapes, and the only sound was the quiet noise of the train as it passed through. We passed over bridges and through tunnels and it was like taking a trip back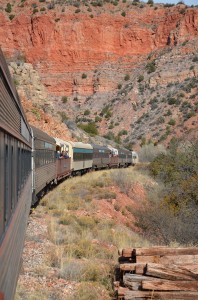 into the time of pioneers and settlers who tried to tame this area and failed.
The train runs from Clarkdale to Perkinsville on a trip that lasts about four hours total and would be absolutely wonderful for a family, especially ones with train-loving kids. The train runs all year long, most days of the week and the lovely scenery is different during each season. Ticket prices vary widely, so check the web site.