Stop and smell the mustard on your own version of Spring Break this year. Smell the mustard?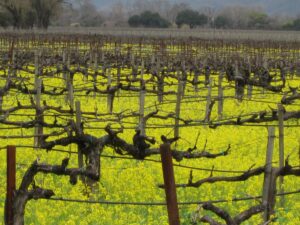 Mustard is blooming in Napa Valley…stark vines stand out among the neon yellow at their feet. Great photos…even better wines. With about 400 wineries in the Napa area alone, this is one of the best times of the year to visit. Less tourists than summer means more personalized attention from winery owners and winemakers.
Make sure you do your homework before you come. Some wineries specialize in zinfandel, cabernet, chardonnay, pinot noirs or blends. Some take appointments only. Some have small tasting rooms, some are large places where 20 people are tasting, talking and having a great time.
Want to taste more than wines?
From hillsides to valley floors vines dominate much of the landscape here. In and amongst those vines grows another up and coming crop…the olive tree. And this warm Mediterranean-like climate is perfect for growing some of the best olive trees. Harvest time for grapes as well as for olives is a great time to visit. Freshly pressed olive oils in this area are distinct…tasting herbaceous, fresh, green and robust. Take time to experience an olive oil tasting. Yes there is a method to tasting olive oil's different variations and nuances. Round Pond Estate offers guided tours that lead you from orchard where you can taste an olive right off the tree to an afternoon of tastings…all paired with breads, cheeses and fruits. You do need an appointment. Call 888-302-2575 for one. Another area producer is Long Meadow Ranch, located at 1775 Whitehall Lane in St. Helena. Call them at 707-963-4555.
Unleash your inner chef…or just watch professional chefs at work.
Sign up at The Culinary Institute of America in St. Helena for their hands-on two hour cooking classes taught by expert faculty. Class size caps at 12 so sign up in advance. Cost is $75 per person…and you get to wear those cool hats.
Sip your crisp white wine or your full bodied red as you take in some culture.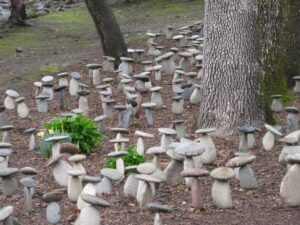 Wineries double as art galleries throughout the valley. Artesa Vineyards & Winery has Gordon Heuther as their artist in residence, pop artist Jim Dine has huge outdoor exhibits at Cliff Lede Vineyards. Take a peaceful walk in the outdoor gardens at Domaine Chandon as you marvel at the mushroom sculptures. Laugh at the spotted life-size cows on the hills at The Terraces Vineyard. Admire wall-size paintings and sculptures at Hope & Grace. With over 18 wineries bringing together art and wine, take time after tasting to view these collections of world renowned artists.
Looking for some energy? Take a hike or ride a bike.
Walk through the Petrified Forest near Calistoga or head up to the Bale Grist Mill State Park to see how corn and wheat were turned into flour. Want more adventure and great views? The best view of wine country is from the top of 4,343 foot Mt. Saint Helena, reached by a moderately difficult five mile trail that winds you through pines and rocky faces. Panoramic views from the top will let you see all the way to San Francisco Bay on a clear day.
Bikers are everywhere. Check out Napa Valley Bike Tours for a biking vacation package. They offer half day or full day tours, guides, and van support. Such a deal. Rent by the hour or day if you want to do your own exploring. Maps are available.
 Prefer your exercise to be more floating than walking?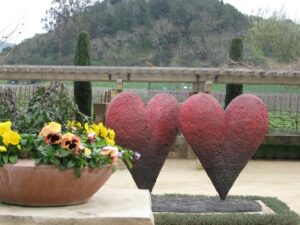 Nothing better than to toast your first Saturday morning of spring break with champagne…floating high above the valley. An entirely different perspective of this valley offers fantastic opportunities to take great photos.
Perhaps it's time to get muddy.
After a strenuous day of wine touring or hiking, relax in one of the dozens of mineral springs. If you need a little more rejuvenation…try a mud bath. Most spas or spa resorts offer large swimming pools where you can take advantage of these healing waters. Enjoy this special treat as complete relaxation for the ultimate spring break treat.
Insider tip…stay in a bed and breakfast, get good tips from the owners ahead of time, rent a limo to take you where you want to go, and enjoy a hassle free spring break as you visit…learn…play…sip…relax and enjoy all Napa Valley has to offer.