In the morning for breakfast a café con leche and a croissant is the standard, after lunch a quick cortado, and maybe an espresso in the evening for a little something to tide the hungry over until dinner time. Café culture is an intricate part of Barcelona residents' socializing and snacking routine and the city has limitless options for a caffeine fix. Standing at the bar or sitting at a smoky table is inevitably the scenario for having a cup of Joe around town and always has been, until recently.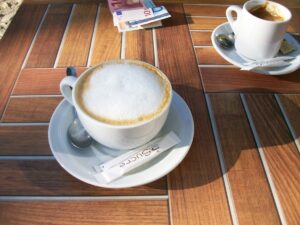 In the last few years, Barcelona's café scene has changed. Chains and specialty coffee shops are diversifying the city's coffee consumption traditions. These newcomers look nothing like the old café-bar that most are accustomed to. Gone is the hazy ambience and napkin strewn floor. These new guys run a tight ship, spic-and-span and not to mention non-smoking. There's also their drink menu, which includes such tongue-twisters as Double Tall Skim Carmel Latte. Fashionable, big-name coffee shops have come to Barcelona to stay, and from the crowded tables and lines at the register, it looks like they will.
One popular example of a successful new chain is Jamaica Coffee Shop. The franchise has 35 shops in Barcelona alone, and 108 total in Spain. Jamaica has no plans to stop building at the Spanish border, and will continue to expand in the rest of Europe (currently, Jamaica is focusing expansion in Hang Zhou, China, where business is booming). The first Jamaica Coffee Shop was opened in 1993 in Barcelona by José Mangas and Antonio Veloso who also own Garriga Cafes, a coffee roasting company with specialty blends from exotic locations.  Jamaica was one of the first franchises to enter Barcelona's mom and pop café climate, offering new coffee flavors with a focus on preparation and origin.
"The most difficult thing (about entering the market) was to convince the customer that we would offer a good product without increasing the price." Maria Marmol of Jamaica explained. "People saw us an exclusive shop because they were used to corner bars, full of smoke, quite old and offering bad coffee. We offered better coffee in a better atmosphere at the same price. People just didn't believe it."
Bad coffee? Though espresso-machine rendered java causes one to assume otherwise, most coffee served in bars around town is not top-notch. Ask the barista in most cafes if their coffee is more Robusta or Arabic, and a blank stare is likely to follow. Until recently, these two terms were foreign jargon in Spain. Like wine, coffee is a complex process with many factors determining its overall quality points. Most coffee blends are made from mixing Robusta and Arabic coffee in different proportions. Strong and highly caffeinated, Robusta is used for its kick. Arabic, on the other hand, has much less caffeine but is richer in the delicate aromas and flovors that Robusta lacks.
These are just the basics of becoming a coffee connoisseur. Origin has a lot to do with the quality of the coffee as well. Was it grown in the shaded mountains of Costa Rica, or in mass production in Asia? Is the coffee free-trade? Organic? Is the bag made from recycled paper? Does the company exploit or support their usually indigenous bean pickers? There are many variables in making the perfect cup of Joe, and the Catalan Capital is just now being introduced to it all.
Jamaica Coffee Shop is keeping an eye on the public's desire for P.C. beans; "We buy coffee in Brazil, Columbia, Guatemala, Kenya and Jamaica; some of them are free-trade, but just a small portion…(Organic and free trade coffee) will be extremely important as people become more aware of the impact of free-trade on poor countries. We plan to offer more of these options in the future." said Marmol.
While Jamaica is the largest coffee chain in Barcelona, Starbucks is right behind them with many stores in key locations around the metropolis. An obvious leader in the industry, Starbucks' had a challenge entering a market where people have always preferred a quick espresso for €1.00 to a Grande Latte at €4.00. Enter any Starbucks in Barcelona to view a brilliant marketing campaign at work. All shops in Catalonia have propaganda about the company's history and do-gooding written in Catalan. For Catalans and Europeans new to the super-sized and super-sweet menu, Starbucks has just the solution: a colourful pamphlet with pictures and descriptions of the Carmel Macchiato, Cappuccino, Latte, Mocha, Coffee of the day, and a series of Frappuccinos.  The caffeine giant even offers coffee-tasting courses, where curious coffee lovers can come for a couple hours a learn about where their beans hail from and how they're processed, roasted, and converted into a creamy White Chocolate Mocha.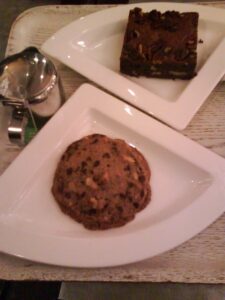 At first glance, it may seem that Starbucks appeals mostly to tourists. In reality, most shops host a mix of locals and foreigners tipping back giant cappuccinos and relishing in decedent desserts. With a café-lounge ambience formerly unknown in Spain, Starbucks has tapped into and met a need in the café market. The shops' big comfy couches appeal to tired tourists and lounging locals alike. Most people logically prefer a big couch to a hard metal chair or bar stool. It makes sense. On top of this, there's no-smoking in the U.S. chain and some locations offer internet and study areas, making it the perfect choice for kids and college students needing a sugar-rush and a safe place to meet up. Though there is little current demand for environmentally sound coffee, Starbucks does offer some of these items just in case. It's also the only café in town where vegetarians or those with an aversion to lactose can order a Soy Latte.
Operating on a slightly smaller scale than Starbucks is Di Lorenzo Café from Panama. Di Lorenzo's is owned by Café Duran, a coffee growing company started in Panama in 1907 by a Catalan immigrant. Café Duran is a big player in raw coffee exportation internationally, and wants the same to be true for their chain of Di Lorenzo coffee shops. In November 2006, Di Lorenzo Café opened their first space in the centre of Barcelona. In just a year, the company has aggressively expanded with two more shops, one in San Cugat and another near Diagonal Mar Mall, and plans to continue.
Unlike their competitors, Di Lorenzo's advantage lies in their expertise in each step of the coffee process; "We started as coffee growers, and because of this have a better understanding of what good coffee is. We grow, pick, clean, roast, and blend the beans, then serve it up in the way we know is best suited for the coffee." Guillermo Gasperi from Di Lorenzo told me. "Barcelona wants quality coffee. Lucky for us, most cafés are still serving bad blends or cheap roasts, so there's a lot of demand for our product."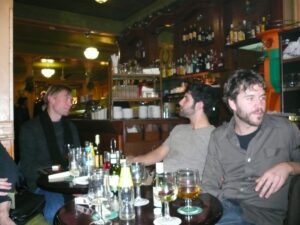 It seems that the future of Barcelona's café scene will host more big-name chains and shops offering specialty brews. If the heavily ordered Latte will one day replace the espresso or cortado in popularity, only time will tell. While the demise of the small café in favour of a brand name is a sad thought, the possibility that Barcelona will with time enjoy better coffee that is perhaps also socially and environmentally conscious is an inspiring prospect. For now, small bars and cafes seem to be in no real danger of extinction and the arrival of new names in coffee offering more in the way of variety rather than competition. When the no-smoking law goes into affect in January of 2011, those smoky cafes will be a thing of the past.
PS: As a local here in Barcelona, here are my favorite cafes in the city center:
Cafe Laie: http://www.laie.es/restaurante/pau-claris/8/
Mauri Cafe and Pastry Shop: http://www.pasteleriasmauri.com/
Cafe del Born: http://barcelona.salir.com/cafe_del_born_nou
Buenas Migas (any of them): http://www.buenasmigas.com/