WINDAMERE HOTEL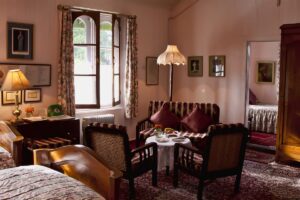 The elegant Windamere Hotel, surrounded by tea and cardamom estates, is a gracious Colonial gem with grand views of the Himalayas. 
Here old rituals of politeness and respect hold sway, where turbaned staff serve afternoon tea in cosy inviting corners in the library or front parlour where books and newspapers are strewn around. The deep Victorian sofas, immense gilded paintings and framed photographs of stiffly posing people is somewhat reminiscent of an elderly relative's home, especially so with Vera Lynn playing on a gramophone somewhere. Similarly the landscape garden, with its quiet crevices and moss-softened corners, adds a touch of nobility and piety to the stone structure.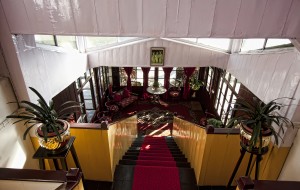 The Windamere oozes history and each of its 27 colonial suites remain exactly as they were back in the old days (there are also 13 conventional guest rooms). My spacious suite consisted of twin beds, a lounge, dressing room (with an additional bed), and a Victorian bathroom (with power shower). When returning from an especially good massage, I discovered my chambermaid had visited. She had lit a crackling log fire and turned back my bed covers, slipping a hot-water bottle in between the sheets.
It's a time-warp of clean air, delicious local cuisine, homely English charm and genteel tranquillity. There are deliberately no televisions in the colonial rooms – even the vintage telephones purposely don't work. However, for guests seeking modern day trappings, the conventional suites are all in the 21st century.  With majestic views of the snow-capped Himalayas and a dawn chorus of soft prayer bells and Buddhist chants, the Windamere is more than a hotel, it's a destination.
Windamere Hotel, Observatory Hill, Darjeeling, West Bengal, India, 734101, Tel +91 354 2254041/2 www.windamerehotel.com 
Sidebar:
Getting there: Fly either from Kolkata or New Delhi to Bagdogra Airport where a hotel car will collect you. Alternatively contact ITS Transport +91 98360 69305 to hire a driver – this may be a consideration should you wish to visit outlying villages.
Rates start at Rs7,300 per person and includes all meals, refreshments.
GLENBURN TEA ESTATE & BOUTIQUE HOTEL
Glenburn is a working tea plantation and magnificent boutique hotel in a location so mystical it could easily be a Harry Potter movie set. Despite the perils of the journey, which include pedestrians and animals and  teeth rattling track (definite sports-bra territory), Glenburn is a gracious escape for the discerning traveller.
Glenburn has two plantation bungalows, each with four spacious suites and a riot of bougainvillea encasing the verandas.
I stayed at the Burra Plantation Bungalow, the focal point of Glenburn's hospitality and home to generations of planters. All suites are decorated in an elegant Cath Kidson style. Most have turn of the century four-poster beds with delicately embroidered linens and rose or wisteria etchings on the furniture and drapes. Refurbished teak floors and authentic Victorian baths are a constant, as are still life oils and old maps. Most of the suites have adjoining rooms and private verandas with long views of the garden.
Glenburn's consummate hostess, Najma Ahmed, greets you warmly at the veranda, which is buried in deep red Mysorium blooms, and invites you to afternoon tea under the eaves where you meet fellow guests. It's a grand silver service affair with Darjeeling tea and delicious cakes.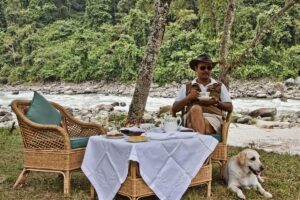 In my three days at Glenburn I was treated to views and experiences that defy belief and my every indulgence was anticipated. With a Glenburn driver at my disposal, I visited Darjeeling town and the Glenburn tea factory. I popped in at a plantation school and was introduced to numerous bird species by Sanjay Sharma, Glenburn's Tea Estate Manager. A five-mile hike to the river bank picnic site is a must.  A 4×4 is always on hand, should you not be able to make the return journey – but be prepared to sit in the back as Elsa, one of Sanjay's three Labradors, is invariably at the front seat.
Evenings are for glamour and start with cocktails and hors d'oeuvres around a bonfire, followed by a superb food served at one of India's most exclusive dinner tables.  Before retiring, a member of staff enquired after what time I'd like my morning 'bed tea'.
What further impressed me was the community work done in the background by Neilu Sharma and Glenburn's Welfare Programme. Neilu actively oversees a team of teaching volunteers, runs reading libraries in the villages, supplies reading and writing materials to two local schools and overseas the running of a Nursery and Kindergarten.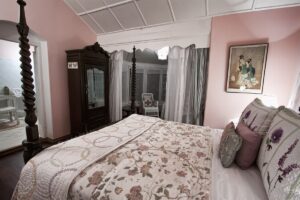 Glenburn has fine tuned the tea experience to perfectly combine exploration and extravagance – all faultlessly executed.
Glenburn Tea Estate (Tourism Division), Kanak Building, 41, Chowringhee Road, Kolkata, West Bengal, India, 71, Tel: +91 33 22885630/1805  www.glenburnteaestate.com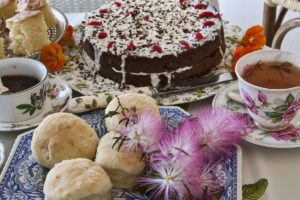 Sidebar:
Thankfully there's no television, but for those that need to stay in touch with the world, there is a slow internet connection.
Pack for all occasions and all seasons and fishing gear if you visit in the trout season.
Rates start at Rs 11,000 per person and include airport transfers, personal tours, day trips, all meals, refreshments and laundry.
If you forgot something whilst packing you're bound to find it in their onsite shop.