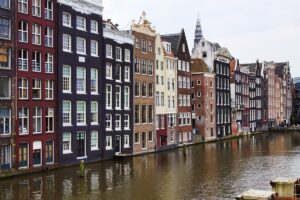 Whilst on a tea safari in Holland Cindy-Lou Dale soon discovered the meaning of a cake hang-over.
I've heard much about the Dutch tea drinking culture, even more so about their idyllic afternoon tea shops. I saddled up my photographic assistant, Heather, booked a couple of Eurostar and Thalys train tickets to take me from London to Amsterdam (via Brussels) and sought accommodation advice from the tourism office there. A few days later, Heather and I were off on a tea safari, taking in Amsterdam and its neighbour, Rotterdam.
AFTERNOON TEA IN AMSTERDAM
At the bohemian Bakkerswinkel http://www.debakkerswinkel.nl/ on Warmoesstraat, we were guided to our lace draped table sprinkled with rose petals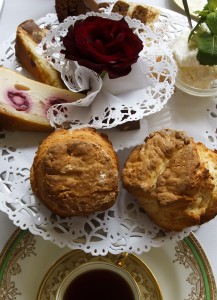 and adorned with antique gold and green china. We sat on the spacious mezzanine level (pays to call ahead and reserve) overlooking the crush of patrons. The dramatic interiors are bohemian and quirky. We ordered a pot of Redbush and Earl Gray which arrived with quiches, sandwiches, savoury tarts, raspberry cheesecake, carrot cake, walnut-caramel cake, chocolate cake, scones with a superb fruit preserve (pineapple with basil and lemon) and clotted cream, chocolates with peanuts and Kahlua. What we were unable to eat was discreetly wrapped to go. (Afternoon Tea €17.50 pp) 
The five-star Bridge Restaurant at The Grand Hotel (http://www.sofitel.com/) on Oudezijds Voorburgwal pulled out all the stops and delivered a superb afternoon tea in the Library, a luxurious contemporary setting dressed in deep garnet, mocha fabrics and gold leaf. There's no afternoon tea menu as such, just say the word and it's all taken care of. The young man who was serving us was tea savvy and provided details of the teas served – one for each of the three tiers. From finger sandwiches (medium strength Indian black tea, scented with lemon and lotus) to dainty scones (Chinese green tea), gold leaf chocolate éclairs, mango mousse, strawberry tartlets, carrot cake, chocolate brownies and an endless stream of exotic teas (Pakistani black tea). An indulgent tea if ever there was one, topped off with a glass of champagne. (Afternoon Tea €51.00 pp)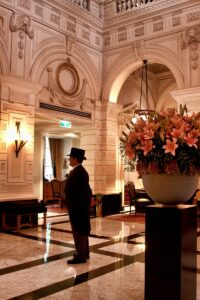 Since its opening in 1867, the Intercontinental Amstel Amsterdam (www.amsterdam.intercontinental.com) has been regarded as the most luxurious and prestigious hotels in the Netherlands. The stately hotel sits on the bank of the Amstel River and offers especially good views from the Lounge. 'English afternoon tea' consists of an assortment of delicate finger sandwiches delivered in a hollowed out loaf, scones with lemon puree and clotted cream, an assortment of praline chocolates, Brenton cake with strawberry, passion fruit and apricot cream, then with strawberry and chestnut mousse. The tea assortment is impressive too, starting with a variety of Oolong's, progressing to Genmaicha, to Darjeeling summer flush, Lung Ching and China's finest Jasmine. (Afternoon Tea €35.00 pp)
Grand Hotel Krasnapolsky (http://www.nh-hotels.com/) on Dam Square is a five-star hotel directly across from the Royal Palace in Amsterdam and is surrounded by department stores, boutiques and shopping alleys. It was also the venue of our afternoon tea. Sadly, the tea was nothing unusual and the cakes no different to what I'd find at my local tea room back in England. The finger sandwiches were really good though – delivered inside a hollowed out crusty loaf. Perhaps my enthusiasm was dampened by unhelpful check –in staff who had stuck us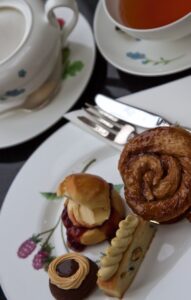 each into closet-sized rooms with bathrooms that smelt of sewerage. (Afternoon Tea €29.34 pp) Uninspired, we trudged onto our next afternoon tea date.
We made our way past the vintage shops to the brown-and-white striped awning which marked the entrance to the lovely Patisserie Pompadour http://www.patisseriepompadour.com/ on Huidenstraat. The 18th-century interior raised dining area was a treat. With only six tables, it felt snug and familiar. Evidently it's the most popular tea room in Amsterdam as it's packed with locals, all eyeing out the exotic treats on display. What to choose is an agonizing decision, so Heather chose a four-inch-high chocolate 'mini-cake' filled with fresh raspberries and chestnut puree. I had a wedge of apricot pie (and left with the recipe). They had a good selection of tea but Heather and I decided to play it safe with a pot of Redbush tea. (Tea and cake for two came to €16.00)
PERSONAL RECOMMENDATION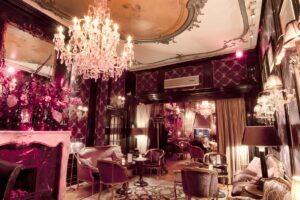 Where to stay
Hotel The Toren http://www.thetoren.nl/ on Keizersgracht is a beautiful old mansion house first built in the 1600s. It's dark and fetching in a Bohemian kind of way. The rooms were quite spectacular as were the breakfasts.
Where to eat
Restaurant Envy (http://www.envy.nl/) on Prinsengracht is trendy and chic, with Italian-inspired interiors and an inventive new-age style of cooking. By that I mean your dinner portions are small – really small and you get to share this with your dining companion. As such you'll each only have a single bite of something beautifully presented on the equivalent of a teaspoon which, I was reliably informed, is the whole idea. 'It's to get you tasting numerous delicacies.' If you prefer traditional food and conventional portions you might want to find somewhere else to eat but if you like restaurants who push boundaries then you'll like Envy. Be sure you're wedged up cash-wise as you're paying for atmosphere and not much else. With wine, dinner for two came to €137.00.
The interiors of Sucre (www.sucrerestaurant.nl) on Amstelveenseweg are battleship grey, with suggestive art, large mirrors and crystal chandeliers. Sucre is another pretentious concept restaurant. Starters consisted of a single cherry tomato dipped in caramel and pistachio, a small square of flatbread with cumin and mustard cream, a thumbnail sized macaroon of hazelnut with cream of goats cheese, cream of yellow paprika arrived on nothing more than a teaspoon and a single green pea in it and finally, 'a baby carrot, from the ground'. The main course consisted of three scallops 'prepared in three ways', a small square of turbot 'in crunchy potato spaghetti, a tablespoon of fillet of beef with duck liver and sweet bread and a thimble of 'smokin brie'. Dessert was a teaspoon of black berry pie, another of 'pineapple a la pineapple' and a shot glass of espresso delight.  With wine the 'almost meal' for two came to €268 (fear not, there is a MacDonalds nearby). 
Must do's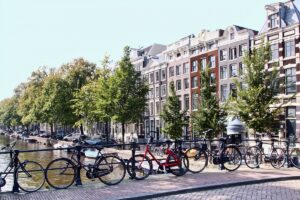 Forget a hire car, bring sturdy walking shoes and use them – walking is the only way to see the Amsterdam, unless you hire a bicycle. Do a canal boat cruise and depending on the timing of your visit, go see the tulips in Kuikenhof Gardens. Wander around the red-light district at night and 'window-shop'.  You'll not see a street you wouldn't want to live on, a deli you wouldn't like to get to know, or a view you'd like to call your own. Get all the latest travel information from Amsterdam Tourism http://www.iamsterdam.com/. (The best place to buy tea in Amsterdam is at the designer Tea Bar, Haarlemmerdijk, where you'll find some 60 varieties of loose leaf teas.  What's really special is that you can try before you buy).
AFTERNOON TEA IN ROTTERDAM
There's so much that demands one's attention, like the quirky cube houses tilted on a 45-degree angle, the 101m-high Euromast tower with views across the city and the world's third largest port and the Erasmus Bridge bent over the Nieuwe River. It soon becomes evident why Rotterdam bills itself as the 'Architectural City of Europe'. In fact Rotterdam is classified as one of the five Best Design cities in the world as here architects aren't afraid of taking risks. It's a young city on the water, threaded with canals, crisscrossed by bridges and intersected by the huge river De Maas. It's Amsterdam without the tourists. Here travelling by water taxi isn't a novelty or a joyride, it's a way of getting around, much as catching a bus. Which made getting around to its numerous tea rooms a doddle!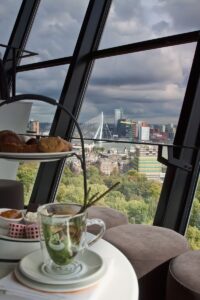 Tea is done slightly different here. At the Euromast restaurant (http://www.euromast.nl/) I noticed several patrons bizarrely drink hot water infused with fresh mint – quite literally several mint leaf sprigs immersed in a glass of boiling water. And, instead of loose leaf tea, you're served a saucered glass of boiling water with an exotic assortment of 'tea sticks'. These are semi-rigid, perforated metal foil tubes, the size and length of a small finger, factory filled with premium loose leaf teas. I stared at mine in quiet wonder, feeling somewhat foolish asking our waiter what exactly these were.
'This', he sniffed, 'is the most modern form of tea infusion; an elegant superior alternative to the tea bag or loose leaf tea. Unlike a tea bag that compresses under its own weight when steeped in water, this tea stick allows the tea leaves enough space to uncurl and impart their flavour. The stick also acts as a strainer and a stirrer.' 'There are many differences and advantages of using tea stick over paper tea bags,' he continued. 'Since tea sticks aren't made of paper they don't contain chemicals that are used in the manufacture of paper used for tea bags. They are designed to keep the tannic acids within the tea stick for a greater length of time. This allows one to brew a stronger cup of tea without making it bitter.'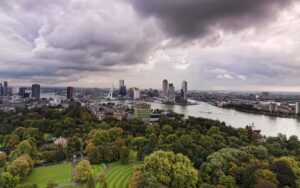 My uncertainty evident, our waiter plucked the tea stick from my hand and popped into my cup of hot water. It proved to be endlessly fascinating until Heather brought my attention to a three-tier cake stand that had appeared between us. The top tier contained several finger sandwiches, the second tier raisin scones (with a marzipan thread running through them), served with orange marmalade and clotted cream; the third tier offered fruit cheesecake, lemon meringue pie and moist chocolate cake. (Afternoon Tea €17.50 pp, plus €8.90 entrance fee)
Following the previous evening's lean dining experience, Heather and I vacuumed up the teatime treats, not even stopping to speak. After adjusting our belt buckles we savoured the Rotterdam skyline, which was the backdrop, then packed up our camera gear, thanked the waiter for his tutelage and made our way to the pier to find a water taxi that would transport us to our next afternoon tea at the Hotel New York (http://www.hotelnewyork.nl/) on the Wilhemina pier.
The Hotel New York is something truly unique. It's one of those venues that simply take your breath away. Perched on the water's edge, dwarfed by skyscrapers, this grand Rotterdam landmark historically the headquarters of the Holland America Lines, still manages to retain an air of nautical nostalgia and romanticism. Even though the building's interiors have been transformed into a modern bar and restaurant (as well as a rather splendid hotel with 72 period rooms, including two tower rooms), it oozes character. The ambience is so all encompassing you can almost hear the chatter of Dutch emigrants bustling along the jetty with their suitcases, excitedly boarding big steam liners taking them to their new lives in New York.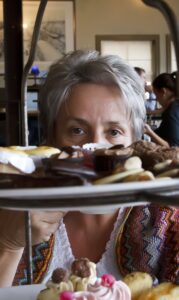 Heather and I were guided to our table which overlooked a grand eating hall which seated local patrons who were mostly partaking in afternoon tea.  We agreed on a pot of cinnamon tea which arrived with a three tier cake stand offering an assortment of finger sandwiches, chocolates, fruit tarts, wedges of American cheesecakes, meringues, vanilla cupcake with strawberries, almond tarts, lemon cake with chocolate and scones with strawberry jam and clotted cream. We could not see one another for the cake so we ate the first layer in order to at least make eye contact. Following a clean sweep of the third tier we vowed never to eat again. (Afternoon Tea for two €16.50 pp)
We adjusted our belts once more and just sat there gasping. We summarised our tea room experiences and unanimously agreed the Hotel New York was hands-down the best afternoon tea in all of The Netherlands. It had the perfect menu at a good price, the ideal location and a great vibe. Rotterdam's Hotel New York and the Patisserie Pompadour in Amsterdam are two tea rooms that will definitely see me again.
PERSONAL RECOMMENDATIONS
Where to stay
Take a break from the big brand hotels and be a little adventurous, as I was, and discover one of the most unique hotel stays you're ever likely to have at the floating H20tel – a large moored boat in Wijnhaven, one of the old inner harbours in the heart of Rotterdam. It's surrounded by contemporary architecture, including Jan des Bouvrie's famous Red Apple skyscraper and is a stone's throw from award winning restaurants, old style cafes, art galleries, museums and at least a dozen markets. It's as quirky as its owners with 49 individually designed rooms containing either original Dutch paintings or New York graffiti. The floating sundeck has views of the Lion Bridge and the Willem de Kooning School of Art. Private boats frequently moor here for a quiet drink, and local jazz musicians regularly stop in for spontaneous jam sessions. But if you want to get away from it all, take a round picnic boat out for a sundowner cruise. The motion of sleeping on a large moored boat is very soothing (imagine waking up to find a heron peering at you through a porthole!). The whole experience is like being in a modernist version of Venice. (http://www.h2ote.nl/ – doubles from €95 room only)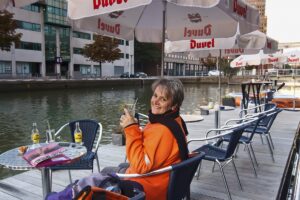 Hotel Stroom (http://www.stroomrotterdam.nl/) on Lloydstraat, near the Euromast, is housed in the former electricity plant, and has 18 studios that are equipped with all the comfort and mod cons you might need, including a deep Coco Mat bed, a large bath, a two-person shower and flat screen television. In some studios, you can lay back and admire the starlit sky while having a bath – as I did, with a bottle of wine and a plate of fish and chips which, after a week-long diet of cake and tea and almost food, was like manna from heaven. (€125)
Where to eat 
Level (http://www.levelrottterdam.nl/) on Pannekoekstraat is a trendy cocktail bar and restaurant. The interiors are dark, the lighting subdued and the piped music loud and funky, as was the 11-page cocktail menu. The buzz of the young hip crowd all but made conversation over dinner impossible; so perhaps not the right venue for two middle-aged ladies who, not having had the opportunity to freshen up, both looked like tramps. That said though, the food was really good but the portions small. Dinner was €29.50 for a three course meal and €7.50 for a cocktail that hit all the right notes.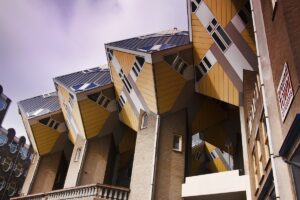 Must do's
Do a 75-minute tour of the 35km harbour on Spido (www.spido.nl) or take a 20-minute high-speed trip across the harbour waters on a rigid inflatable boat (www.rib-experience.nl). Treat yourself to breathtaking 360° views across Rotterdam from the Euromast (www.euromast.nl). Take a trip on the Pancake Boat (moored opposite the Euromast) and help yourself to as many pancakes (with an assortment of toppings) as you like (www.pannenkoekenboot.nl). Kids will love a brief tour of the city on route to the harbour where the amphibus splashes into the water (www.splashtours.nl). Get the latest travel information from Rotterdam Tourism www.rotterdam.info.