They've been testing for years, looking at it upside down, backwards, inside out and sideways. They begged already survey weary cruisers to please, please, please turn in one more evaluation form. And still there is no consensus on exactly what to call it…or how it fits into multi-zillion dollar advertising and marketing campaigns. But one thing is for certain…passengers can't get enough of this stuff!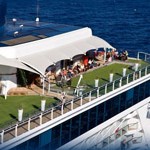 Regardless of which term you use – Enrichment Program, Edu-tainment, Info-tainment, Purposeful Pleasure, Cultural Learnings to Make Benefit for Cruise Passenger – onboard blends of education and entertainment are a hit – especially on cruises of seven days or more.  'Edu-tainment' is such a huge draw these days that cruise lines are spending lavishly on additions and enhancements, constantly improvising to maintain a competitive edge.
For example: The newest Celebrity ships have state-of-the-art glass blowing exhibition facilities – located next to a lawn area.  (Yes, real hot liquid glass next to real growing grass, not Astroturf. The lawn serves as a sitting area, putting green, lawn bowling course, etc. 
Passengers can sit on benches or in the grass and watch the artists at work. The performers are professionals – supplied by the Corning Museum of Glass of Corning, NY – creating works of art before your very eyes. Long, well insulated poles are utilized to manipulate and spin 2,000 degree glowing globs of molten silica. It is quite a show!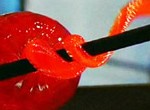 (Personal Note – That super-heated, pulsating mass of liquid glass looks almost alive…ready to pounce at any moment. So, like Steve McQueen in the 1958 horror movie The Blob, I float around the periphery, poised, ready to run should it lurch in my direction.)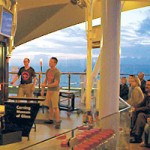 Celebrity has obviously spent a tremendous amount of time, money, and creative energy – not to mention prime on-board real estate – to bringing this special interest attraction to reality. The abundance of grass stained white shorts immediately following a demonstration is testimony to its popularity.
For your immediate 'edu-tainment', here is a quick review of some of the programs offered by the three most popular premium cruise lines:
Celebrity Cruise Lines– Offered under the heading "Celebrity Life" with three sub-categories:
Savor – culinary & wine tasting courses
Discover– computers, photography & all things digital, art, writing, languages, glass blowing, etc.
Renew – spa treatments, fitness classes and wellness seminars
Holland America Lines – 'Explorations', implemented by on-board teams,consisting of a party planner, lifestyle coach, a 'techspert', destination lecturer, dance instructor and book club leader.  They work together to lead: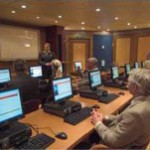 Lifestyle & Wellness Classes– nutrition, yoga, Tai Chi, etc.
Cooking Classes– taught in state-of-the-art Culinary Arts Theaters by the ship's chefs

A simple Cooking Class...what could go wrong?

History & Culture– seminars, guest lecturers and book club literary discussions
Digital Workshops– computer literacy, photography, the Internet, etc.>
Dance– lessons and dance related activities
Princess Cruise Lines– Risking confusion with an email address, this line has implemented their enrichment programs under the too-clever-by-half moniker 'Scholarship@Sea'.  Besides the usual Culinary Arts and Wine Tasting offerings, "@Sea" programs are:
Photography@Sea– beginners, advanced & Photoshop
Ceramics@Sea– complete with on-board kilns
Navigation@Sea– do you have to bring your own GPS?
Computers@Sea  – basic literacy, Internet, etc.
Scrapbooking@Sea– ok, but is it graduate level?
(You can see why one Cruise Critic reviewer referred to some of the Princess programs as a "bit fluffy".)
Ok, enough with the facts. Let's cut to the chase. Is there any danger that overdosing on these programs might cause brain swelling due to informational overload? At this point in time medical science simply does not know. For now, we should error on the side of safety-at-sea. We don't want otherwise well intentioned cruise lines to unwittingly contribute to a national epidemic of Informational Corpulence!
(OK, I just made that up, but I am sure there is a disease out there somewhere that fits the description.)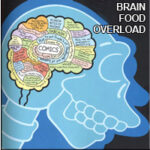 And if so, can we count on the pharmaceutical industry to come to our rescue with an over-priced, over-advertised supplement to cure another disease that we previously didn't even know we had…for sale in the gift shop, right next to the Dramamine and Maalox?
What else do I see in my warped little crystal ball? To get an edge on the competition, inevitably some cruise line will stoop to promoting on-board courses that are 'Reduced Fact & Tech Free' – implying that – for all attendees – learning is automatic and effortless…leaving one free to consume with abandon as much floating Brain Food as the five senses can absorb. It's the American Way.
Meet me in the next class…How to Complete Cruise Line Evaluation Forms in Ten Seconds or Less…and we will continue this discussion.