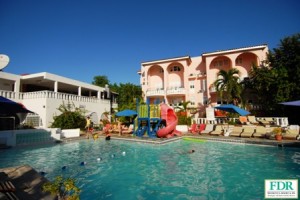 The Caribbean conjures up images of blue skies and blue oceans where long deserted stretches of sandy beaches welcome one and all. When you think of the Caribbean what island comes to mind, perhaps, the ever popular Puerto Rico, beautiful Barbados or maybe arousing Aruba? Let's face it, the list is endless and the more you look at one island the more appealing it is. But when the special occasion of Mother's Day comes around only Jamaica can allure you with attractive resort packages that will have mom feeling like a queen.
Unlike other resorts, Franklin D. Resort and Spa in Ocho Rios, Montego Bay has an annual Mother's Day special for new Moms of babies who are under three months old. The package is called 'Wee Baby Moon' and it is a celebration of the wee baby that has just blessed your family and as such, not only do Mom and baby stay free but up to 2 children under the age of 16 years old. The only person who pays full price is good old Dad and, at starting rates of US$310 per night for a family of five at an all-inclusive resort in Jamaica, this is definitely an offer not to be missed. What's the catch I hear you ask? Just that you spend a minimum of 7 nights and, quite honestly, if you are going to Jamaica who really wants to spend less than a week! Oh, and this package is only available when you are accompanied by a paying Dad.
The Franklin D. Resort and Spa is located in Runaway Bay in beautiful Ocho Rios. Here you can enjoy the relaxing Jamaican charm of this Spanish style resort with its nightly entertainment and pure relaxation when staying at the FDR resort. It takes about an hour and a half to reach with the free shuttle bus from Donald Sangster International Airport which takes you out to this fabulous all-suite, all inclusive resort.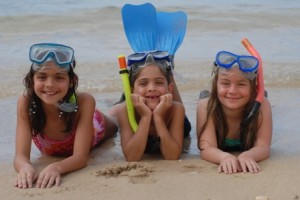 The one thing that makes this resort different from any other is that it specially caters to families with younger children. As soon as you check in, you receive your own personal 'Vacation Nanny.' She works exclusively with you for the duration of your stay from 9am to about 4:30pm with an hour off for lunch. She not only takes care of the children but she doubles as a housekeeper. Should you require an additional vacation nanny it will cost about $20.00 per day.
The resort is comprised of 77 charming suites of a junior (one) two and three bedroom apartment with either a garden, ocean or courtyard view. The one and two bedroom suites are located on the terrace or with a balcony – so, do ensure that you request what you want when booking. All suites feature a spacious living room, fully equipped kitchen with a fridge that is restocked by your vacation nanny. The bedrooms are air-conditioned and each has its own bathroom. For techies there is an iPod dock, free WiFi to keep in touch and a DVD player.
The resort itself has at least four in-house restaurants that cater to adults with an international menu for that special candle-lit dinner. Simply make paid arrangements with your vacation nanny to spend time with the kids while you spend time with your spouse.  For some family fun, there is a great beach side grill with a child friendly eating area and a menu with finger food and fast food that even the most finicky eater will love.
The package doesn't stop there you also get a lot of extra specials to sweeten the deal – so to speak. Your baby's passport fees will be reimbursed by the resort – just imagine, that's a big saving by itself.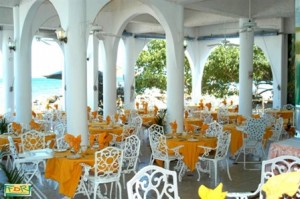 For kids under 16 years old they will be kept occupied by a plethora of things to do and take part in. There are three pools, limitless food for breakfast, lunch and dinner, gym, water sports, glass-bottom boat trips and even a special teen's game room where they can dwindle hours away with Nintendo WII, Xbox 360 and Play station games.
The hotel also offers a shopping tour to Ocho Rios where you can soak up the lively culture of this Jamaican city. A visit to the small but pleasant Taj Mahal Plaza has just 26 shops or you can venture to the New Ocho Rios Plaza in the town centre which houses 60 shops. Both offer duty free shopping for visitors and air conditioned comfort.
You can experience a Mother's Day like no other, where you are treated like a queen. Enjoy the best accommodation, food and entertainment. Just book a Wee Baby Moon vacation at Franklin D. Resort & Spa and relish your time where you can bond with your family after the new addition and rekindle your relationship with your spouse.