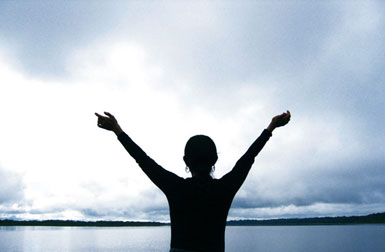 When the weather gets cold up north, I for one can't wait to get away and enjoy some sun, sand, and good food. And if you're into spiritual adventures like I am – no trip is complete without connecting with ancient cultures and their spiritual traditions. One of my favorite winter getaways is to the beautiful and sultry area of Mexico called the Mayan Riviera along the eastern coast of the Yucatan peninsula.
I adore the Mayan Riviera, because of its simple beauty and feminine energy, the perfect place for a spiritual journey for Goddesses (and God's)! The coast is dotted with wonderful little towns, each with their own gifts, whether you are looking for an active night life and hot restaurants, absolute quietitude for sunbathing, Mayan ruins, amazing nature reserves, or even snorkeling and scuba diving.
Whatever you need – the Mayan Riviera has it. And let's not forget the pure white, soft powdery sand shimmering against the turquoise blue Caribbean sea!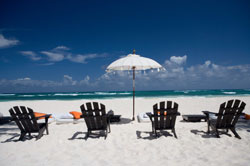 In case you didn't know – the entire Yucatan peninsula is made of limestone which contributes to the gorgeous white sand. For thousands of years the ocean water has been seeping under the limestone peninsula eating away the soft stone here and there creating unusual and unique formations called cenotes.
These are areas where the limestone has collapsed after being slowly eroded away forming a perfect sinkhole of crystal clear fresh water. Many cenotes are at least 100 feet deep – don't let the water fool you – it's so clear that the water only appears a few feet deep. How delicious to swim in these cool pools often surrounded by beautiful vines and trees overhanging the waters!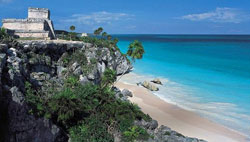 Unfortunately, most people's experience of this area is often limited to a visit to Cancun, and although it is a beautiful area – it cannot compare to the rest of the undeveloped coast – especially the more southern area comprising the Sian Kaan Biosphere which is a protected nature reserve.
"Sian Kaan" means "where the sky is born" and is a habitat for thousands of birds as well as all the terrestrial and aquatic animals to be found in the coastal area. I highly recommend a visit to this area to experience the richness and diversity of plants and animals. If you have younger children you might want to visit one or both of the nature theme parks (think Disney, Mexican style): Xcaret or Xel-ha.
Regarding the history of the Mayan Riviera – the Spaniards arrived at the walled fortress of Tulum in 1518. Tulum is a more recent name, and translates, not surprisingly to "wall" in the Mayan language. The city's original name is believed to have been Zama or "place of the dawn," in reference to its position by the sea looking eastward.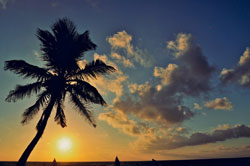 The approximate date of the city's construction is unclear. While it is believed to have been built around 300 BC, the majority of the buildings appear to date from between 1200 to 1500 AD, when the city was inhabited by the Mayans. With its strategic position at the top of a cliff, Tulum made an excellent fortress. Fascinating to note – by the time the Spaniards arrived, Tulum was completely abandoned.
Also beautiful is the ancient city of Coba located 45 km (28 miles) northwest of Tulum, and is less well-known than either Tulum or Chichen Itza. Coba is located near five of the largest lakes in the Yucatan Peninsula. It covers an area of about 70 square km (28 square miles). Most of the buildings in Coba are still uncovered, which isn't surprising, given that there are approximately 15,000 structures throughout the city!
The five lakes of Coba make a good reason for why the Mayans settled here. Coba reached its peak around 600 AD housing around 55,000 residents, yet it was mysteriously abandoned three hundred years later. It is extremely easy to visit both Tulum and Coba and I highly recommend taking time to meditate there if you are into connecting to the energy of the ruins.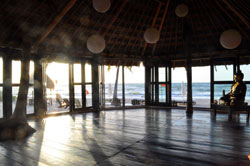 Here's some good news for all the Yoga practitioners out there! Many of the hotels in Tulum focus on yoga and spiritual healing – that's why I love creating retreats for my clients here. If you participate in a yoga retreat, there will be lots of time for meditation, self-reflection, ceremony and ritual, massage and spa services, meeting like-minded people, swimming and dancing, and a perhaps even a sunset catamaran ride. It's a perfect place to travel solo too!
I do have some favorite places to vacation here, and if you twist my arm – I'll be happy to share one with you! If you want to be right on the beach – the Shambala Petit Hotel would be a great choice – especially if you enjoy yoga! The food is yummy and the place is casual – definitely take a look at their website before traveling. And while you're at it, consider taking a cooking class so that you can make some of those succulent dishes when you arrive home.
There's no doubt that you will leave Tulum, Mexico refreshed, with your heart open wide and with a new point of view about your life! Don't forget to ring me if you want to visit!
Blessings, Dr. Sheri Rosenthal
Journeys of the Spirit®
Find JOTS on Facebook
Email: Journeys@journeysofthespirit.com
The pictures of the beach and hotel are complements of Shambala Petit Hotel