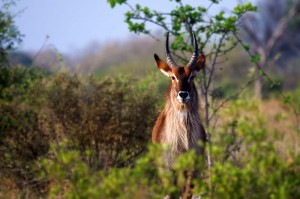 African safaris are a dime a dozen, especially those in fenced in National Parks or Nature Reserves where tourists are taken on conveyer-belt type game drives. That's as good as it gets, I thought, and as such lost interest.
That was until I recently discovered the Selinda Reserve in Botswana's Okavango Delta where game are free to wander across its 320,000 acres of unfenced wilderness. I'd heard much of Selinda ticking all the proverbial green eco boxes which was probably why I was preparing myself for a sleeping bag and shack arrangement somewhere in the outbacks. What I didn't expect was pure indulgence.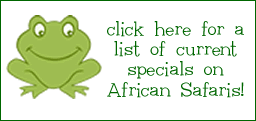 After collecting me from the bush airstrip, my ranger drove me to Zarafa Camp (there are three camps in the Selinda Reserve, namely Motswiri, Selinda and Zarafa), where I soon came to realise how they'd earned their rave reviews. Stuart, the Camp manager, came to meet me as the 4×4 pulled up at the shaded main entrance. A cooling eucalyptus-doused face cloth was handed to me, along with an Amarula – a cream liqueur made with the fruit of the African Marula tree, traditionally served on ice. My luggage was whisked off somewhere and I was introduced to the main tented lodge which overlooked the floodplains of Zibadianja Lagoon. Following a thoughtfully prepared vegetarian lunch, I sauntered off to seek out my accommodations.
Zarafa Camp consists of four immense and secluded marquis-style tented guest suites – each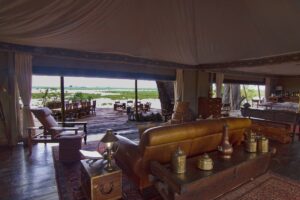 on a raised wooden deck with jaw-dropping views of the lagoon, a private plunge pool, lounge and outdoor luxury bush shower.
Inside, the look is luxurious with highly polished anthracite-coloured timber flooring, colonial-styled dark wooden furnishings with leather accents throughout. (All the hardwoods used at Zarafa are from discarded railway sleepers. The furniture is constructed from wood destroyed by the Far East's Tsunami, which was bought from the locals then made into exquisite pieces before being shipped to Zarafa).
Each guest tent has a private lounge area with a large Winchester-style mocha-coloured leather sofa, a wooden framed leather armchair, a telescope, a well stocked bar (including your favourite tipple), a library – focused on wildlife of the region, and two comfortable reading chairs under a brass reading lamp. Professional Canon camera equipment, complete with a zoom lens and memory card, is stowed away in a travel trunk for guests who may have forgotten theirs!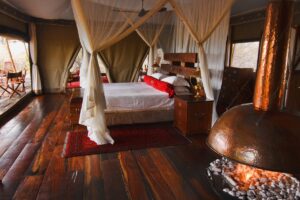 The sleeping quarters are dominated by a super king sized four-poster bed, bedecked with crisp cream linens; off to one side is a fireplace beside a tall brass bath, beyond which is an indoor shower and dressing area. (All the camp's energy is created by their solar farm.)
High tea was served at 3:30 p.m. followed by a three hour game drive. My ranger and expert tracker found me all the big game Africa is known for on the first drive (and the dawn the following morning – we found even more).
Following a lavish banquet I was escorted back to my suite where I'd found that my bed had been turned down, tent flaps closed, a bubble bath had been drawn (complete with a generous nightcap) and the fire lit.
Moving onto Selinda Camp Ishmael, the manager, welcomed me at the main lodge area, which is built within a canopy of trees on a fo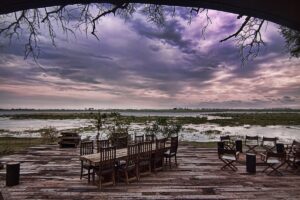 rested island overlooking a spillway. Here nine canvas tented rooms under thatch, each raised on decks come complete with a private shaded veranda, which doubles as a sitting room, present views across a reed studded waterway. As with Zarafa, my immense bedroom was luxuriously dominated by a four-poster, mosquito netted bed, behind which is a dressing area and vast bathroom – a deep stone bath being the centre piece.
Dinner at Selinda was a gracious affair – a little temple of great food, ambiance and sumptuous views. The chef brought forth luscious quantities of food and later participated in an impromptu traditional dancing and singing show put on by the staff. After dinner fellow guests and I sat around a log fire, overlooking the lagoon, quietly chatting till the small hours.
A 16-seater Cessna Caravan took me back to Maun, where I boarded a spotlessly clean Air Botswana flight to Gaborone, the capital and later, my long haul flight (ample leg room – even in economy class) with Kenya Airways to London.