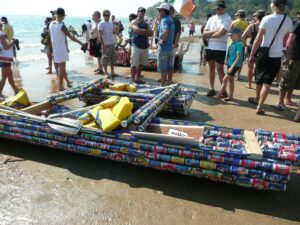 The most memorable experience from when I first visited Darwin back in 1995 was the 'Beer Can Regatta'. Who in their right mind makes a raft out of empty beer cans to race through crocodile infested waters for the prize of nothing more than bragging rights for a year?
The place is full of similar crazy ideas, and yet after spending more and more time up there the ideas somehow seem less crazy. I don't know how they do it, but Darwin works. It is one place not trying to be like anyone else, not trying to impress anyone else, just going along doing whatever seems a good idea at the time. Maybe the locals really have gone troppo.
The local residents of Darwin are a highlight in themselves, from the local Indigenous residents and the fly in fly out miners, to the backpackers who came for the peak season and never quite left. You are never bored in Darwin!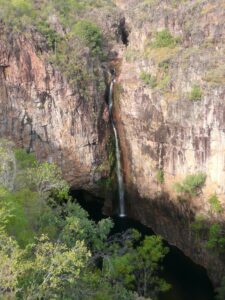 Being so far away from most of the rest of Australia is considered an advantage rather than a disadvantage – untouched beauty. The locals have an insight like no others, showing off places that feel as though they have never been seen before. The scenery is spectacular and under rated. Take a drive out of town and will find yourself within some of Australia's best national parks. Litchfield and Kakadu are incredible sights in themselves, but can also be day trips out of Darwin. So many relatively untouched beauties of Australia all within a few hours drive of the capital of the North. It has the best there is to see of Australia, right on the city's doorstep.
Being a smaller city Darwin feels more like a country town. Everything in the city is within walking distance, and is within a few blocks of the harbour. Being able to walk everywhere is a definite advantage for tourists, and with new developments going on all around the city, locals are embracing their tourist hotspot status rather than shunning it. With an emphasis on taking advantage of spectacular sea views, a new waterfront area has been created with a place for people to go swimming without fear of crocodiles, stingers or sharks. The casino has also come on board with redevelopment, maximising on their water views with new outdoor areas for patrons to enjoy the sunset with a drink in hand.
To me, Darwin has it all. It is multi-cultural,
offering a blend of South East Asian cultures mixed in with both white and Indigenous Australians. It has a great range of fresh food; the range of seafood available is incredible. It has perfect weather for the winter months, and predictably tropical weather for the rest of the year. Coming from Melbourne, predictable weather is good!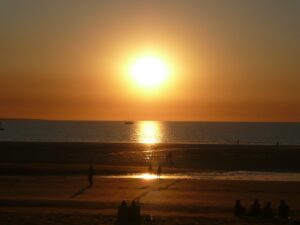 The range of markets on offer satisfies any taste. The Mindil Beach markets are a major attraction, but personally I prefer the smaller local markets offering the best that Darwin has to offer to a much more intimate audience. And somewhat surprisingly Darwin also has a great nightlife. This is helped along by the large backpacker population, combined with the 'here for a good time, not a long time' attitude of majority of locals. The XXXX Gold is always flowing and is enjoyed by all. It doesn't matter who you are, if you don't drink beer, you don't belong, creating plenty of cans for that crazy regatta!
Darwin is not only my favourite place in Australia, but one of my very favourite places in the World. It is just so uniquely Australian.