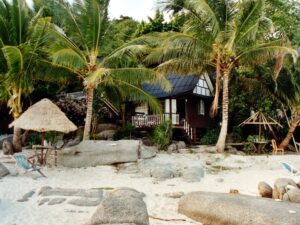 When it comes to tropical paradises, few places beat Thailand. According to April Cole, a director at Journeys Within, a tour company specializing in Southeast Asia,'the key with planning honeymoons is that you're providing people with an extraordinary, once-in-a-lifetime trip -because that's what a honeymoon is. A trip the couple will look back on forever. And that's exactly what Thailand provides."
If you need more reasons to head to Thailand, here are four additional ones:
It's Cheap
Sure, you could spend $500 or more on a room if you wanted to, but the beauty is that you don't have to in Thailand. Instead, you could try the 5-Star Peninsula Bangkok at $221/night –A bargain when you compare it to The Peninsula NYC, where rates start at $695/night. According to the Hotel Price Index recently released by Hotels.com, Pattaya and Chiang Mai made the list of "Top 10 Cities for Best Value in Asia." Despite prices rising in these cities by up to 9 percent over the last few years, they are still among the least expensive cities in Asia. And hotels are not the only cheap thing. You can book private tours through places like Viator for as little as $35 per person. That means you can enjoy attractions at your own pace, in a romantic setting, without the rush of having to adapt to other travelers. And food? Probably nothing beats Thailand when it comes to cheap food. You can have a nice dinner at a posh restaurant in the middle of Bangkok for less than $20 –Wine included.
It Offers Plenty Of Options
Beach and sun? Check. Ruins of long-gone civilizations? Check. Fresh food and great drinks? Check. Mountain treks and jungle? Check. Whatever your idea of a perfect honeymoon is, you can make it happen in Thailand. Those looking for beach time can head to Ko Samui or the Phi Phi islands, which offer plenty of coconut trees to lounge under and plenty of open waters for snorkeling, diving and kayaking. For those who prefer exploring, there's Ayutthaya, an ancient city dating back to the year 1350. Today, Ayutthaya is a UNESCO World Heritage Center where visitors can see the remains of temples, palaces and prang (reliquary towers), which spread over an impressive 289 ha area. According to Cole, another good spot for honeymooners in Thailand is the Four Seasons Tented Camp in Chiang Rai. "It's a luxurious tented camp that's, literally, in the jungle, with views of the Golden Triangle, where Thailand, Laos and Myanmar meet –considered to be one of the prettiest views in all of Southeast Asia." This Tented Camp offers everything from cooking classes or the option of relaxing by the pool with a massage, to learning how to be a mahout on one of the many rescued elephants they have on their grounds.
You Can Be As Alone as You Want
Thailand is home to a large number of small beaches that are only accessible by boats. This keeps them away from the tourism traffic and makes them an ideal spot to spend a romantic afternoon alone with your loved one. Cole recommends Koh Lanta, a small island located off the coast of Krabi, "Koh Lanta is covered with secluded beaches, surrounding jungles, and all the privacy you'd want during a honeymoon," says Cole. If you're up for more adventure, you could try staying in the jungle in Chiang Mai or Chiang Rai, where you can see wild elephants, try bamboo rafting or visit interesting hill tribe villages.
You Can Bring Adventure Into Your Lives
If you need something with a bit more adrenaline, try bungee jumping. There are two platforms in Phuket, one of which is 20 stories high. Looking for excitement that lasts longer? Try abseiling down into the Spirit Well Cave, a 200-meter descent into a collapsed cave in Chiang Mai. End your day at the Royal Dragon Restaurant in Bangkok, The restaurant was entered into the Guinness World of Records in 1992 as the world's largest restaurant. There are 5,000 seats here and the waiters deliver the food on roller skates. Whatever it's peace or adventure you're looking for during your honeymoon, Thailand will deliver.