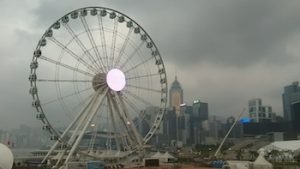 I seem to have lost Hong Kong.
It was there a moment ago, with 1,295 steel and glass skyscrapers glinting in a stunning display of wealth and style.
Now the spectacular skyline has disappeared inside moody storm clouds, with just a few neon lights flickering through the gloom like displaced lighthouses.
Hong Kong has more skyscrapers, billionaires and Rolls Royces than any other city. It's an addictive, crowded scuffle of sights and sounds with lots of bling and the fizz of adrenaline. It's exotic yet familiar, easy to get around, and blessed with absolutely stunning views – on a clear day.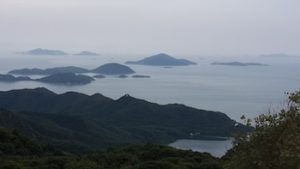 But as the rain buckets down I'm glad I decided this is perfect weather for the Maritime Museum, a touchy-feely place with buttons to poke and excellent explanations of things like the laws of displacement, or why stuff floats. I'm hugely amused by a video game that tests my prowess at loading a container ship, and I sink it twice before I remember the laws of physics. There's an amazing real-time display showing all the ships currently in the enormous harbor too, and I click on some of the hundreds of dots to read about each individual vessel.
It's still dodgy weather the next day when I catch the Ngong Ping 360 cable car, new since my last visit and instantly my favorite thing. Brilliant engineering runs a 5.7km cable past the airport and across Lantau Island for 25 minutes of fabulous views. In the Crystal Cabin with a glass floor I can photograph my feet with just a pane of glass saving me from the rolling hills far below.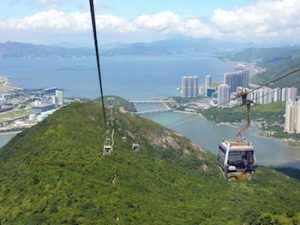 The cable cars stop at a cultural village in the mountains with quirky shows and shops to explore, including a fun '5D multi-sensory' cinematic tour of Lantau Island, complete with shaking seats and sprays of wind and water. Then you go and explore for real, climbing 268 steps to Tian Tan Big Buddha, the world's largest seated Buddha statue, then gazing at the gaudy Po Lin Monastery.
A careless miscalculation left me with only a fistful of Hong Kong dollars and a desperate hope for an ATM machine in the cultural village. There wasn't one, so I was very chuffed to find that the bus to the fishing village of Tai O only cost HK6.50. (83c). I scraped together my change and hopped on board for a short ride through scenic hillsides.
Tai O is one of Hong Kong's oldest fishing villages and hugely photogenic, with houses built on stilts above the water. It has an ATM machine too, and in my relief I drew out probably enough money to hire a car if I missed the last bus home.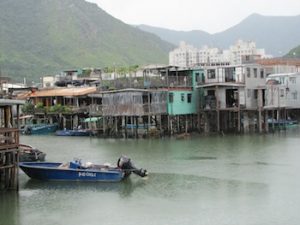 Freshly armed with cash I sat on a cheap plastic seat in a food stall and order fish balls hot from the fryer. The pungent smell of dried fish from the tightly packed stalls confirms that you're heading in the right direction as you cross a wooden bridge onto an island crammed with the stilt houses in a life that hasn't changed for centuries.
Back in the main city the open-top Big Bus tour is a great way to see Hong Kong's highlights and enjoy an entertaining commentary. It covers Kowloon and madcap Mong Kok on the mainland, the central part of Hong Kong Island, and the twisting roads to Aberdeen and Stanley on the south of the island.
Stanley makes a pleasant afternoon outing, although its famous market has become too touristy to feel authentic. I stop to chat to an official outside a voting station for the Legislative Council election taking place that day, but she won't be drawn on Hong Kong's battle to stay independent of China's communist party politics. Later I read that young pro-independence campaigners opposed the tightening controls won several seats. To a casual outsider like me, however, little has changed over the past few years.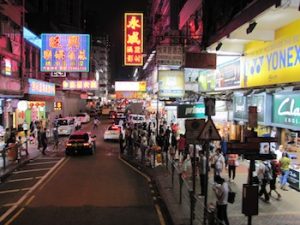 On my final day, I check in my luggage at an airport drop-off point in the city center –a fabulous service – and hoist on a backpack heavy with a laptop and camera. I'm off to join the TramOramic Tour, rattling across the island in an opened-topped 1920s tram with old wooden seats and modern Wi-Fi. Halfway through the hour-long commentary it starts to rain again, and the conductress hands out see-though plastic macs. The trams have been operating since 1904 and Hong Kong now runs the world's largest fleet of double decker trams – not that there's much competition for that title any more. They still carry 200,000 people a day, but if you're in a hurry, use the underground.
Bang for your buck, the Star Ferry is Hong Kong's star performer, linking Kowloon to Hong Kong Island. It's a cheap commuter service with views that are priceless. But on this trip there's been no point, when all I'd see is a rain squall.
Victoria Peak was also steeped in dense storm clouds, obliterating the usually jaw-dropping views. Still, I thought I'd give it a go just for the fun of using the funicular Peak Tram to get up to the top. So I catch the metro to the nearest station and try to get onto the streets to reach the Peak Tram terminal.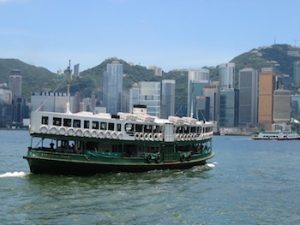 I walk up some stairs and down some escalators. Up some escalators and down some different stairs. Round a shopping mall, into the street, back up an escalator and round another shopping mall. I stop to hoist my heavy backpack up a bit higher, and realize I'm back in the metro station. I ask for directions at a tourist booth, then walk it all again in reverse.
Hong Kong's lattice of above-ground walkways are excellent if you know where you're going, and a pain in the ass if you have no sense of direction.
In theory they keep you off the roads and out of the rain, but they kept me going in circles. Wine and a slice of cake in a shopping mall was the only solution, before I gave up and took myself to the airport ridiculously early. Defeated, yes, but determined.
I'll be back, but not in monsoon season.
For more info:
Maritime Museum: Central Pier No. 8. www.hkmaritimemuseum.org.
Ngong Ping 360: Take the metro to Tung Chung station and follow signs to the cable car. www.np360.com.hk/en/
Big Bus Tour: http://eng.bigbustours.com/hongkong
TramOramic Tour: www.hktramways.com
Star Ferry: www.starferry.com.hk/en
When you leave, you can check in your luggage downtown up to 24 hours before you fly: www.hongkongairport.com