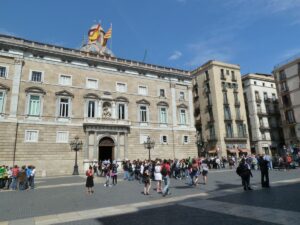 Barcelona is an expensive city where museum tickets, meals, tours, and taxi rides add up fast. Here are some local tips for saving big time on sightseeing in one of Europe's most dazzling destinations.
1-Free Runner Bean Tours:
This is a new tour concept in the city offering up free tours of Barcelona's Gothic Quarter and Antoni Gaudí hot spots. Your guide, who gives the tour in English a couple times a day, is paid only in tips. This could mean that you get an exceptional guide who puts his heart in it because he's after a tip, or it could mean that the guides who work with Runner Bean aren't too experienced. I haven't taken a tour with them yet. Clearly it is necessary to tip the guide something for the two hour tour, but just how much is up to you. Most guided tours of the city start at about €20.00.
MORE:
http://www.runnerbeantours.com/
2-The Flashy Tourist Bus:
I am not a huge fan of getting on the tourist bus or mini tourist train in European cities. Usually the people I see on them look bored and/or bewildered. The exception is Barcelona's Bus Turistic. Many friends have come to visit me in Barcelona over the last five years, and most of them have taken a ride on the Bus Turistic, a double-decker tourist bus that covers the city. I have heard nothing but rave reviews about their experiences.
As a local, I see the merit of the Bus Turistic if for nothing more than to get a good idea of how the city is laid out. Barcelona is big and can be overwhelming to some, and a ride on the Bus Turistic provides perspective to the jet-lagged traveler. A day pass on the bus is €23.00 which gives you access to three different routes through the city, an audio guide describing what you're looking at, and service between 9am and 8pm. The bus makes frequent stops, and you can hop on and off whenever you feel like it. Basically, this is an all-day tour covering the whole of Barcelona for €23.00 – a really good deal!
MORE:
http://www.barcelonabusturistic.cat/web/guest
3-The Metro and Bus (for the Traveler with a Sense of Direction):
Some are boggled by the Metro (subway) map and how to make connections from one line to the next to get across the city. This is understandable. However, before moving to Barcelona I was not from a city with a subway (I'm from Portland, Oregon) and I have managed to figure it out. Honestly, it's not rocket-science and is the cheapest and perhaps fastest way to see Barcelona.
Here's what to do: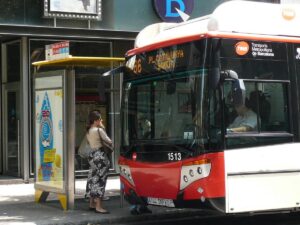 Get a detailed map of the city and a detailed Metro map at the tourist information office.
Buy yourself a T-10 ticket from the vending machines at the entrance to any Metro line. They will not sell you these in a bus. You can pay with your credit card, or with cash. The T-10 will give you ten rides on the Metro.
Begin your tour. Take the Metro's Purple Line to the Sagrada Familia stop to see one of Antoni Gaudí s (unfinished) masterpieces.
Then take the same Metro over to Para-lel and catch the zipper train (same T-10 ticket) up to the National Art Museum for Catalan paintings and a fantastic view of the city.
Walk down from the National Art Museum and catch the Metro's Green Line back to the city center, Pl. Catalunya. And so on….you can see almost every neighborhood in Barcelona by Metro and a ride will cost you about €1.00 each time you get on.
MORE: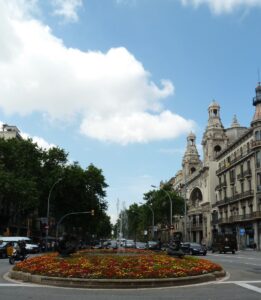 4-Podcast and a Map:
For the tech-savvy traveler, a few podcasts on your iPod is probably the cheapest way to be guided through the Catalan capital city. Grab a detailed map at the book store to get you through the Gothic Quarter's twisty alleyways, then pop in your earphones and enjoy your own private tour . Here are a few podcast sources:
Rough Guides provides free 'podscroll' tours to Barcelona's eating and drinking scene (as well as to many other hip cities). These tours are easy to download off the Rough Guide website.
Rick Steves' also offers audio podcasts, video podcasts and podcasts of his radio show "Travel with Rick Steves". You'll have to look through the archives to find the podcasts right for you.
One of the most innovative podcast tour guide producers out there is Soundwalk, based in New York. Unfortunately, they do not have a Barcelona tour yet. They do however have a Soundwalk podcast tour to Ibiza available, which is one of Spain's most beautiful Islands.
iTunes is a rich sources for apps offering maps, walking tours and entertainment guides to Barcelona. If you are a iTunes user, this is a fantastic resource.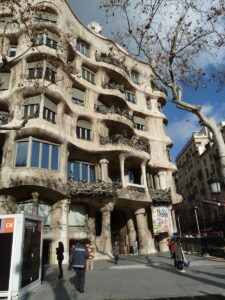 5-Your Own Feet
Finally, the least expensive way to see Barcelona is probably on your own two feet. Book your hotel in the downtown area of the city or in the Gothic Quarter which will put you within strolling distance from many monuments. You can visit the beach (La Barceloneta), the port, the park (Ciutadella), Pl Reial, the Cathedral, the Santa Maria del Mar Cathedral, ant the city's old Jewish Quarter for free. Getting up to the Antoni Gaudí sights is a trek from the Gothic Quarter, but if you don't mind a 20 – 35 minute walk in charming Barcelona, then let your feet lead the way and pocket those saved euro bucks.