From Samuel Beckett to James Joyce, there are few cities in the world that have produced so many outstanding writers as Dublin, Ireland. The Irish are known for their witty way with the English language and Irish writers have more than once been awarded accolades like the Nobel Peace Prize for Literature and the Man Booker Prize. In fact, there are a number of Irish authors widely misperceived as being English, including Oscar Wilde and Jonathan Swift.
In 2010, Dublin became the fourth city in the world to hold the title of UNESCO City of Literature based on its historical and contemporary contributions to the literary world. The city has an active publishing industry, numerous libraries (including some priceless historical texts), literary festivals and workshops dedicated to the craft of writing, and a home stock of amazing writers that are penning new works everyday.
If you're the bookish type, here are ten sights across Dublin that you won't want to miss on your trip to the Irish capital.
The Book of Kells
This priceless work of literature was created by Celtic monks sometime around the 9th century. Engraved with ornate golden spirals, delicate crosses and Celtic motifs, the book is a stunningly rendered collection of artwork that hides several Biblical books written in calligraphic Latin. Bound into four volumes, Dublin's most famous book is housed in the Old Library at Trinity College and displayed to one ornately decorated page from within a protective viewing case.
Trinity College Library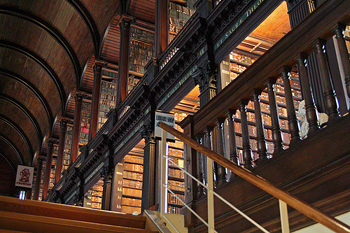 The Old Library at Trinity College is most famous as the home of the Book of Kells, but its magnificent interior offers much more to the literary tourist. The beloved Long Room dates to the early 1700s and houses some 200,000 historic books on its towering mahogany shelves. Adding to the academic ambiance are marble busts of famous philosophers and writers – many of them Irish – which line the shelf ends of each row. Several other important documents are housed in the library, including an original copy of the 1916 Declaration of the Irish Republic.
Abbey Theatre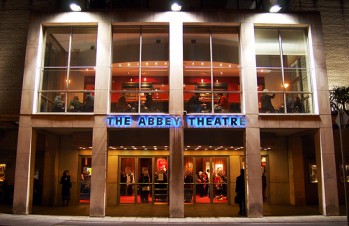 Though not located in its original building, Ireland's national theater, the Abbey Theatre, has been staging plays in Dublin since 1904. Some of the most notable Irish playwrights cut their teeth at the Abbey, staging early plays here. Through the decades, Irish audiences have come to know and love the works of William Butler Yeats, Sean O'Casey, George Bernard Shaw and John Millington Synge from the seats of the Abbey. The theater has two stages: the Gate and the Peacock, both of which still regularly show performances by both Irish and international playwrights.
Merrion Square
Merrion Square is a square and park located on the south side of Dublin. Most notably, house No. 1 on the square was the childhood home of Oscar Wilde. A lot of people mistake this witty writer as being an Englishman, as he spent most of his adult life and career living in London. However, Oscar Wilde was born and raised in Dublin in this beautiful Georgian home occupied by the Wilde family until 1876. It is now owned by the American College Dublin and open for group tours or private events. Moreover, venturing into the adjacent Merrion Square Park finds a delightful collection of literary statues, including a series of unusual sculptures dedicated to Oscar Wilde. Wilde himself perches playfully on a boulder clad in a colorful green and red jacket.
Dublin Writers Museum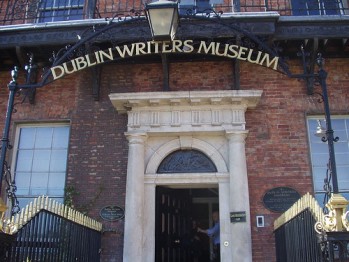 This small but profound museum makes a good start to a tour of literary Dublin. The Dublin Writers Museum is dedicated to the many writers that have hailed from the Fair City, including poets, novelists and playwrights. Located in an old Georgian house on the north side of Dublin, the museum occupies several rooms that feature thoughtful exhibits on Ireland's literary contributions, both historical and contemporary. A particularly nice exhibition displays photos, portraits and busts of famous writers and there is a bookstore where you can find some rare or unusual titles that might not be available elsewhere.
Bloomsday Walk
James Joyce's infamous novel Ulysses follows a day in the life of one, fictional Leopold Bloom, as he journeys around Dublin on June 16, 1904. Adoration and consternation over the novel (especially the meanings behind its stream-of-consciousness style) has resulted in a national holiday: Bloomsday. Every June 16, Leopold Bloom's biggest fans gather together to walk the streets of Dublin just as Bloom himself did that fateful day. Many dress in period attire, and you'll likely see more than one James Joyce roaming around Dublin on June 16. Passages from the novel are read aloud at key points along the journey, which traditionally starts at the Martello Tower (now a Joyce museum) in Sandycove in South Dublin. If you aren't up for the full journey but still want to get a slice of Joyce's Dublin, look out for round bronze markers along the city's sidewalks denoting an important place on the Ulysses Trail.
Patrick Kavanagh on Grand Canal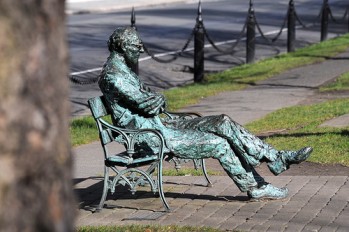 Modern Irish poet Patrick Kavanagh is immortalized along the banks of the Grand Canal on the south side of Dublin. Though originally from Co. Monaghan, Kavanagh infamously walked 80 kilometers to Dublin in order to launch his writing career, and he is known for his strong associations with and writing about the Irish capital city. Though it seems a rather odd place to commemorate a famous writer, along the Grand Canal at Baggot Street Bridge, Kavanagh's friends erected the statue to honor his wishes.  Inscribed on a plaque next to the statue – Kavanagh seated on a bench – read the lines of one of his poems: "O commemorate me where there is water, canal water preferably, so stilly greeny at the heart of summer. Brother commemorate me thus beautifully."
Bram Stoker's House
Gothic writer Abraham (Bram) Stoker, notable author of Dracula, was born in Dublin in a humble house in 1847. Located at 15 Marino Crescent in Clontarf on Dublin's north side, the house is privately owned but makes for an interesting walk around the leafy, seaside community of Clontarf, including Bram Stoker Park. Located right across the street from the residence, this park is home to the Bram Stoker Tree and an information board commemorating his life. St. Anne's Park – one of Dublin's larger city parks – is not far away and there is also plenty of coastline to enjoy, as well as a few seaside cafes.
Literary Pub Crawl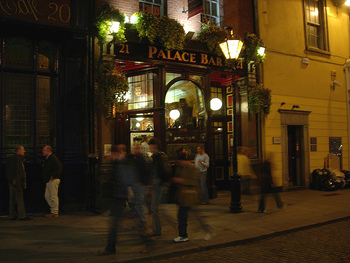 What would a great literary city be without great cafes where thinkers and writers congregated? Well, in Dublin, those cafes are actually pubs that once served and continue to attract some of the city's most famous writers. The easiest way to experience these wonderful historic pubs is by joining the Dublin Literary Pub Crawl. Slightly more cerebral than other Dublin pub crawls, this tour is led by a colorful character in period costume and incorporates readings and quotes from famous Dublin writers, especially pertaining to the pubs themselves. The Palace Bar (pictured), for example, was a favorite haunt of writers like Brendan Behan, Patrick Kavanagh and W.B. Yeats. Their presence is commemorated in a series of murals lining the walls that depict the writers who drank there and quotes from their most famous works.
James Joyce Centre
Though Dublin's most famous son never lived in this house at 35 North Great Georges St., one of his colorful Ulysses characters ran a business here: a real-life friend of Joyce's and dance teacher named Denis J. Maginni. Now open as a museum and research center dedicated to the life and works of James Joyce, the James Joyce Centre houses several interesting exhibitions about the writer and is the host of the Dublin Bloomsday festivities. In addition to the in-house exhibits, the center offers walking tours of Joycean sights around Dublin and lectures on Irish literature.