Most tourists believe that a trip to Hollywood guarantees a glimpse at some of Tinseltown's biggest celebrities.  The truth is that unless you know where to look, the only stars you will be gazing at will be the celestial ones in the night sky.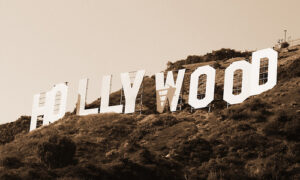 B-list and below stars often want to be photographed for publicity purposes and they show up at restaurants and clubs where they know the paparazzi will find them.   A-list stars, such as Brad and Angelina, usually try to avoid photographers and autograph hounds whenever possible.    But all celebrities have to go outside eventually and most live in or around Los Angeles.   Here are some suggestions on where to go in the City of Angels to catch a rising star or sneak a peak an A-list celeb.
Actors frequent trendy restaurants when they want to be seen or for high-level meetings with producers, directors and agents.    These eateries include the Ivy (113 North Robertson Boulevard), still the place for lunch where celebs dine al fresco on the white-fenced patio.  Go weekdays anytime between 11 am and 3 pm and you're bound to see someone recognizable nibbling on a salad.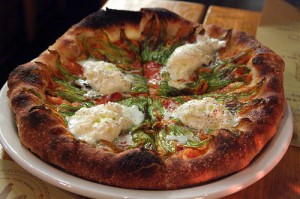 Celebrity chef Mario Batali and LA baker Nancy Silverton opened the crowded Pizzeria Mozza (641 North Highland Avenue) next to their upscale Mozza restaurant.  Creatively topped crisp pizza lure in hungry stars and the space inside is so tiny you'll probably sit next to, or very close to, a well-known actor or actress.
Most of TMZ's outside-the-restaurant footage is filmed at West Hollywood's Boa Steakhouse (9200 Sunset Boulevard).   The classic chophouse serving up sizzling steaks is co-owned by American Idol host Ryan Seacrest, director Brett Ratner and Tori Spelling, so you're likely to spot one of them or some of their famous friends dining here among the other beautiful people.
Il Ristorante di Giorgio Baldi (114 West Channel Road) is the secret star spotting location I reveal to friends visiting Los Angeles.   Every time I dine at this Italian eatery, hidden on West Channel Road above Pacific Coast Highway, I see stars.   Big stars who leave their Malibu homes to dine on homey traditional Italian dishes at this casual cozy coastal restaurant.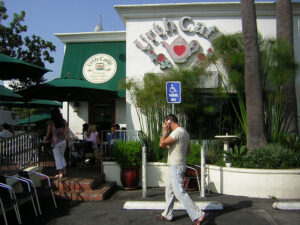 Urth Café (565 Melrose Avenue) is another hidden place to spot a celeb sipping a cappuccino or dining on an organic salad.  Many stars sit outside with hats and sunglasses in tow.  Be sure to visit the Melrose flagship restaurant, as the Santa Monica and Beverly Hills locations don't seem to warrant the same star appeal.
Most celebrities love to shop for expensive things, but contrary to popular belief they don't hang out on Rodeo Drive.   You'll find lots of Japanese tourists at the stores there, but most A-list celebs flock to the ultra trendy Fred Segal (500 Broadway) to shop till they drop.  The Fred Segal complex houses a number of chic expensive eclectic boutiques where stars pay big bucks for edgy fashion.
Celebrities also flock to The Grove (189 the Grove Drive), an upscale outdoor shopping center, where they wander around the Apple store, shop at Nordstroms, browse bookshelves at Barnes and Noble, or catch the latest flick at the Cineplex.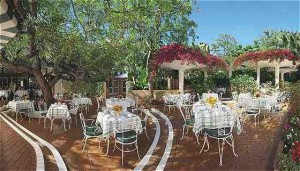 Countless  Hollywood luminaries have stayed at the Beverly Hills Hotel (9641 Sunset Boulevard), known to locals as the pink palace, with 203 lavishly adorned rooms, suites and bungalows.  Each is appointed with plush art-deco style and many offer private fireplaces, Jacuzzis and patios.  The hotel's infamous Polo Lounge attracts stars, models, and musicians who dine on the romantic terrace or sip dirty martinis at the bar.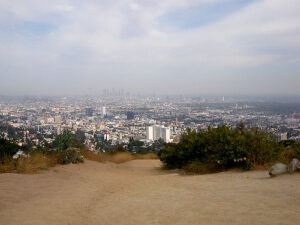 Lots of stars love hanging out with their dogs or hiking at Runyan Canyon (entrances on Fuller Avenue, Vista Street and Mulholland Drive) off of Mulholland Drive.   Writers, directors, producers and actors run, stroll and walk along the meandering trails in the Hollywood Hills to get their daily dose of cardio.  The Lake Hollywood Reservoir (Barham Boulevard to Lake Hollywood Drive) also attracts a good number of celebrities that reside near the many studios housed in Burbank.  It's also the best place to take unobstructed close pictures of the infamous Hollywood sign.
Actors who have game make sure to sit courtside at Lakers home games (at Staples Center, 1111 South Figueroa Street).  You can regularly glimpse Leonardo DiCaprio, Jack Nicholson, Denzel Washington and many others in the first few rows.