Fourth of July. Independence Day. July 4th. Whatever you call it, it is one of the few truly American holidays and the Brits are still a little miffed! While the big cities and metropolitan areas put on spectacular shows, the true taste of Americana lies in the small town celebrations that take place all across the country. You are never far from a bicycle parade, a baby-kissing politician, some fireworks, and the bright red fire trucks with volunteers throwing out candy to the crowds.  Do you live in populated area where the celebration has become a huge event? Maybe this year you may want to head out of Gotham for a bit and get a taste of small town independence.
Incline Village, Nevada
Incline Village is a town after my own heart. When they throw a party, someone else benefits. As a result, over the past 5 years, they have raised over $100,000 to local non-profit organizations. The first  annual Red, White and Tahoe Blue celebration was held over three days in 2007 entertaining residents and guests with  a Community Parade, Rubber Ducky Race, Wine & Cheese Event, Community breakfasts, Carnival on the Green, Ice Cream Social & Chalk Drawing Contest for kids. And of course they have the requisite BBQs. What really hits the home run is the fireworks display. While not the most spectacular, the accompaniment of a live orchestra playing the 1812 Overture hits it out of the park. Incline Village sits on the north shore of Lake Tahoe. Accommodations are plentiful including the Hyatt Regency Lake Tahoe which sits on the outskirts of town.
McKinney, Texas
While Dallas throws a big party, out in the burbs, the town of McKinney (Money magazine's #5 best place to live) has a celebration in their historic downtown.  Every year, they host a large July 4th Celebration known as Red, White & BOOM! The event includes a July 4th Parade in the historic downtown, a car show, and ice cream crank off,  and of course a fireworks show and live entertainment. For 2011, they got an early jump and are beginning the celebration in June with the unveiling of their collection of World Collection of Crape Myrtles and ending with the Independence Day celebration; renamed Bloomin' and Boomin'. Additional information: Visit McKinney.
Stanley, Idaho
Stanley is a little town with big ideas. When I say little, I am not kidding—population 100!  Stanley is located in one of the least discovered and most spectacular regions on the planet — the Sawtooth Mountains of the Rocky Mountain Range. While unable to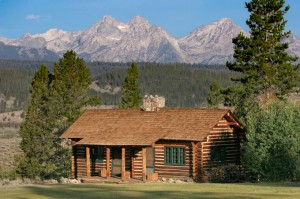 accommodate huge crowds, there are nearby hotels and motels as well as two iconic establishments Redfish Lake Lodge and the Idaho Rocky Mountain Ranch (which offers reservation and "free" camping), restaurants and outfitters. I spoke with Sandra Beckwith (who happens to be the manager of the Idaho Rocky Mountain Ranch) and she gushed about the low-key celebration. "We start with a short but terrific parade in downtown Stanley complete with kids decorating their bicycles and wagons, a picnic in the park for all, and fireworks at dark, with everyone sitting on their lawns, in parking lots, in their cars and trucks." While there are no orchestras to usher in the celebration, Sandra said that usually someone will play Jimi Hendrix's version of The Star Spangled Banner or Ray Charles' America the Beautiful. Afterward, there is music and dancing in one or both of the local bars. Beckwith summed it up perfectly, "This is truly a down-home, local color, respectful and fun celebration of the United States' birthday." Additional information: Stanley Chamber of Commerce.
Bald Head Island, North Carolina
Lauren Frye from Bald Head Island says that, "Bald Head Island has the best small town July 4th celebration that I've ever attended – the famous Golf Cart Parade." Golf carts? Sure! Bald Head Island doesn't allow cars. Instead, residents and visitors get around by bike, walking, or their favorite mode of transportation, the electric golf cart. On July 4, everyone decorates their carts and competes against one another in a parade that features more than 100 carts. Frye says that this is serious business, "I can tell you from experience, people take it seriously! We're not just talking a few streamers and balloons here – folks go all out, transforming these carts completely with paper-mache, lights, miles of fabric and glue. We've had carts transformed into alligators, pirate ships. blowfish, even a miniature version of Old Baldy, the island's lighthouse."   Bald Head Island is located 2 miles off the coast of southeastern North Carolina, and is accessible only by passenger ferry and private boat. There are no hotels, but guests can rent homes located on the beach, marsh, or in the maritime forest.
Annapolis, Maryland
And last but not least, I can't do an article on "fabulous Fourths" without giving some praise to my hometown. Our festivities begin in the morning and afternoon when most people will either barbeque at home or along one of the many beaches in the area. Our parade usually kicks off in the late afternoon and includes fire trucks, antique cars, a brigade of dogs, politicians, and any other organization who wants to participate. The fabulous United States Naval Academy will play a short concert after the parade on the City Dock overlooking the Annapolis Harbor.  Shortly after 9pm, the lights along the Naval Academy seawall are turned off and the skies light up with a spectacular fireworks show over the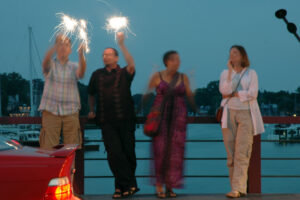 harbor. Literally hundreds of boats, from dinghies to mega yachts, are anchored in the harbor to watch the spectacle and people line up along the seawall and bridge. The 45 minute show ends in a cacophony of boat horns tooting their appreciation! Additional information: City of Annapolis. Photo gallery 2010 celebration.